FSU Football Top Moments of 2016 Season: No. 5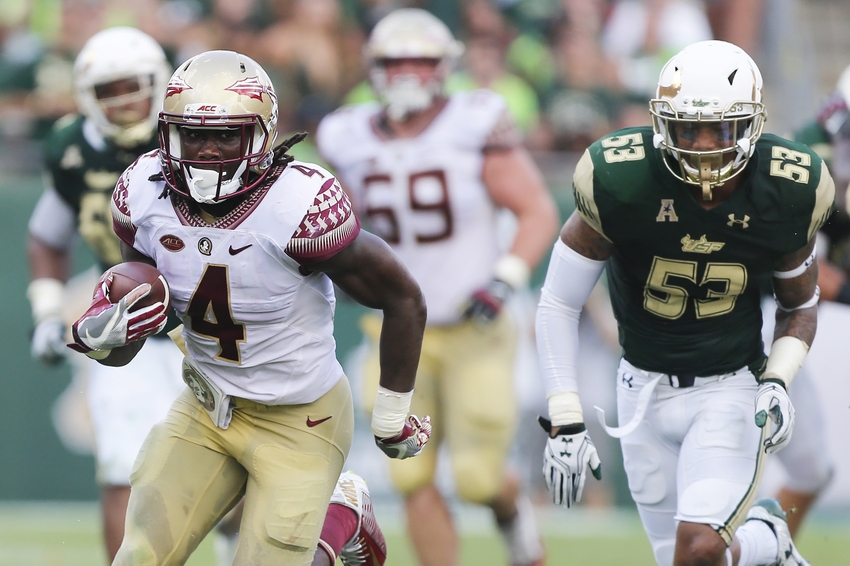 With FSU Football having finished their 2016 regular season, here's a look at some of the top moments from the first 12 games played this year.
For the Florida State Seminoles, the 2016 campaign was won that had plenty of ups and downs. The great play of several newcomers like quarterback Deondre Francois and cornerback Tarvarus McFadden – along with returning stars like Dalvin Cook and DeMarcus Walker – was offset by injuries to players like Derwin James and Nate Andrews that helped to derail things for FSU football.
While the season did not live up to expectations that started with being a top five ranked team before the opener, it ended on a positive note with a four game winning streak that saw records being broken, the defense playing up to expectations and the Seminoles ending up in a quality bowl game.
But, which were the top moments of the season for the 'Noles? Here's a look at one of the top five plays from the 2016 season for Florida State.
No. 5 – Dalvin Cook's 75-yard touchdown on first offensive play vs. USF
The week before, FSU football had endured one of the worst defeats in program history when they gave up 63 points in an embarrassing loss to Louisville that exposed the 'Noles as a team that might not be living up to expectations this season. That bad spirit continued the following weekend in Tampa, when the Bulls scored on the very first offensive play of the game.
The Seminoles would get the ball and start off from the 25-yard line. That's when Dalvin Cook – who had been held to just 54 yards the week before to tie for his lowest career regular season number as a starter – would tie the game with one run and give the 'Noles some new life after being flat before hand.
FSU Alumni: Xavier Rhodes Honors Kidz1st Fund With Special Cleats
It would be the first of two touchdowns for Cook, who would end up running for a career high 267 yards on the day to go along with 62 yards receiving to help the Seminoles get out of Central Florida with a 55-35 win. FSU football hoped they would be returning to Tampa for January's CFB Playoff title game, but this will be the only visit to Hillsborough County in 2016.
The game would continue Cook's dominance over teams from the state of Florida. In eight games against foes from the Sunshine State (Miami, Florida and USF), Cook has run for a combined 1,477 yards (along with 251 yards receiving) and 14 combined touchdowns. If he does indeed go pro after the bowl game, there will be three teams that are happy to see him go.
This article originally appeared on