FSU Football Top Moments of 2016 Season: No. 4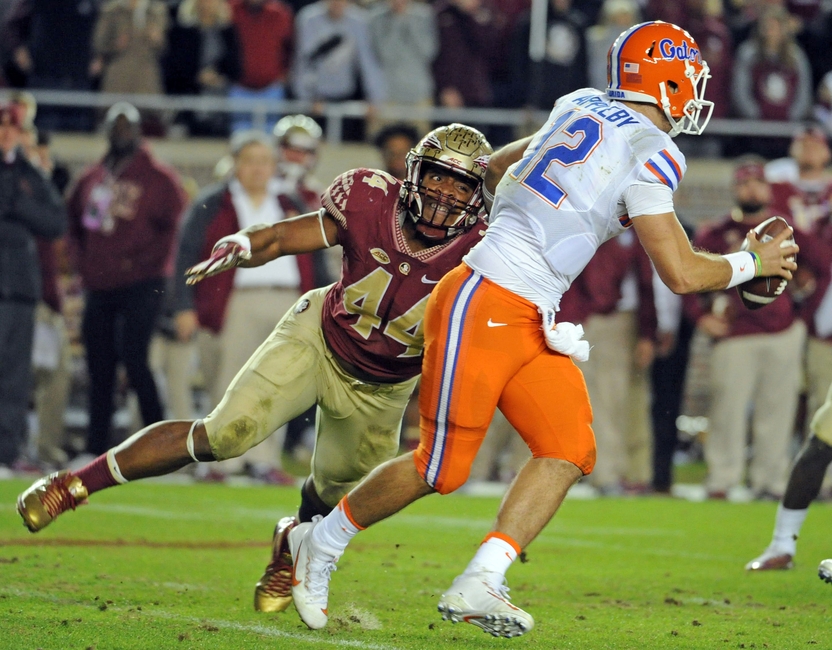 With FSU Football having finished their 2016 regular season, here's a look at some of the top moments from the first 12 games played this year.
For the Florida State Seminoles, the 2016 campaign was won that had plenty of ups and downs. The great play of several newcomers like quarterback Deondre Francois and cornerback Tarvarus McFadden – along with returning stars like Dalvin Cook and DeMarcus Walker – was offset by injuries to players like Derwin James and Nate Andrews that helped to derail things for FSU football.
While the season did not live up to expectations that started with being a top five ranked team before the opener, it ended on a positive note with a four game winning streak that saw records being broken, the defense playing up to expectations and the Seminoles ending up in a quality bowl game.
But, which were the top moments of the season for the 'Noles? Here's a look at one of the top five plays from the 2016 season for Florida State.
No. 4 – DeMarcus Walker's fumble recovery seals fourth straight win over Florida
In the previous 60 games between the Seminoles and their hated rivals from Gainesville, the 'Noles had been able to put together a four game win streak over the Gators just twice before: from 1977 to 1980 and again from 1987 to 1990. Thanks to one great defensive play, you can now add 2013 to 2016 to that list.
It isn't as if FSU football was trailing at this point in the game, in fact holding onto a 24-13 lead at this point with less than five minutes to go in the game. Still, anyone who watches rivalry football knows anything is possible – and after recovering a fumble from Deondre Francois, Florida was starting to build momentum to possible put something together and make the end interesting.
Clemson vs. Va Tech: Top 3 Things To Look For In ACC Championship
On the first play of the drive, Walker was able to get in and drop Florida quarterback Austin Appleby for a 12-yard loss. Two plays later, it was defensive tackle Derrick Nnadi who got in and not only was able to get the sack, but force a fumble that Walker would pick up for his second recovery of the game. The 'Noles would add a touchdown run fro Francois four plays later to seal the 31-13 win.
After returning for his senior season, Walker pretty much guaranteed a big time NFL payday with a senior season that included 15 sacks – six and a half in the month of November – to be named the ACC's Defensive Player of The Year. More importantly, he also leaves Tallahassee as part of the first class to sweep both the Gators and the Miami Hurricanes.
This article originally appeared on