FSU Football Top Moments of 2016 Season: No. 3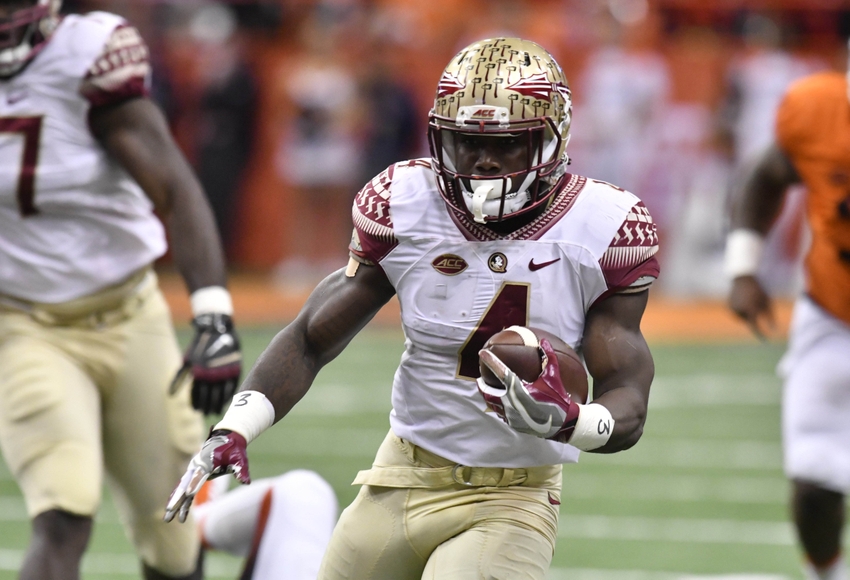 With FSU Football having finished their 2016 regular season, here's a look at some of the top moments from the first 12 games played this year.
For the Florida State Seminoles, the 2016 campaign was won that had plenty of ups and downs. The great play of several newcomers like quarterback Deondre Francois and cornerback Tarvarus McFadden – along with returning stars like Dalvin Cook and DeMarcus Walker – was offset by injuries to players like Derwin James and Nate Andrews that helped to derail things for FSU football.
While the season did not live up to expectations that started with being a top five ranked team before the opener, it ended on a positive note with a four game winning streak that saw records being broken, the defense playing up to expectations and the Seminoles ending up in a quality bowl game.
But, which were the top moments of the season for the 'Noles? Here's a look at one of the top five plays from the 2016 season for Florida State.
No. 3 – Dalvin Cook becomes FSU's all time leading rusher in win over Syracuse
One week before, Cook was on pace to break the record at home during a blowout win over Boston College (a team he had struggled with in the past). Sensing he would need a healthy Cook the rest of the way (especially after the circumstances around Derwin James's injury), head coach Jimbo Fisher gave his star back the rest of the night off.
Eight days later, Cook and the Seminoles played their final road game of the season against an Orange team that was well overmatched. The star from Miami took advantage of that – and on the second drive of the game for FSU football, broke a 41 yard run to the left sideling that put him past one of the most legendary players in program history, Warrick Dunn, for the most yards in a career.
Clemson vs. Va Tech: Top 3 Things To Look For In ACC Championship
Cook now holds the single season record that he broke last season (and could break again with 72 or more yards in the bowl game), the all-time record and the all-time rushing touchdowns record he broke the following week in the win over Florida. Having now gone over 4,300 yards on the ground for his career, Cook has averaged nearly 117 yards and one touchdown in each game he has played for FSU football.
In a perfect world, Dalvin Cook would come back for his senior season, easily top 6,000 yards while winning a Heisman Trophy and a national title. The chances are beyond slim, so the most we will likely be able to do is praise him for his time with the Seminoles and remember the career of the best running back to play college football for Florida State.
This article originally appeared on