FSU Football: Top 3 Reasons Dalvin Cook Should Stay For 2017 Season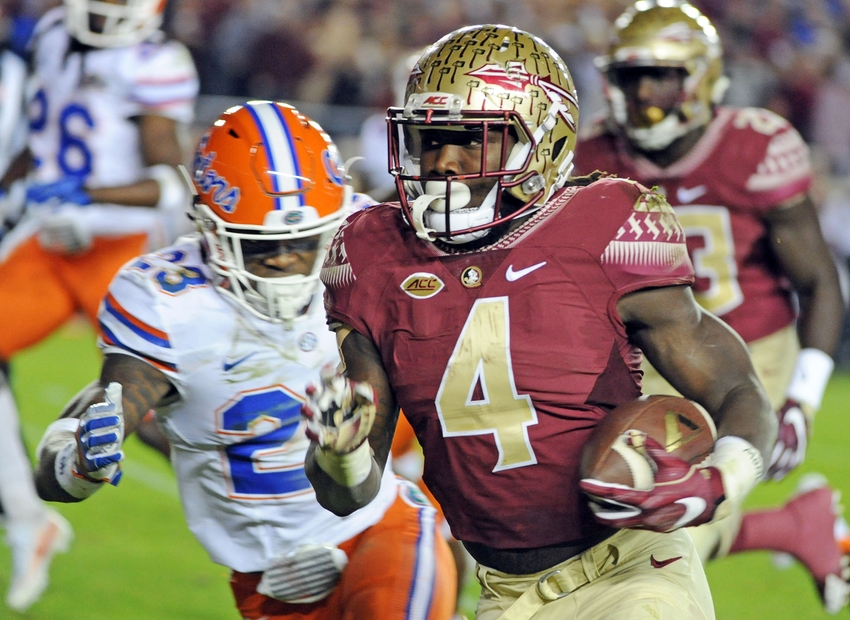 FSU football is prepared for the likely departure of running back Dalvin Cook following the bowl game, but here are the reasons he should stay for 2017.
Saturday's win over the rival Florida Gators was more than just another big win for the Florida State Seminoles – it was another showcase for the best player on the FSU football squad, running back Dalvin Cook.
Nearly outgaining the entire Gators' offense by himself in total yardage, Cook dropped 153 yards and another touchdown on the ground as he continued his dominance against Florida, any team that plays in the Sunshine State and…well, quite frankly, against anyone he plays.
It was also a bittersweet game for fans of the 'Noles considering it was probably the final time he will take the field at Doak Campbell Stadium. Many experts believe Cook will turn pro following FSU's bowl game this season (possibly an Orange Bowl game played in Cook's hometown of Miami).
But, is there an argument to be made the Cook should stay for his senior season? Here are the top three reasons he should return to Tallahassee in 2017?
No. 1 – Cook could run away with every record there is
This season, Dalvin Cook has added to his magical run in Tallahassee by becoming the school's all-time leading rusher for a career as well as breaking the record for most rushing touchdowns in a career. After Saturday's showing against the Gators, Cook needs just 72 yards in the bowl game to break the single season record – one he set last season.
If Cook got to his 2016 average of 135 yards per game in the bowl, he would get to 1,755 for the season and 4,454 for his career. Those numbers could intrigue to stay to become just the 28th player in FBS history to reach 2,000 yards in a season and the sixth ever to get 6,000 for a career – meaning he could be not just one of the best backs in FSU football history, but in all of college football history.
No. 2 – Cook could get the National Title / Heisman combo
In 2016, plenty of experts thought that Cook would be one of the finalists heading to New York City for the Heisman Trophy while the Seminoles would be prepping for a CFB Playoff appearance. While the first part remains to be seen, the 'Noles didn't exactly live up to expectations when it came to playing for a title.
That could change in 2017. On offense, Deondre Francois will have a valuable year under his belt while bringing back many of the receivers he grooved with (even if Travis Rudolph goes pro). The offensive line has to be better, while the defense is going to be stacked – even with DeMarcus Walker gone – with guys like Josh Sweat, Derrick Nnadi (if he stays), Brian Burns, Matthew Thomas, Tarvarus McFadden and…oh yeah, Derwin James coming back.
FSU football will be the favorite in almost every game next season – except maybe the opener against Alabama to open the season. Even if they lose that game, the 'Noles will be the team to beat in the ACC (with Clemson losing their talent and Louisville coming to play at FSU) and, again, in the state of Florida.
As far as the Heisman goes, Cook would be one of the opening favorites even if he isn't a finalist this season. In 2017, his real competition will be Louisville's Lamar Jackson, Washington's Jake Browning and Alabama's Jalen Hurts – and Florida State plays both Jackson and Hurts next year, which would give Cook a chance to outshine both.
No. 3 – Cook could position himself to be the 2018 NFL Draft's top pick
Along the lines of why he would be a Heisman favorite, Cook would be entering a 2017 draft class that has a decent amount of talent – but also names from schools that will get playoff exposure and non-stop talk from all the "experts".
True, Cook would be a first round pick without a doubt if he were to leave right now. But imagine what he would be if he stayed for another season? Many of the 2018 mock drafts have Penn State's Saquan Barkley going in the mid first round as the first back taken. With another season like 2015 or 2016, Cook could be a top five pick – maybe even the second FSU football star to be taken first overall if things go according to plans.
Look, I know the chances are slim that Dalvin Cook suits up for the Seminoles in 2017. However, it is not out of the realm of possibilities – and could completely shake up the college football world if he does.
This article originally appeared on