FSU Football's Most Memorable Bowl Wins: No. 15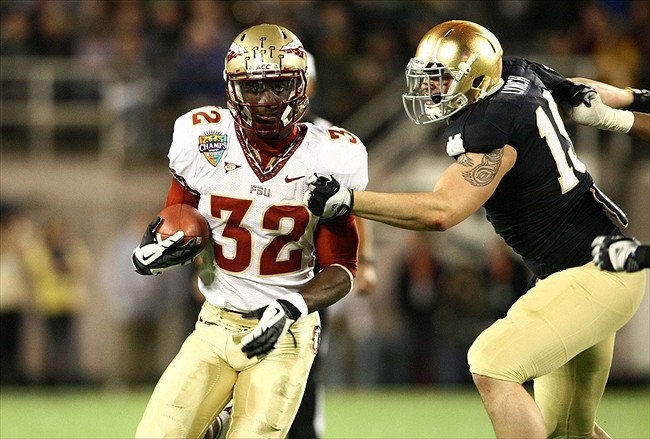 FSU football is heading back to another bowl game – here's a look at the one of the more memorable postseason games in program history.
On January 2nd, 1950, the Florida State Seminoles made program history in just their third season of play. FSU football traveled from Tallahassee to Tampa to take on the Wofford Terriers in the Cigar Bowl – the first time the 'Noles had been selected to play in a postseason bowl game since the program started.
This season, the Seminoles will take part in their 46th all-time bowl game when they play in the (bowl game) against the (opponent). It will be another in the list of memorable postseason contests for FSU football – a list that has taken the team everywhere from Miami to San Francisco and Atlanta to Dallas and points all over the place.
But, which bowl games have truly been the best ever for the Seminoles? Here's a look at another memorable moment in the postseason for Florida State.
No. 15 – 2011 Champs Sports Bowl (Florida State 18 Notre Dame 14)
While the big rivalry hatred for every 'Nole is saved for the Florida Gators and the Miami Hurricanes, the men from South Bend have found themselves going up the list of schools that FSU football could do without. It isn't because they play often (just eight times since 1981), but because when they play, it usually means something is at stake.
In this case, the Seminoles and Fighting Irish met in Orlando for the second time (and in a bowl game for the second time as well) looking to build some confidence for the 2012 campaign (a year that would be see both teams end the year playing in Miami). Early on in this bowl game, the Fighting Irish were in complete control and took a 14-3 lead into the fourth quarter.
In that final frame, FSU football woke up and dominated the final 15 minutes. E.J. Manuel connected for two touchdown passes – one each to Bert Reed and Rashad Greene – while the sixth ranked defense in the nation held Notre Dame to just 280 yards total in the game while coming up with three interceptions, including one in the end zone by Terrance Smith late in the game, to seal the 18-14 win.
In addition to giving the Seminoles their fourth straight bowl win, it was the first time that FSU football had swept Miami, Florida and Notre Dame in the same season – a feat they would accomplish again in 2014.
This article originally appeared on