FSU Football: Reliving Moments Against Syracuse All Time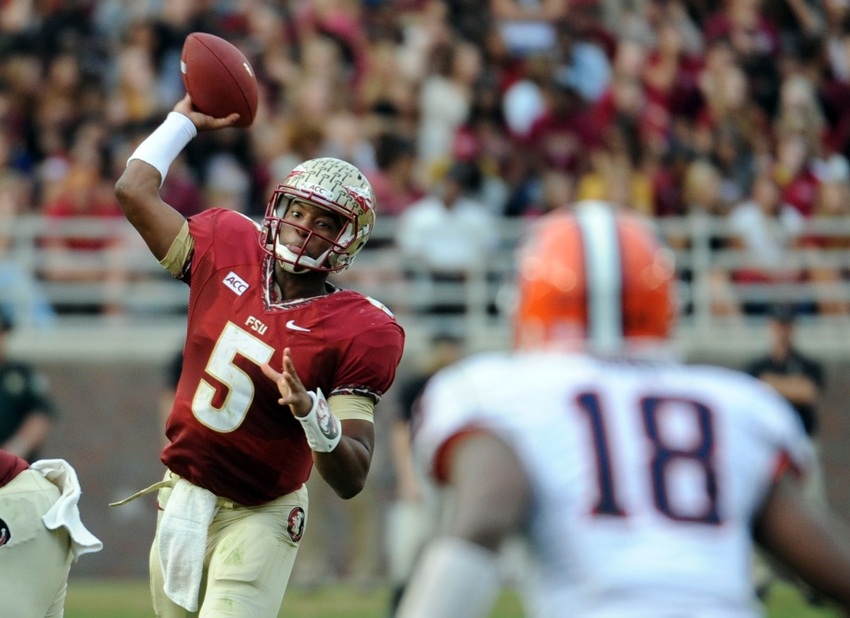 With FSU football meeting the Syracuse Orange this weekend, let's take a look some of the biggest matchups to take place between the schools.
Conference rivals often have long and storied histories, with epic battles and amazing comebacks.  The history between the Florida State Seminoles and the Syracuse Orange is nothing like that.  It may seem strange, but these two teams have actually only played nine times in their history. That's because Syracuse only joined the ACC three years ago.
The series hasn't gone well for Syracuse: they won the first meeting exactly fifty years ago last Saturday, but have lost the eight games played since.
That first matchup ended 37-21, the second closest score in series history. Floyd Little gained 193 yards and had three touchdowns on 25 carries, while future NFL great Larry Csonka scored one rushing touchdown on his 17 carries and gained 65 yards. Csonka would end up with more yards on the season, but this game was all Little.
And no, I'm not forgetting the passing game. Two Syracuse players combined to go three for seven to gain 31 yards. The other Syracuse points came from a field goal and a punt return with a missed extra point, so Csonka and Little sum it up just fine.
The third closest game was in 2014, when the No. 1 ranked Seminoles crushed the unranked Orange 38-20. The real difference in that game was Jameis Winston, who went 30 for 36 and gained 317 yards, with three of those throws going for touchdowns. Winston literally outscored Syracuse with his arm.
The closest game was a defensive struggle in 2004, when Syracuse was still in the Big East. FSU entered halftime down 10-3 and ended their first two second half drives with an interception and a missed field goal (separated by a Syracuse missed field goal). Syracuse then went three and out, and the Seminoles scored on the ground on their next two drives, including a 45 yard score from Leon Washington. The FSU defense shut down Syracuse the rest of the way and sealed the game with a pick with 13 seconds left.
Unfortunately for Syracuse, this trend likely won't break this week. FSU football needs to win out to have any chance of a New Year's bowl game. No. 17 FSU's three losses came against Louisville, Clemson, and UNC, all of which are significantly better teams than unranked Syracuse, which is sitting at 4-6 on the year. FSU is also getting a couple of star players back, making this game even more of a mismatch that should end in an easy victory for the Seminoles.
Maybe next year will break the trend.
This article originally appeared on