FSU Football: Matthew Thomas Making Most of Second Chance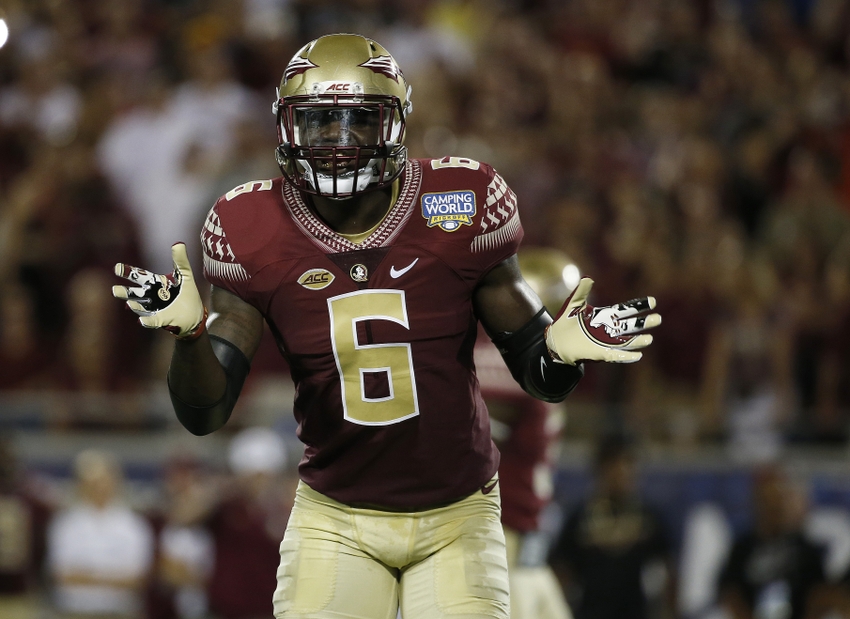 After a rocky first three years with FSU football, linebacker Matthew Thomas is making the most of a second chance to succeed with the 'Noles.
With the 2016 regular season coming to a close, there have been plenty of disappointments for FSU football. There will be no national title or conference crown to play for, but the season still has plenty going for it. In addition to what the team can still achieve, it has been the coming out party on the field for linebacker Matthew Thomas.
But to know why the 2016 campaign for Thomas has been one of redemption and making good on promises, you have to remember his rocky past since deciding to become a member of the FSU family.
During the first Wednesday in February 2013, the coaching staff for Florida State crowded around a table and waited patiently for a fax machine to give them the good news. It was news that was coming to them 480 miles from campus – inside a high school auditorium in one of Miami's toughest neighborhoods.
When everything was done and signed, the 'Noles were celebrating. Thomas, a five star linebacker and one of the top 15 players in the entire class nationally, chose FSU football over schools like Alabama, USC and the hometown Hurricanes. Almost immediately, it was the start of a rocky relationship as Thomas made it clear that he wanted to go to USC not long after signing with FSU.
But it would be his mother, Mariska Nyon, who made sure that he honored his commitment to the Seminoles. For Nyon, Florida State was close enough she could make sure her son was on the right path but away from the old friends and possible traps in Miami. She appreciated the family atmosphere – and respected that Jimbo Fisher viewed Thomas as a person and not just one of the top recruits.
FSU Football: Fans React To 'Noles Big Win Over BC
It wasn't fun once Thomas arrived on the Tallahassee campus. Surgery kept him out for much of his freshman year after playing in just four games (earning a medical redshirt) while a suspension cost him the first six games of 2014. When he was on the field, Thomas showed brilliance – but those times were few and far between early on.
Tragically, the biggest difficulty for Thomas would happen not long after the Rose Bowl loss to Oregon. Nyon lost her battle with a lung disease. Thomas was lost and stopped caring about things – becoming academically ineligible for the 2015 season. Some fans and experts begin to call him a bust and wondered if things would ever turn around.
Fast forward to this season and we've seen a new and improved Matthew Thomas. Through his first three seasons, he had 30 total tackles and one sack. So far through 10 games this year, he has 50 tackles – including 10 against Louisville, eight against UNC and 15 combined in the last two games.
Teammates say they knew what Thomas was capable of once he actually got on the field and could stay there. He has emerged as not just the leader of the linebacker corps, but the second leader of the defense after DeMarcus Walker following the injury early in the year to Matthew Thomas.
In life, and in football, it isn't all that easy to get redemption and be able to be beyond successful with your second chance. Thomas is draft eligible after the season, but looks like he will return for the 2017 season. If he does, Matthew Thomas's redemption story with FSU football could have even more memorable chapters written.
This article originally appeared on