FSU Football: Keys To Victory Against Florida Gators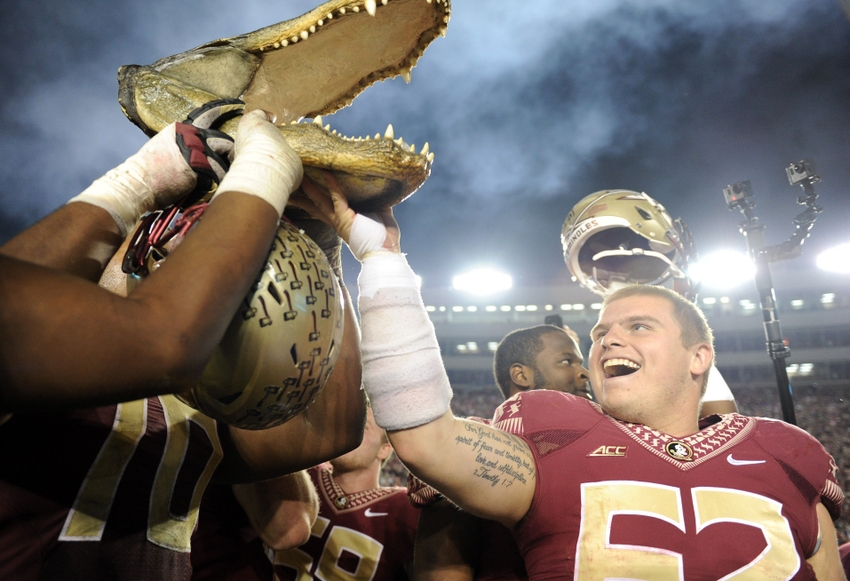 FSU football will take on arch rivals Florida Gators Saturday night in primetime. We take a look at the keys to give FSU its fourth straight win in the rivalry.
FSU football was 3-2 on the season after a 54 yard field goal loss to UNC in October with the Miami Hurricanes on deck. It looked like there was a good chance they wouldn't continue their reign as state champs of the state of Florida.
However, the 'Noles rallied to knocked off Miami was the seventh consecutive time and now have a chance to continue their reign over the state with a win over Florida.
A win on Saturday night would be six out of the last seven, and three straight wins over Florida. It would also mean FSU football is the SEC East Champs once again :).
The 'Noles are -7.5 point betting favorites, but it won't be easy as Florida has one of the top defenses in the country.
Luckily, FSU football has one of the top offenses in the country. We'll take a look at the keys to continuing its dominance over Florida.
Key No. 1
This is a key for every game, but winning the line of scrimmage is a must against Florida on Saturday night.
The 'Noles offensive line will be tested in both run blocking and pass protection as Florida can get off the quarterback and gear up to stop the run.
Their No. 5 overall defense is No. 7 against the run on standard downs and No. 9 against the pass. However, it should be noted they are No. 44 on passing downs so it'll be important for the offensive line to protect Deondre Francois.
It'll also be important for Francois to avoid taking unnecessary sacks as a result of holding the ball too long. The passing attack is a bit better for FSU than last year, so Dalvin Cook should be able to get going a bit earlier in this game compared to last year when he gashed Florida late.
Key No. 2
FSU football coach Jimbo Fisher has said it several times this week and I agree. The FSU receivers are going to have to be physical and win one on one matchups in this game.
The trio of Nyqwan Murray, Auden Tate and Travis Rudolph will need to play big as well and Ryan Izzo.
The Florida defense is allowing 160 yards per game, but the FSU passing attack is averaging 279 yards per game.
Florida will likely play a lot of man-to-man which could allow Deondre Francois to become a factor in the run game as well. I expect Jimbo Fisher to use him just enough to loosen that Florida pass defense.
I wouldn't be surprised to see Kermit Whitfield have a big play or two as he led FSU in receiving yards last season against UF.
Key No. 3
FSU football can't afford to turn the ball over against Florida and they need to win the field position battle.
The 'Noles have done a good job of taking care of the ball all season, but did have three turnovers in their last game against Syracuse.
It's difficult to beat good teams with multiple turnovers. Actually, that's the reason the 'Noles lost at home to Florida in 2012. EJ Manuel and the FSU offense turned the ball over FIVE times.
Florida's punter is averaging a monster 47 yards per punt on the season, so it'll be important to win the field position battle as FSU is only averaging 40 yards per punt on the year.
Also, FSU special teams have been lackluster, allowing an average of 23 yards per punt return on the season.
FSU can't afford to allow UF special teams to impact the game by scoring or setting up an easy score.
Conclusion
This is a game that FSU should win. They are playing at home and have the more complete team. The only advantages Florida has is on special teams (punting) and defense. However, FSU's offensive prowess should be able to offset some of that.
They have a lot of weapons that can attack at every level on the field.
It's strength vs. strength and whoever executes the best will win the game. Hopefully FSU football can continue its streak of starting fast on offense with the defense being locked in from the beginning.
If FSU gets up early it would make it even tougher for a limited Florida offense to get back in the game.
Go 'Noles!
This article originally appeared on