FSU Football: Jimbo Fisher Staying Grounded Ahead of Orange Bowl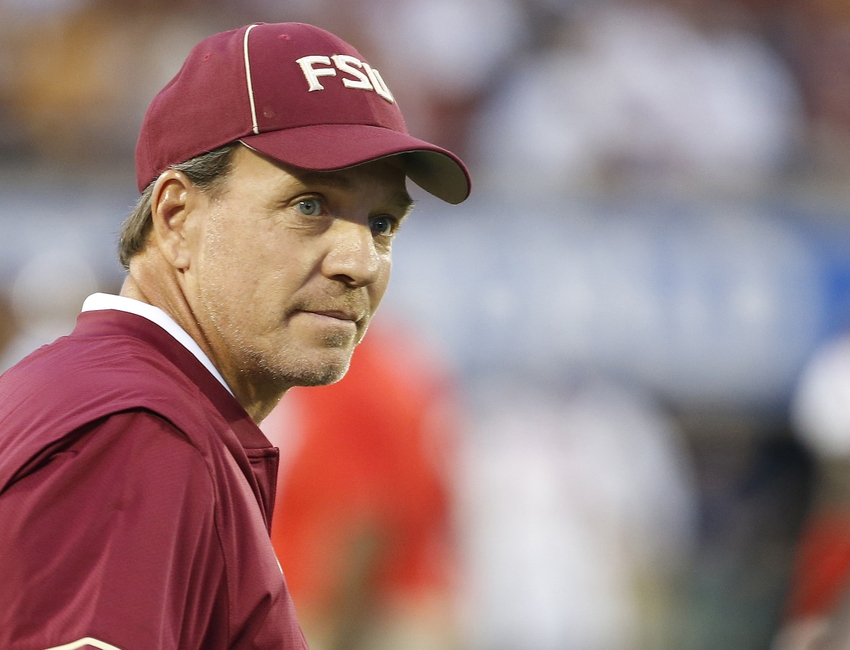 At Wednesday's coaches presser for FSU football's Orange Bowl game against Michigan, Jimbo Fisher appeared focused for the matchup of football powers.
On a warmer than usually December day, two of the hottest names in college football coaching met poolside at the Hard Rock Casino in South Florida – to talk about maybe the best non-playoff bowl game this year. While Michigan head coach Jim Harbaugh had the quotable moments and zany words, FSU football head coach Jimbo Fisher took the opposite approach…and appears focused.
Both coaches met with members of the media, including Chop Chat, to discuss the matchup between the sixth ranked Wolverines – who finished 10-2 with losses in two of their last three games – and the 11th ranked Seminoles, who have won their last four games and may be playing some of the hottest football in the FBS.
While the 'Noles have plenty of leadership from running back Dalvin Cook and defensive end DeMarcus Walker, a youth movement has carried them over the last month. Names like quarterback Deondre Francois, defensive back Tarvarus McFadden and defensive end Brian Burns give Fisher plenty of promise for the future – and he's happy they get a chance get big time bowl exposure so early on.
"To take it on this national stage and do it in a bowl game for the future of our program, I think is tremendous," Fisher said. "I think that's going to be tremendous for these guys (and their) development in the future and we can get back to these types of games and national championship games and things. I think it's going to be huge for the development of them and our program."
While the focus for many fans will be on rooting the 'Noles onto victory, there will also be the lingering question about whether this is Cook's final game. Fisher would not address if he thought that was the case, but was happy that his star is able to return to his hometown on such a big stage.
FSU Alumni In The NFL For 2016: Week 14 Edition
"It's great for him, again to be able to experience – how many kids are recruited to major universities and be able to come home and play in a major bowl game in your hometown with your family and friends can all share that," said Fisher.
While Harbaugh spent time praising everything from Cook to the pregame event that is Chief Osceola and Renegade (saying he wouldn't mind them showing up, which they will be doing), Fisher kept his focus on the game itself and how fortunate FSU football is to be in this spot – especially after a 5-3 record entering November.
"…To a New Year's Six bowl game and to have an opportunity to play against an opponent such as Michigan, like I say was right there in the playoff contention all the way through, one of the best teams in the country, very well-coached and I say as one of the brand names of college football out there, there's not a bigger stage."
Fisher and FSU football will travel back down to South Florida on December 26th to begin preps for the game, which will kickoff December 30th at 8 PM from Hard Rock Stadium in Miami Gardens.
This article originally appeared on