FSU Football: Jimbo Fisher Reportedly Choosing Seminoles Over LSU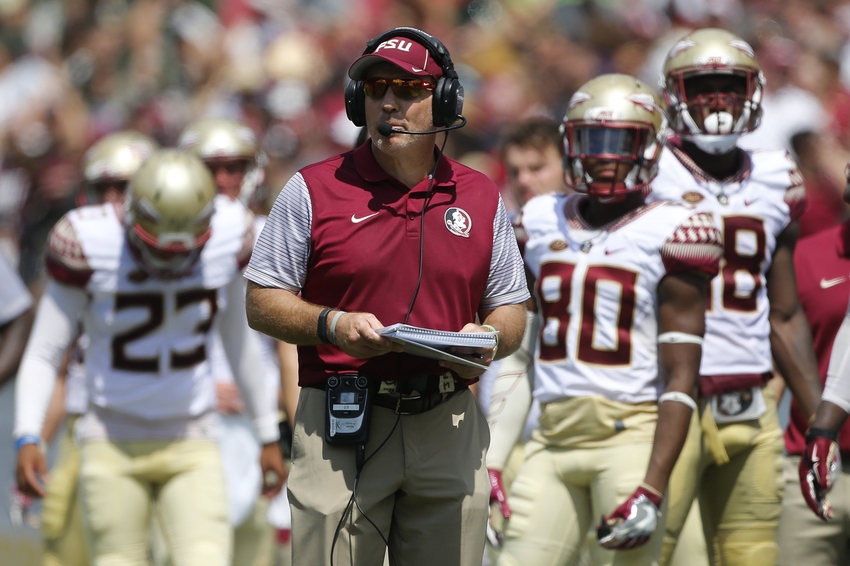 According to reports, FSU football head coach Jimbo Fisher has made the decision to stay with the Seminoles over a job as the head coach at LSU.
If one of the things you said during your Thanksgiving dinner was 'I'm thankful for Jimbo Fisher and hope he stays in Tallahassee", you are counting your lucky stars at this point – because it now appears the Seminoles won't be looking for a new head coach after all.
According to several members of the ESPN family, the Tigers have reportedly turned their attention toward different candidates after Fisher told them he is going to stay the head man of the FSU football program (h/t SaturdayDownSouth.com):
LSU has zeroed in on Houston's Tom Herman as its next head coach and could have a deal in place as early as Saturday, sources told ESPN.com's Chris Low on Thursday night. Florida State's Jimbo Fisher was also near the top of LSU's wish list, but Fisher opted to stay put before talks with LSU ever got too far down the road.

He's told some close to him that he thinks he could have some of his most talented teams at FSU over the next two years.
It's almost as if Jimbo read our article on Wednesday saying the exact same thing: the better job right now is the one in Tallahassee.
It's the second straight season that Jimbo Fisher's name was linked to the LSU head coaching job. He's extremely familiar with the school, serving as the offensive coordinator for the Tigers before taking the same spot for FSU football in 2007.
Fisher and the 'Noles can now turn their attention to the regualr season finale against Florida on Saturday without having they hanging over our heads.
This article originally appeared on