FSU Football: Four 'Noles Named ACC Players Of The Week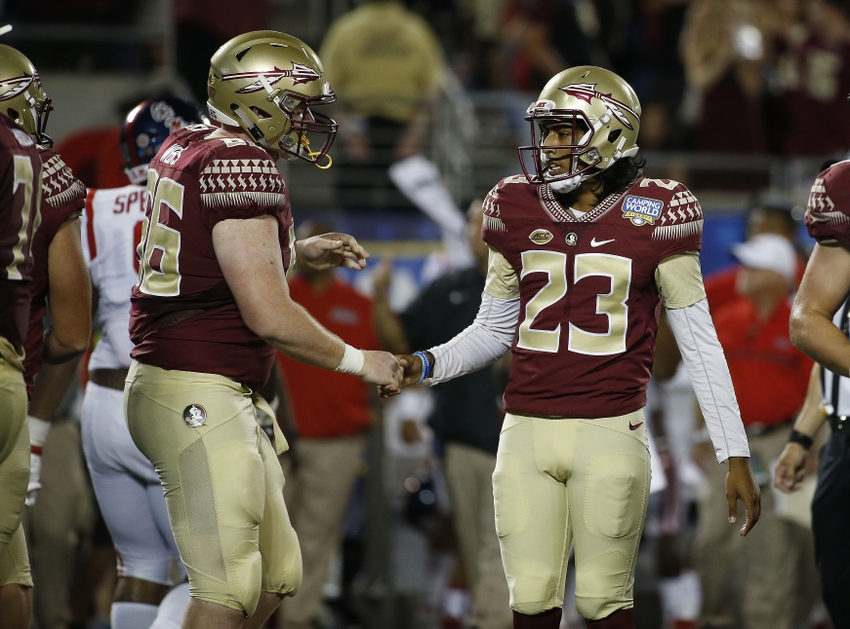 FSU football had a second half for the ages on Monday night against Ole Miss. That performance landed four 'Noles on the ACC Players of the Week.
Via Press release:
Four student-athletes who played key roles in No. 4 Florida State's come-from-behind win over No. 11 Ole Miss highlight the first group of Atlantic Coast Conference Players of the Week of the 2016 football season.

Seminole redshirt freshman quarterback Deondre Francois was voted both ACC Offensive Player of the Week and Rookie of the Week, while senior defensive end DeMarcus Walker earned ACC Defensive Lineman of the Week recognition. Derwin James claimed Defensive Back of the Week honors, and freshman placekicker Ricky Aguayo received the nod as the Specialist of the Week. The four helped Florida State wipe out a 22-point first-half deficit and stage the biggest comeback victory in school history in Monday night's 45-34 victory over the Rebels.

Other honorees include Clemson's Taylor Hearn as Offensive Lineman of the Week and Kendall Joseph as Linebacker of the Week.  Syracuse's Amba Etta-Tawo was voted the ACC Receiver of the Week.

ACC Football Player of the Week selections are determined by a vote of a 14-member media panel.
Thoughts
What a start to the season for the two freshmen in Deondre Francois and Ricky Aguayo. The interesting thing was nobody knew how Francois would react under that type of pressure, but he passes the test with flying colors.
He had no turnovers, and only made one terrible throw (decision wise) that I can remember. He threw into double coverage in the red zone and the play was broken up by Ole Miss defenders.
That pass could have been intercepted easily.
His numbers would have been even better had Dalvin Cook not fumble away a sure touchdown.
Ricky Aguayo had ice water in his veins, nailing all six of his field goal attempts. They were all important as they kept momentum on the side of the 'Noles.
A missed field goal could have given new life into a desperate Ole Miss team in the second half.
DeMarcus Walker and Derwin James simply picked up where they left off in 2015. Walker was unstoppable, and James was a man among boys as usual.
If FSU football can get he same kind of effort that they showed in the second half? They'll be extremely hard to beat.
This article originally appeared on