FSU Football: Fans React To 'Noles Huge 31-13 Win Over Florida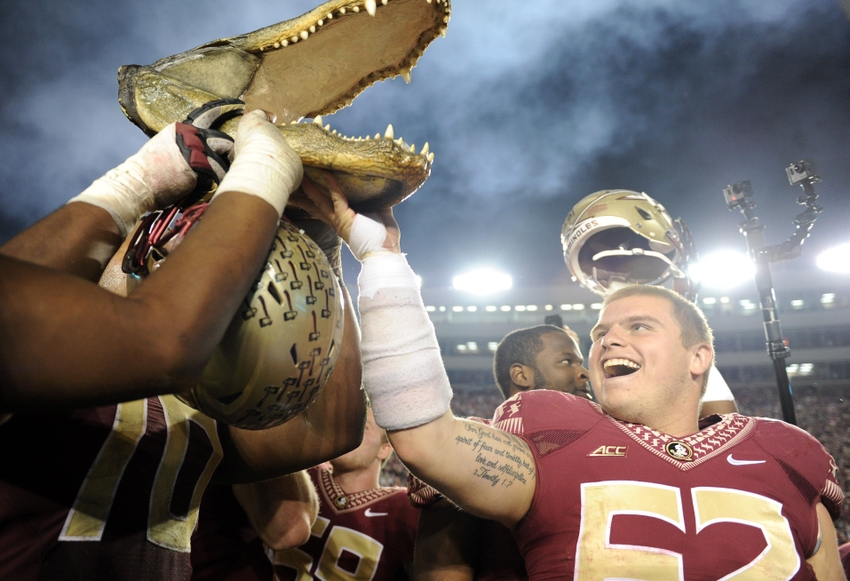 What a night for FSU football. A 31-13 thumping of rival Florida and the fourth consecutive win in the series.
FSU football has players on its team that have NEVER lost to Miami or Florida in four years. That has never happened in the history of the program.
The 'Noles have now won six of seven against the Gators, and are the state champions of the state of Florida for the fourth consecutive season.
Now the 'Noles wait to find out if they supplant Louisville in a NY6 Bowl game since they lost to Kentucky. They were the only ACC team to lose their rivalry game against the SEC Saturday.
Yall had ONE job Louisville.
Anyways, let's get some the fan reaction from the 'Noles big win over Florida.
FSU Players
Feel good to be a Seminole‼️💯✊🏾#StateChamps

— Brian Burns (@Fire_Burns99) November 27, 2016
Young'N next up… pic.twitter.com/ud5IJlLtrG

— Levonta Taylor (@LevontaTaylor) November 27, 2016
I put MY city on my back #Duvalllllll

— DeMarcus Walker (@livinglegend_44) November 27, 2016
They don't score they don't win. Gatorrrrrr Baittttt😂

— Ermon Lane lll (@_MoneyLane) November 27, 2016
🍢💯🍢💯 pic.twitter.com/PHPjFCTdXe

— Carlos Becker lll (@beckercarlos5) November 27, 2016
State Champs!!! 🍢🍢 #NoleNation

— Jacques Patrick (@jacques_patrick) November 27, 2016
Back to Back pic.twitter.com/N2mR89EP6E

— Derwin James Jr (@derwinjames6) November 27, 2016
Florida Fans
These coaches know better. I was hoping to see improvement this year but it's more of the same, game in and game out. We hired an offensive-minded coach and yet here we are. Why is this something we're just shrugging at? You would hardly know if it was McElwain or Muschamp on the sideline as of late. I know he can do better. But why isn't he?

I understand you need a QB. Is this really the best he could do at the end of year 2? We seem so unprepared for every single game. Why? What are we doing every week?

Love the players. Something needs to change
FSU was the better coached team. Our offense did not have any big play capabilities, failed on all their 3rd downs, could not score one touchdown, could not keep our defense rested in the second half, Not impressed with Coach Nuss at all. Injuries impacted us, but every team plays young players and every team has injuries during the year. FSU was actually very young on offense as well
Need to make changes at OC and OL coaches.
This is a scrub staff on the UF offensive side of the ball. Hopefully 3 or more goats will escape after next weekend..
Most of our key injuries are on defense, and yet they're the ones keeping us in games. How
is that possible? You'd think the offense would be carrying the load by now. Or at least a share of it!!!! I can't believe the offense is getting worse, that's what's disturbing. Qb "whisperer"? Could have fooled me. Something needs to change because this is getting old fast. When your speciality is offense and you go 0-12 on third downs, something is very wrong. When Vandy is scoring half a hundred on UT, and over 600 yards, something is definitely WRONG. Baffling
I couldn't feel more defeated right now. We shouldn't ever lose to fsu four years in a row. This coaching staff didn't do a good job and that's an understatement. I know it's "in all types of weather" but after Urban's '09 offense, muschamp's horrible years of offense and now this sh*t the last two years, they're making it hard to continue to just watch. I'm born and raised in Gainesville, everybody in my family and lots of friends went to UF and I can't think of one person that wants to continue to watch every Saturday. They're forcing us to be bad fans. And Gator fans are some of the most loyal and knowledgeable in the country. But who isn't second guessing now how they spend their Saturdays. Mac and his staff along with the staff's before are making me not enjoy college football anymore. And this is something that's almost a religion to me. But I'm eventually just going to spend my Saturdays doing something else with my kids thsn watch Gator football. It hasn't been fun for a long time. My oldest son is 11 and he can't remember a fun Florida football team to watch. That's sad af to me. If that's not scary to the people in the athletic dept. then they're clueless or in the wrong profession. The whole season could become one of the greatest still with just one win next week…but with Nussmeier calling plays and Appleby throwing off his back foot on every throw and mav refusing to change QBs because he doesn't have balls enough to just put a freshman in and let him play… it's looking impossible that we beat Bama.
Jeremy Foley has screwed the gators up royally. Could we get Franklin before he went to Penn State? This Saban coaching tree is getting old. Other than Jimbo who is making it?
FSU Fans
FSU vs UF game was a success glad I got to spend my last home game as an undergrad with you!… https://t.co/E5KeeFdovE

— Nicole Kanaskie (@nkanaskie) November 27, 2016
4 times STATE CHAMPS for the First time in @FSU_Football history‼️🙌🏽🏉 thanks to @livinglegend_44 @NateAndrews29 #FSUvsUF #FSUTwitter #Noles https://t.co/boIG3wGi2y

— Eric Carr (@_EricCarr) November 27, 2016
Oh hey. Who is that I see at #FSUvsuf @jennifersterger ? pic.twitter.com/ipdDkUuS0G

— Singleshot ⚾ (@Singleshot25) November 27, 2016
Amazing game. Proud to be #FSU alum #FSUvsUF #gameoftheseason https://t.co/TGqvO7ooVl

— Heather Why (@iamheather_why) November 27, 2016
That moment you realize you went to @floridastate instead of @UF #FSUvsUF pic.twitter.com/IS9ts0oMh7

— Caryn Savitz (@CarynSavitz) November 27, 2016
Okay honestly incredible game ❤️💛#FSUvsUF

— Amanda. (@akmilr) November 27, 2016
By far my favorite game I've been to. Love my school ❤️💛 #FSUvsUF

— Rachel (@msftss) November 27, 2016
So Gator fans saw that Seminole Shadow and went back inside their holes. I think that means four more weeks of winter. #FSUvsUF

— Chris Gwaltney (@abccigarchris) November 27, 2016
Did the gators even have a chance tonight? #FSUvsUF pic.twitter.com/onpiuIgTCa

— Tobi muller (@tobi_muller) November 27, 2016
Go Noles baby🔥🙌🏼 #FSUvsUF 4 in a row

— Ryan the Goat (@ryanthomas817) November 27, 2016
It's great to be a Florida State Seminole!
More from Chop Chat
This article originally appeared on