FSU Football: Fans React To Comeback Win Over NC State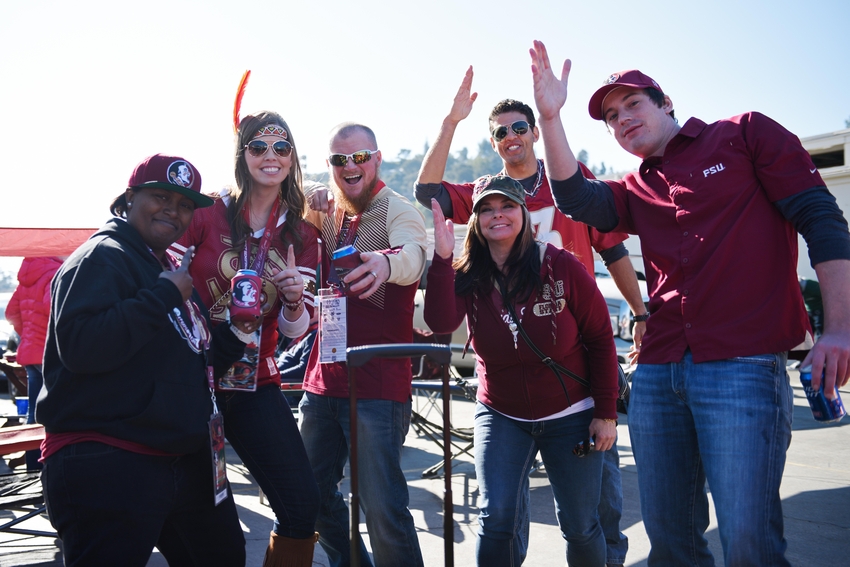 FSU football survived again in Carter Finley Stadium against the NC State Wolfpack. Fans react to the come from behind win on social media.
FSU football feels like a broken record when I write after the games. The game begins and there's no question that FSU will have to play from behind in the first half.
That's exactly what happened against NC State on Saturday night. The 'Noles got down 10-3 and then 13-10 at halftime, before rallying in the fourth quarter to stun the Wolfpack crowd.
It wasn't pretty by any means, but the win made FSU football eligible for a record 35th consecutive year. It also gives them a great shot of finishing the year with nine wins, and a chance for back-to-back 10 win years with a bowl victory.
Let's check in with fans from both fan bases to see their responses after the game.
NC State Fans
Dave Doeren will not get it done at NCSU. Time to cut your losses. Program is worse after 4 years. #FSUvsNCSU

— Bailey melvin (@bailey_melvin) November 6, 2016
Doeren is terrible we have to replace him 4 years of wasted time enough is enough #FSUvsNCSU

— Brad Gallagher (@BradGallagher11) November 6, 2016
HELLO and Wake Forest is bowl eligible, chortles Stan. @MyTakeOnWakeWSJ #FireDoeren #FSUvsNCSU

— NIT Stan (@NITStan) November 6, 2016
Well Dave.. It's been real, it's been fun, but it ain't been real fun. #FSUvsNCSU

— Jose Chavez (@chosejavez) November 6, 2016
Screw FSU. #FSUvsNCSU

— Alexander (@alexsuarez96) November 6, 2016
Nice knowing you Dave #FSUvsNCSU

— Cyrus Wayne (@cy_thagreat) November 6, 2016
FSU Fans
FSU gets screwed over by the refs more than any other team I've seen. That was clearly running into the kicker.#FSUvsNCSU

— Zack Koeck (6-2) (@zack_koeck) November 6, 2016
One of the worst targeting calls I've ever seen. Pathetic. #FSUvsNCSU

— Austin Parker (@Austin_Parker) November 6, 2016
The #FSUvsNCSU tag should be #FSUvsREFS shit is pathetic. 😠😠😠

— Mr. Beastly (@inbeastitrust) November 6, 2016
Just finished the #FSUvsNCSU game. Seriously- get rid of the helmets and tackling (put flags on their waists) if THAT is targeting.

— Decker (@Rudedeck) November 6, 2016
Great game even though we had to play against the refs and NC State still got the dub🙌🏻 #FSUvsNCSU pic.twitter.com/GE0GTN0SJy

— Jacob Meyers (@jacobmeyers314) November 6, 2016
Is the problem Trickett? Kelley? Or the players? This FSU team looks so disorganized & uninspired. #fsu #FSUvsNCSU

— Farris (@CoachFarris) November 6, 2016
#FSUvsNCSU – Francois tough as nails; Cook ultimate team player; Murray and Rudolph clutch; Walker relentless. Go #Noles @FSU_Football

— Mike Whitney (@mike11whitney) November 6, 2016
Victory shot. #Noles #FSU #FSUvsNCSU #DonJulio #RÉAL pic.twitter.com/DlwjRH7Nit

— JFugle (@JRAF21) November 6, 2016
Thoughts
I have to agree with the referees had a some stuff with them in this game. It was almost like they were trying to stick it to FSU football and Jimbo for calling them out last week for terrible calls the Clemson game.
Both of the touchdowns NC State scored involved penalties committed by the Wolfpack that went uncalled.
Another one, Foul or Not? pic.twitter.com/ADfMD0cRUt

— Cinefunk (@CinefunkMedia) November 6, 2016

That's a block in the back.
Foul or not? pic.twitter.com/kKdx6H9BOY

— Cinefunk (@CinefunkMedia) November 6, 2016

How can the referees not call that? That's awful. In fact, the referees only called THREE penalties on NC State ALL night!!
I wouldn't say anything except NC State is one of the most penalized teams in the country and average 7.4 penalties a game!
Overall, the defense did a solid job and the offense made plays when they had to do so. Stay tuned to Chop Chat for our in-depth analysis at 10 a.m.
This article originally appeared on