FSU Football Desperately Needs Derwin James Back Against Clemson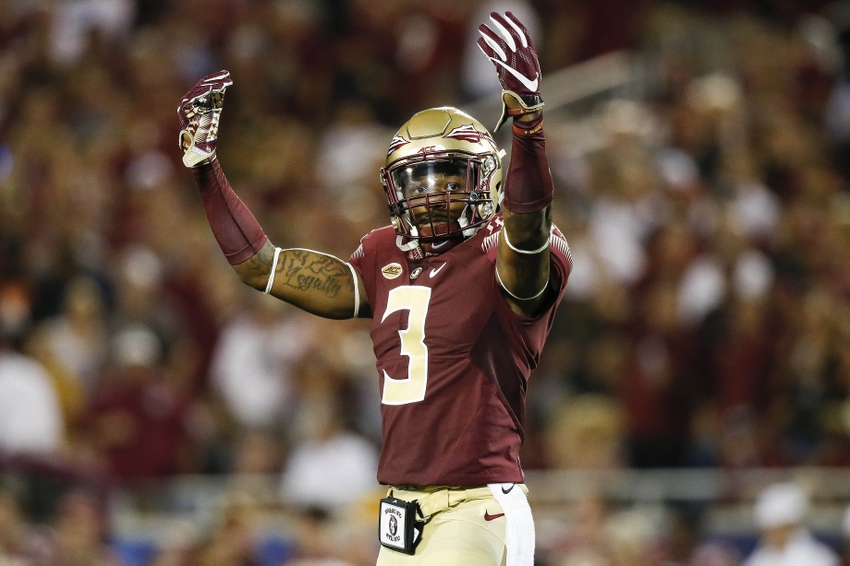 When FSU football comes back from the bye week, they desperately need star safety Derwin James back on the field against Clemson.
For the Seminoles, the first half of the regular season effectively ended Saturday with a (outcome) against Wake Forest in the seventh game of the season. Now, with a record of (record), FSU football heads into the bye week before what is still a monster game against top five ranked Clemson.
If the Seminoles have any shot of winning against the Tigers, it's going to take a monster effort on both sides of the ball – and the return of Derwin James.
The star safety and team leader went down with a knee injury during the second game of the season against Charleston Southern and has been sidelined for the five games since. When James had surgery on the knee, the Clemson game was seen as the earliest possible time he could be back.
For the sake of FSU football, James needs to be on the field come October 29th.
Now, I am not saying by any stretch of the imagination to put Derwin out there if he is still anything less than 100% healed. His health is more important than anything and any intelligent person will recognize that.
That being said, FSU football has just under two weeks to make sure that takes place.
Head coach Jimbo Fisher told reporters that James would be evaluated during the bye week to see if he can make a return sooner rather than later (h/t Tallahassee Democrat):
"They're telling him to slow down and not to do too much because he's healing and feeling good. I've kept up with it and we'll evaluate it hard next week during the off week."
FSU Alumni In The NFL For 2016: Week 6 Edition
By now, the secret is out that the Seminoles' defense in 2016 has not been what many expected, with a current ranking of (ranking) out of 128 FBS teams…a number that is actually good considering where they were just one month ago.
Is the injury and absence of James the sole reason for those pitiful numbers? No…football is a team sport. Is it a major factor? Hell yes.
Further amplified by the season ending injury to Nate Andrews following the win over Miami, the secondary is like a walking M*A*S*H unit that is being put together with players that are trying hard but still need leadership. It's a group that is now accepting help from wide receivers, as Ermon Lane moved over to that side of the ball.
Derwin's return does not guarantee that the Seminoles will come out with the win over Clemson and continue fighting for a strong finish to the year (and those razor thin hopes of an ACC Championship Game appearance) – but it would go a long way to helping the case.
More from Chop Chat
This article originally appeared on