FSU Football at N.C. State In-Depth Recap: What We Learned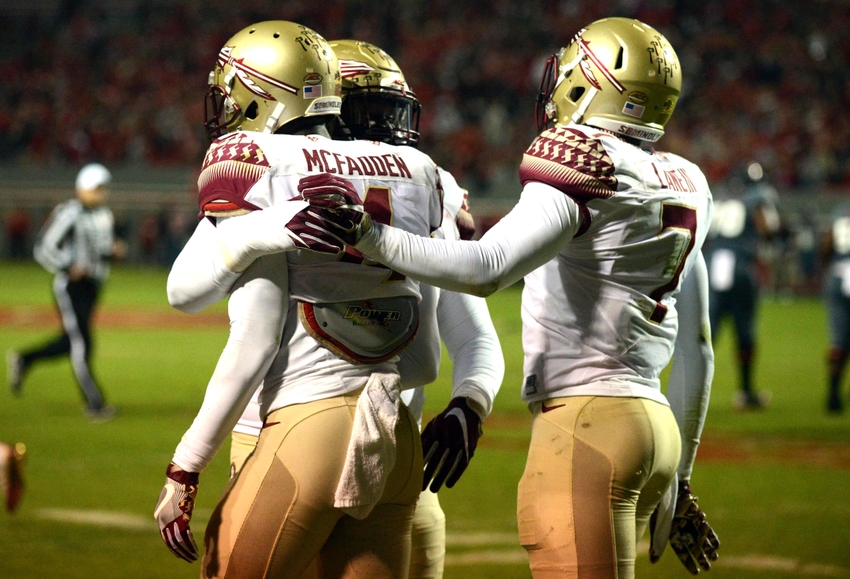 Here's the most in depth recap of FSU football from their latest game and what we learned from their win against N.C. State.
For the first 56 minutes of Saturday's game, it looked like the horror of playing in Raleigh for the Florida State Seminoles was going to strike again. But somehow…someway…FSU football managed to come out of North Carolina with a win when it needed one the most – guaranteeing a non-losing record for the 40th straight season.
Some people could argue that N.C. State lost the game more than the 'Noles won it. That might be true – but with the way the 2016 season has gone for Florida State, you have to think head coach Jimbo Fisher will take a win any way he can.
Here's a look at what we learned from FSU football's latest game against the Wolfpack.
No. 1 – It has been obvious for much of the season, but it's now confirmed that as running back Dalvin Cook goes, so does the Seminoles offense. On the day, the man who averaged over 168 yards the last five games was held to just 65 yards on a total of 18 carries (33 of those yards coming on three carries in the third quarter during the drive where he scored his only touchdown). Yes, the 'Noles got the win…in spite of the play of their best offensive weapon.
No. 2 – The Nyqwan Murray breakout has continued for the Seminoles. The sophomore from Orlando came up with 153 yards on the night on just nine catches, including a 37-yard catch on the game winning drive. With Bobo Wilson out for an extended period of time, Murray seems to have stepped in the role of giving Deondre Francois a dependable second option to compliment Travis Rudolph in the passing game.
No. 3 – While Francois did throw to six different targets during the game, you can tell that he is still looking at his main target on each play and not checking for a second or third option. It almost came back to bite D12 on the game winning drive when he was almost picked off since the safety could just follow Francois's eyes the whole time. Let us all hope that one of the things he works on this offseason is that.
No. 4 – The front seven for the Seminoles gave up their share of yards on the night, but did come up with some big plays when needed (including DeMarcus Walker adding to his sack total). It's a group that will miss freshman star Brian Burns for the first half next week thanks to a questionable targeting call, but might benefit from facing two really bad offenses the next two weeks in Boston College and Syracuse.
No. 5 – Stop me if you've heard this before, but the secondary for the Seminoles played just as bad as they have all season. Ermon Lane is still learning and looked like it at various points in the game, while players like A.J, Westbrook and Kyle Meyers seemed to have trouble learning how to tackle an offensive player. Heck, even Tarvarus McFadden mixed the good of his seventh interception of the year with, at several moments, getting beat for long receptions.
No. 6 – The regression of Logan Tyler in the punting game continues. For the first part of the year, we saw booming kicks and placement punts that gave us hope. Now, we're seeing his average go down each game and wondering what has taken place. It might be time to think about moving Ricky Aguayo to kickoffs so that the freshman can focus on getting his leg back to what it was.
Extra Point
At the risk of sounding like a broken record, you sometimes have to wonder if the FSU football team is still dealing with a major hangover from the 2013 national championship team. Of the 29 wins that the Seminoles have had since that season, 15 of them have been comeback victories. Is it a question of the players and coaches just thinking "hey, we've done this before…no big deal"? You almost wonder if losing more of those games might be what this team needs to get them in the right mindset.
Going For Two
Now, the Seminoles head into the final three games of their schedule against a Boston College team with no offense, a Syracuse team that may be without their quarterback/only offensive weapon and a Florida team that was exposed this week for being just like the 2015 Gators: great defense, God awful offense.
Translation: the road is set for FSU football to be 9-3 going into the bowl season, allowing them to get to double digits for the sixth time under Fisher. It's all up to the Seminoles to play like they want to finish on a high note.
This article originally appeared on