Friday night picks: Predictions for Notre Dame vs. Nevada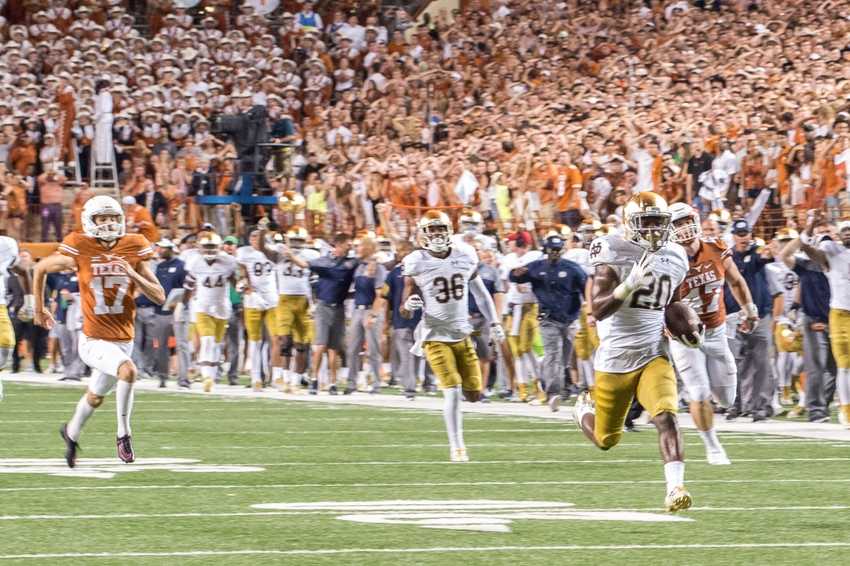 In desperate need of a bounce-back win to keep its CFP hopes alive, Notre Dame hosts Nevada tomorrow. Here are predictions from our staff and other experts.
Every expert at CBS Sports picked the Irish to top Nevada, but half of them predicted that Notre Dame would not cover the spread of 27.5 points staked to them by Las Vegas.
Over at Bleacher Report, featured columnist David Kenyon is calling for Notre Dame to pull away gradually but easily, with Malik Zaire cycling in at quarterback once the game is well is hand. He's saying the final score will be 41-17 in favor of the Irish.
In the Chicago Tribune, Teddy Greenstein also picked the Irish in a rout, citing Notre Dame's strong rushing attack against a weak Nevada defensive front, 44-24.
The staff of Blue & Gold Illustrated all think Notre Dame will cruise to a win in its home opener. Out of five predictions, the closest score was 48-20 in favor of the Irish.
The beat writers at The Observer, the Notre Dame student newspaper, are similarly optimistic, though perhaps a little more guarded in their expectations after the defensive horror show that was the Texas game. Out of five predictions, the closest was 38-20.
On the Nevada side of coverage, Chris Murray of the Reno Gazette-Journal thinks that Nevada has a lot going in its favor thanks to a few extra days of rest for the Wolf Pack, the Irish's emotional loss against Texas and the presence of a tough Week 3 game against Michigan State. Still, he said, Notre Dame should win out thanks to its massive edge in talent, 42-20.
And lastly, there's you, the betting public. According to one gambling expert interviewed by ESPN, 98 percent of the money right now is on Notre Dame to win. That's a whole lot of confidence in the Irish.
Our Picks
Greg Hadley: 38-17, Notre Dame
Danny Cunningham: 48-21, Notre Dame
Chase Eyrich: 52-21, Notre Dame
Consensus
There's no reason for Notre Dame not to cruise to its first win of the season here. The Irish are vastly more talented than the Wolf Pack and will be at home, where they have posted a 21-3 record over the past four years.
There's also a strong belief out there that Notre Dame will score a whole lot of points now that DeShone Kizer is installed as the starting quarterback. It doesn't hurt that he's going up against a weak, inexperienced front seven from Nevada.
On the flip side, most experts are still a little wary of the Irish defense after it gave up 37 points in regulation to Texas. It's not enough to make anyone think Nevada will win, but it has caused a few people to predict Notre Dame will not cover the (rather large) spread.
Of course, most people said Notre Dame would triumph last week against the Longhorns. But this week seems like a pretty safe bet.
This article originally appeared on