Former Wildcat Will Parks Seals the win for Denver Broncos in final minutes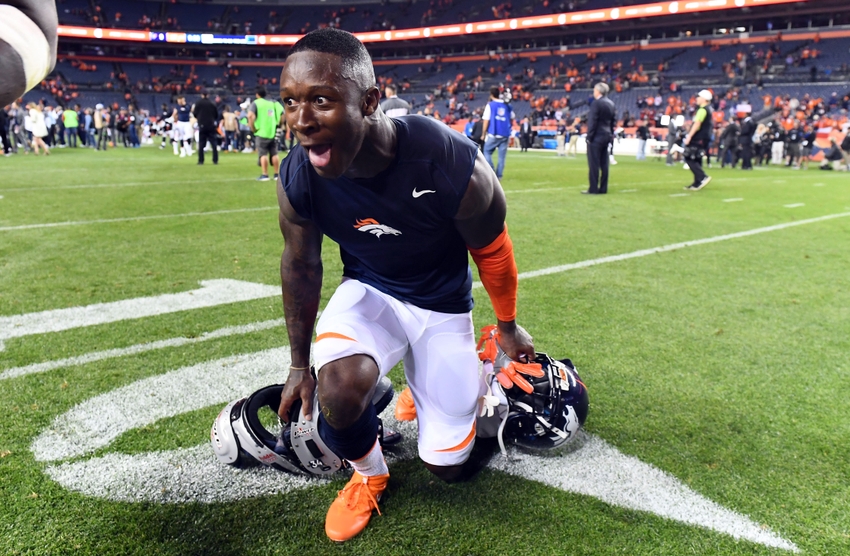 Arizona Alumni have made it a habit of shining at the professional level, and so far former Wildcat Will Parks seems to be another one on that impressive list.
The Broncos were facing a potential loss at the hands of Drew Brees and the Saints on Sunday in New Orleans. Looking to kick the extra point to take the lead in the waning moments of the game, rookie safety Justin Simmons blocked the kick, as former Wildcat, Will Parks picked up the live ball, returning it for 85 yards for the two-point score and eventual victory.
This play wasn't pulled off without controversy many Saints fans thought he stepped out of bounds, but because he was wearing white shoes and sox, you couldn't tell.
According to the Denver Post, Will had a lot to say about the play after the game:
Parks said his white shoes never touched out of bounds on the play and officials didn't rule otherwise. "I did ballerina when I was 5 years old, so I know I had the balance to stay in. They couldn't tell me I was out," said Parks, a sixth-round pick by the Broncos from Arizona in April. "I was thinking run like somebody's chasing you with a big ol' gun. Just run. That's what I did. I was running so fast I really couldn't control my feet. I was just moving."
The former Wildcat was a stud while at Arizona. Known for his superior athleticism and bone-jarring hits, Parks seems to be continuing that trend at the professional level too.
Drafted in the 6th round as the 219th pick overall, Parks has been a pleasant surprise for the Broncos, who pride themselves on having a stout and stingy defense. The rookie is having quite the year so far, and the stats easily prove that.
In just his third game of the regular season, Parks intercepted his first career pass against Andy Dalton and the Cincinnati Bengals.
Now in Week 10 of the regular season, Parks added two more tackles to his season total today against the Saints, and of course had the long return off of the blocked kick for the game-winning two points.
A few showed their excitement via social media following the game, including Parks.
At Zona Zealots, we're certainly excited to see the growth of Philly Will. He is definitely making the most out of his opportunity, and seems to be having a great time doing it! Congratulations on victory today. Bear Down, Will! #SecureTheBag
This article originally appeared on