Former Miami Hurricanes Head Coach Butch Davis Hired By FIU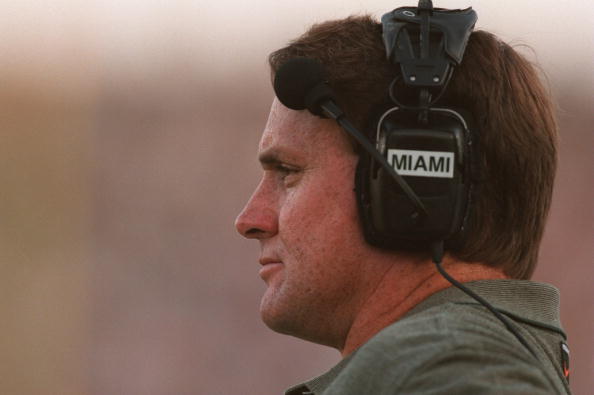 Former Miami Hurricanes Head Coach Butch Davis who set the groundwork for Miami's dominant teams from 2000-02 has been hired as the Head Coach at Florida International.
Davis openly campaigned to return to Miami as Head Coach after Al Golden was fired last year. The Hurricanes went with former Georgia Head Coach Mark Richt as soon as he was let go by the Bulldogs. Davis will be returning to Miami-Dade to coach the Florida International Panthers. This will be Davis' third stint in Miami.
He was the Hurricanes Defensive Line coach under Jimmy Johnson from 1984-88 and returned to be Miami's Head Coach from 1995-2000. Davis will replace interim Head Coach Ron Cooper who is 3-3 this season replacing Ron Turner after an 0-4 start. Turner was 10-30 in three-plus seasons with FIU.
Davis was hired by FIU Athletic Director Pete Garcia. Garcia was on the Football Staff at Miami from 1990-2000, working with Davis the last six years. Garcia was appointed the recruiting coordinator in 1992.
Garcia joined Davis in 2001 when he accepted the Head Coaching position with the Cleveland Browns. Garcia eventually became the Director of Football Development with the Browns under Davis.
When asked about returning to Miami after Golden was fired last season, Davis discussed the opening during  a weekly radio segment he had with 790 the Ticket:
"Obviously, I'd love to be considered for that opportunity and time will tell if whether or not that's the direction the school would like to go…The relationships with the players, you spend 11 years there, you've got an awful lot invested in the community and hopefully, maybe, my name will be one that will get an opportunity to be considered."
Davis has a big rebuilding task in front of him. FIU had success under Turner's predecessor and current Alabama Offensive Line Coach Mario Cristobal. The former Hurricanes Offensive Lineman led the Panthers to a 7-6 record and a share of the Sun Belt title in 2011. They followed that up with an 8-5 record in 2012.
Davis was fired 11 games into his fourth season in Cleveland. He had a 24-35 record in just under four seasons with the Browns. Davis took the Browns to the playoffs in 2002 and was also their General Manager his first three seasons in Cleveland.
Davis had to bring Miami out of sanctions as a result of the Pell Grant scandal while Dennis Erickson led the Miami program. Erickson claimed no involvement in the scandal.
Davis had a similar situation while at North Carolina after he was with the Browns. Davis was the Tar Heels coach during what was one of the largest academic cheating scandals in U.S. history. He was let go prior to the 2011 season but was never proven of any wrongdoing.
This is not the first time that Garcia has made a high-profile hire at FIU. He hired Isiah Thomas to coach the Men's Basketball team in 2009. Thomas finished 26-65 in three seasons before being fired.
This article originally appeared on