Former LSU Receiver Odell Beckham Jr. Doing His Part To Help Flood Victims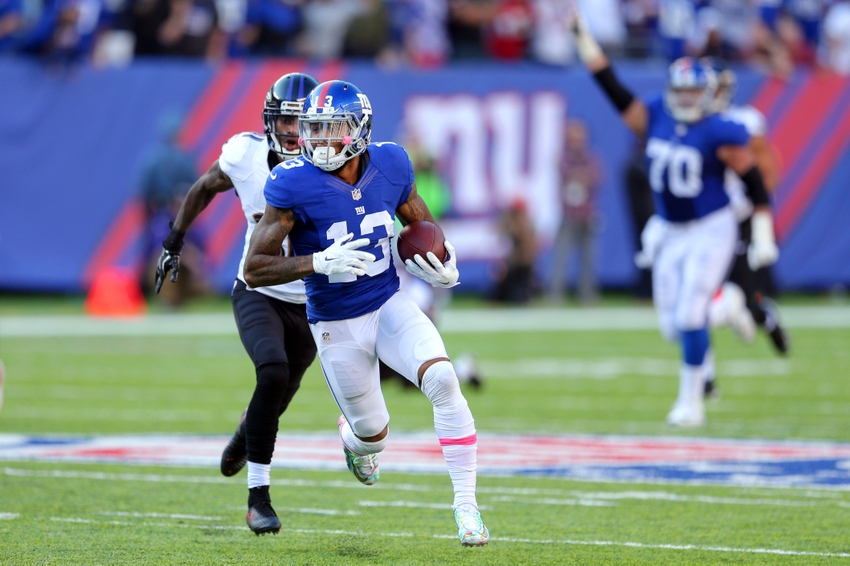 Odell Beckham Jr. was an absolute stud on the field during his time in LSU. He was part of a wide receiver duo with Jarvis Landry that is among the best in recent college football memory. Beckham grew up in the state of Louisiana, and with the recent flooding in his home state, he is doing something to help some of those affected by the tragedy.
According to a recent report from ESPN reporter Darren Rovell, Odell Beckham is going to do his part to help his community by auctioning off his custom-made New Orleans cleats. Every dollar that he receivers in the auction will be going to help Louisiana flood victims.
Odell wore the cleats when the Saints came to New York to face off against the Giants. Beckham went through pregame drills in them, and then signed them afterwards.
Autographed Odell Beckham Jr. custom cleats worn vs Saints hit ebay, will benefit Louisiana flood victims https://t.co/Sw5zzTlXXc pic.twitter.com/VLkdhryANZ

— Darren Rovell (@darrenrovell) October 18, 2016
A couple of weeks ago, I wrote an article here on DVV saying that the actions of Odell Beckham Jr. were embarrassing to the LSU Tigers and the fans of the program. At the time of its publishing, OBJ was receiving heat in the media from nearly every angle due to his tantrums and meltdowns on the field and sideline during games.
I'm very glad to see that he is beginning to prove me wrong on my original opinion. Since that time, Odell has put up back-to-back incredibly productive performances for the Giants, and has stopped altogether with the pitiful, bratty attitude he displayed earlier this season.
Now, with Beckham looking to give back and help a community that is struggling mightily, he's the furthest thing from an embarrassment to this program. OBJ is arguably the best player in the NFL to come from LSU, and if he can keep up this pattern of actions, it will make his success even sweeter for everyone involved.
More from Death Valley Voice
This article originally appeared on