Florida Gators QB-turned-WR Treon Harris granted his release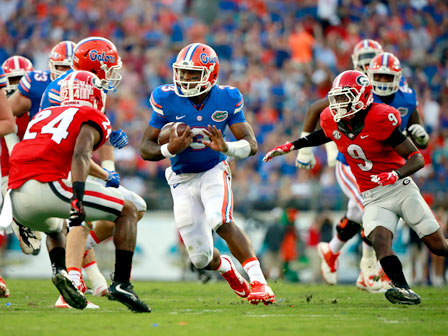 The Florida Gators are granting a release to former starting quarterback Treon Harris.
We are confirming reports that Treon Harris is transferring from the University of Florida.

— Gators Football (@GatorsFB) July 25, 2016
Coach Jim McElwain had already moved Harris to wide receiver before spring practice had begun despite Harris being the team's most experienced QB.
In 12 games last season, Harris completed 119 of 235 passes for 1,676 yards and nine TDs. He shared time with Will Grier, who played in six games and at times outplayed Harris.
But walk-on QB Luke Del Rio, son of Oakland Raiders coach Jack Del Rio, is the presumptive starter going into the season, hence the previous position switch for Harris. Del Rio was reportedly awarded a scholarship Monday as well.
The Gators finished last season 10-4, with losses in the SEC title game (vs. Alabama) and in the Citrus Bowl (a blowout loss to Michigan). They finished the regular season with a 27-2 loss to rival Florida State, putting a damper on a 10-1 start.
Harris, who has two years of eligibility left, will have to sit out the season if he transfers to another Division 1 team. If he transfers to an FCS team, he can play immediately.