Florida Gators Football: Tyrie Cleveland Scores 98-Yard Touchdown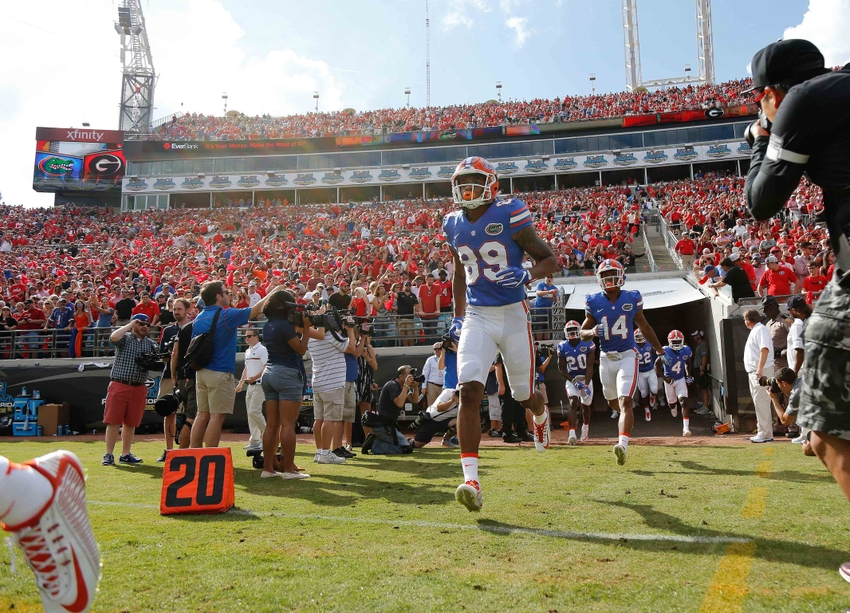 Freshman wide receiver Tyrie Cleveland took a deep pass 98 yards for his second touchdown of the 2016 season. The Florida Gators have a rising star.
---
The Florida Gators haven't been the most explosive offensive team in the country in 2016. There have been issues with both the passing attack and the run game, which is why Florida entered the LSU game at No. 85 in points per game.
In just one play, freshman wide receiver Tyrie Cleveland showed the folks in Gainesville how promising the offense is.
Cleveland entered the clash with LSU with eight receptions for 139 yards and a touchdown in what's been an uneventful freshman season. Despite facing brilliant coverage against the Tigers, he found a way to break out in Baton Rouge.
With the Gators' backs against their own goal line, Cleveland corralled a deep throw, shook a defender off, and took it to the house for a 98-yard touchdown.
That play will be on Cleveland's career highlight reel once his career in Gainesville has concluded.
Cleveland was ranked as the No. 4 wide receiver in the recruiting class of 2016 by ESPN. He received scholarship offers from the likes of the Alabama Crimson Tide, Ohio State Buckeyes, Oklahoma Sooners, and Ole Miss Rebels.
Against the Tigers of LSU, Cleveland established why it is that he's one of the most highly-touted freshmen wide receivers in the SEC, if not the country.
Cleveland has been battling injuries throughout the 2016 season, which is why his statistics have been relatively underwhelming. When healthy, however, he can be one of the most explosive and dynamic players on Florida's offense.
Quarterback Austin Appleby learned first hand of just how valuable Cleveland can be as a deep threat.
Here's hoping the Gators see more of this from the freshman sensation in 2016 and future seasons.
More from Hail Florida Hail
This article originally appeared on