Florida Gators Football Recruiting: Navaughn Donaldson Update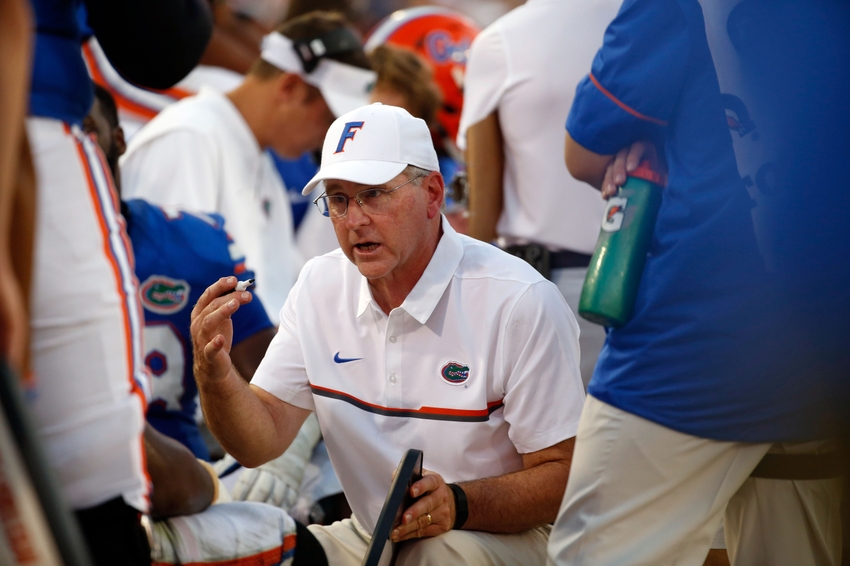 The Florida Gators are competing with the Miami Hurricanes to land highly-touted recruit Navaughn Donaldson. Find out the latest details of that process.
---
The Florida Gators football team has begun to make significant strides on the recruiting trails. Commitments aren't as contractually binding as they might seem, but Florida has succeeded in signing a number of four-star and three-star recruits.
Though the odds aren't in the Gators' favor, Florida remains in the hunt to land Miami Hurricanes commit Navaughn Donaldson.
Donaldson is a four-star offensive lineman out of Miami, Florida. He committed to his hometown Hurricanes roughly a year ago, but Florida recently hosted him at Senior Day—the day the Gators defeated the South Carolina Gamecocks 20-7 at The Swamp.
According to Andrew Spivey of Gator Country, head coach Jim McElwain and offensive line coach Mike Summers stressed to Donaldson that he'd have an opportunity to play early in Gainesville.
"Coach McElwain told me that it was a good time for me to come in and start early," Donaldson said. "He was telling me that they need tackles in this class and I noticed it as well."

"I had good talks with Coach Summers and he was telling me that I would be able to learn the playbook easy because they run a lot of similar plays as we do in high school," he said. "He said it would make the transition easier and that I was needed at tackle."
Donaldson continued, per Spivey:
"I have a good relationship with both of those guys," Donaldson said. "We don't always talk about football but we do talk about me coming in and playing early. They're always talking to me."
It's important for the individuals recruiting a player to maintain a solid relationship beyond football.
Florida has a young and inexperienced offensive line with room to grow, but that doesn't mean additional talent isn't required. Injuries happen more often than one would like to admit at arguably the five most physically grueling positions in football.
More applicably, the Gators haven't yet locked in their starters for 2017, which makes it possible that Donaldson could turn heads and secure a starting role.
For those unfamiliar, Donaldson is a 6'6″ and 345-pound powerhouse of an offensive lineman. He's listed as a guard, but has the size and versatility to shift over to tackle and prove himself against the best pass-rushers in the country.
Though it's McElwain and Summers whom one would expect to lead the recruiting pursuit, it's actually associate head coach Randy Shannon whom Donaldson is closest with.
"I'm close with Coach Shannon," he said. "He says they have good playing time there and that I will be with people from my area. Also, that Florida is a great family atmosphere."
Keep in mind: Shannon was the defensive coordinator for Donaldson's hometown Hurricanes from 2001 to 2006 and the head coach from 2007 to 2010.
ESPN has Donaldson listed as a four-star player and the No. 87 overall recruit in the class of 2017. Donaldson is also a four-star recruit on Rivals, 247Sports, and Scout, and is ranked as a Top 10 player at his position by ESPN and Rivals.
Thus, landing Donaldson would be a power move by McElwain, Summers, Shannon, and the Florida Gators football team.
Encouraging as this all may be, it remains an uphill battle. Donaldson is very much sold on the idea of playing for the University of Miami, which has to be taken into account when evaluating Florida's chances.
Nevertheless, it's encouraging to know that his visit to Gainesville helped Florida's case.
"This visit helped Florida but I'm still good with Miami," Donaldson said. "I don't want to say that any team is second or anything like that."
Whether or not he comes to Gainesville, the Gators have done an admirable job of attempting to recruit him.
This all-hands-on-deck effort paints a promising picture for the future.
More from Hail Florida Hail
This article originally appeared on