Florida Gators Football Recruiting: LaBryan Ray Update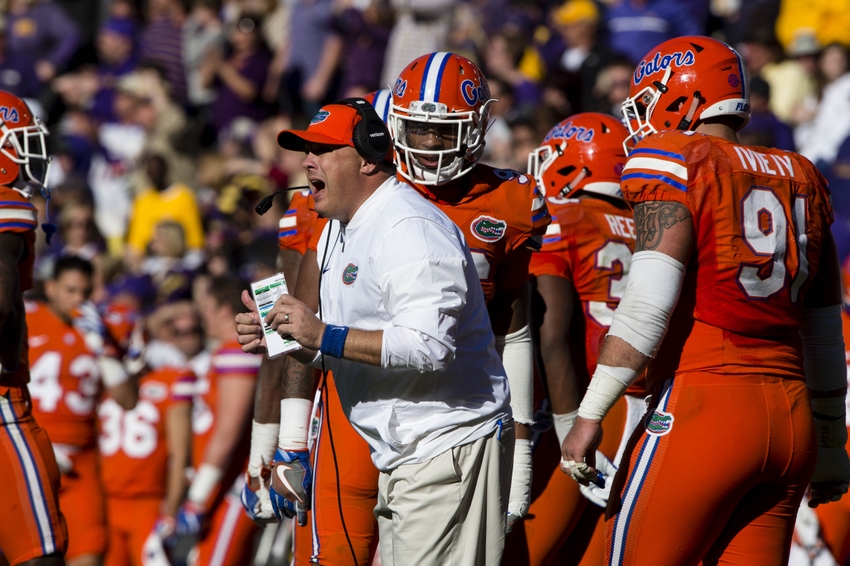 The Florida Gators football team is one of the favorites to land four-star recruit LaBryan Ray. He gave a promising update on his thought process.
---
Jim McElwain and the Florida Gators football team are preparing to make a splash on the recruiting trails. They're visiting high-profile recruits and attempting to convince some of the best and most notorious individuals in the country to come to Gainesville.
One of the players whom the Gators are most keen on signing is four-star defensive end LaBryan Ray.
The common belief around the nation is that the two teams with the best chance to land Ray are Florida and the Alabama Crimson Tide. The Gators were blown out by the Crimson Tide in the SEC Championship Game, but that doesn't appear to have damaged Ray's interest.
According to Andrew Spivey of Gator Country, Ray is, "Very high," on Florida and can see himself playing for the Gators of Gainesville.
"My interest in Florida is very high interest in them, I can see myself playing for them," Ray said. "There is a lot of opportunity to come in and play early from what I've noticed. I got to go down there and experience a game and they're definitely a school that I'm thinking about."
That's about as promising a response as one could ask for when a commitment is the question.
Ray will visit the Ole Miss Rebels this weekend and has January visits with the Crimson Tide, Mississippi State Bulldogs, and Tennessee Volunteers. All of those teams are still in the hunt and all are legitimate threats to Florida.
The good news for the Gators is that Ray plans to visit Gainesville during the final week of January, meaning they could be his final official visit.
Florida is attempting to sell Ray on the possibility of earning early playing time along the defensive line. That possibility certainly exists when considering the fact that Bryan Cox and Joey Ivey are seniors and thus won't be eligible to return to the Gators in 2017.
Though the head coach will inevitably play a significant role in the recruitment of a star player, it's defensive coordinator Geoff Collins and defensive line coach Chris Rumph who are closest with Ray.
"My relationship with those guys are really good, Coach Rumph is more of a jokester," he said of his relationship with Rumph and Collins. "We joke around all the time but we also get serious and talk about football and life. The relationships are just great with both of them."
That's a positive sign for the Gators' recruitment of Ray.
Nothing is guaranteed, but Florida is in outstanding position to land one of the most dynamic talents in the country. Ray is the No. 36 overall recruit on the ESPN 300 and is ranked No. 54 overall on the Rivals 100.
If the Gators managed to land Ray, they'd get a versatile lineman who could develop into a star on defense.
Florida's quest to maintain an elite level of play on defense could continue with Ray if McElwain and Co. close out the recruiting process on a high note.
More from Hail Florida Hail
This article originally appeared on