Florida Gators Football: Martez Ivey Doubtful For FSU Game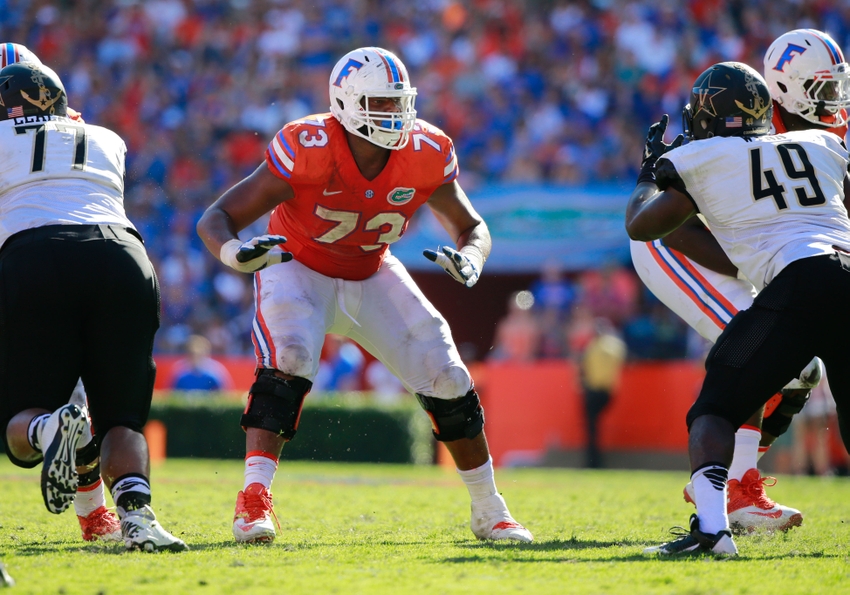 The Florida Gators could be without starting left guard Martez Ivey against the Florida State Seminoles. Find out more on Ivey's situation below.
---
The Florida Gators football team has been ravaged by injuries during the 2016 college football season. The list of players ruled out for the Florida State game expands to multiple phases of the offense and defense.
Florida may be forced to add standout offensive lineman Martez Ivey to that overwhelmingly long list.
Alex Anzalone, Bryan Cox Jr., Jarrad Davis, Luke Del Rio, Cameron Dillard, Marcus Maye, and Nick Washington have all been ruled out for the Florida State game. Ivey, who's battling a leg injury, would make eight key players all absent.
According to Andrew Spivey of Gator Country, head coach Jim McElwain cautiously listed Ivey as doubtful for Saturday's game in Tallahassee.
"The one's that most concerning right now would be Martez Ivey, who hasn't been able to go for two days," McElwain said. "He's going to try to get out there today. But I'd probably say doubtful right now, just knowing what it is."
That'd be yet another massive blow to the Gators' chances against Florida State.
If Ivey misses the game against Florida State, then Kavaris Harkless and Tyler Jordan will fill the void at left guard. Harkless played guard when Jordan and David Sharpe went down against South Carolina and Ivey moved outside to tackle.
Thus, it wouldn't be a lost cause if the Gators were forced to start Harkless at left guard against the Seminoles.
The encouraging news for Florida is that McElwain said, "Tez is one of those guys I know that will do everything he can to be there." The discouraging news is that the injury could, at the very least, hobble and limit Ivey, if not keep him out entirely.
Ivey has started all 10 games for the Gators at left guard.
Here's hoping Ivey will get to close out the regular season against Florida State.
More from Hail Florida Hail
This article originally appeared on