Florida Gators Football: Jim McElwain Proud Of UF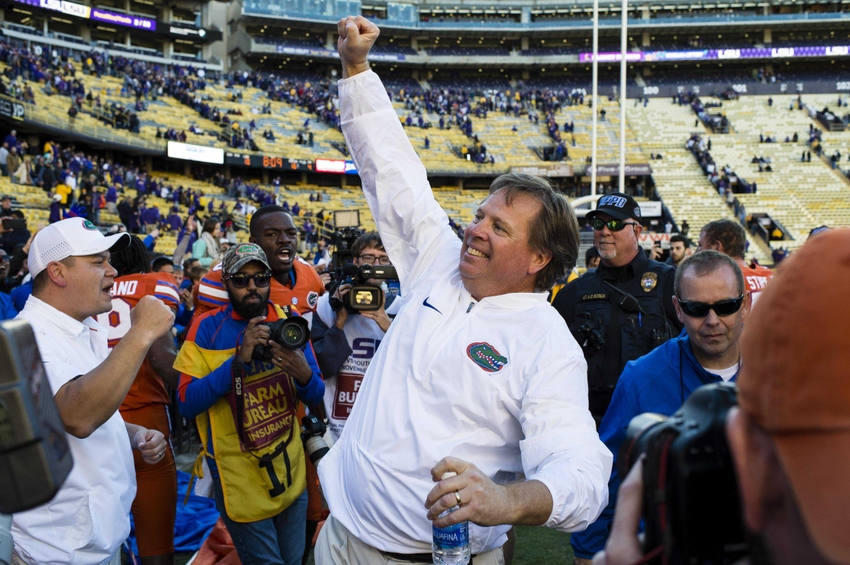 The Florida Gators have overcome the unthinkable during the 2016 college football season. Head coach Jim McElwain is proud of his players.
---
The Florida Gators have been the most resilient team in the country during the 2016 college football season. Florida has eight missing starters due to injury and is still preparing to play in the SEC Championship Game this Saturday.
Before anything can transpire in Atlanta, head coach Jim McElwain is making sure his players know how proud he is of them.
McElwain and the Gators are currently 8-3 and preparing for a second consecutive appearance in the SEC Championship Game. To clinch the Sec East, Florida defeated the LSU Tigers on a goal line stand in Baton Rouge.
According to Garry Smits of The Florida Times-Union, McElwain is proud of the incredible resilience of his 8-3 team.
"I can't tell you how proud I am of our football team, our coaches, and our organization to get to our first goal, which is to get to Atlanta as SEC East champions," McElwain said. "It's not easy. It's hard to be there back-to-back. It's a chance to go compete on a big stage and see what you're made of. We're excited to be there."
It's hard not to applaud the Gators for what they've been able to achieve this season.
Florida projects to be without eight starters. Linebackers Alex Anzalone and Jarrad Davis, safeties Marcus Maye and Nick Washington, defensive linemen Bryan Cox Jr. and Jordan Sherit, center Cameron Dillard, and quarterback Luke Del Rio are all sidelined by injuries.
McElwain won't yet rule out Davis, but the rest are starters who are expected to miss even more playing time.
Despite losing enough players to turn 2016 into a below-.500 season, the Gators are heading to Atlanta with a chance to win the SEC. That's an incredible feat by a team that has truly overachieved this season.
Whether or not the Gators win the SEC Championship Game, it's easy to see why McElwain is proud of his players.
This has been a character-building season for the players in the locker room.
More from Hail Florida Hail
This article originally appeared on