Florida Gators Football: Jim McElwain Is Making No Excuses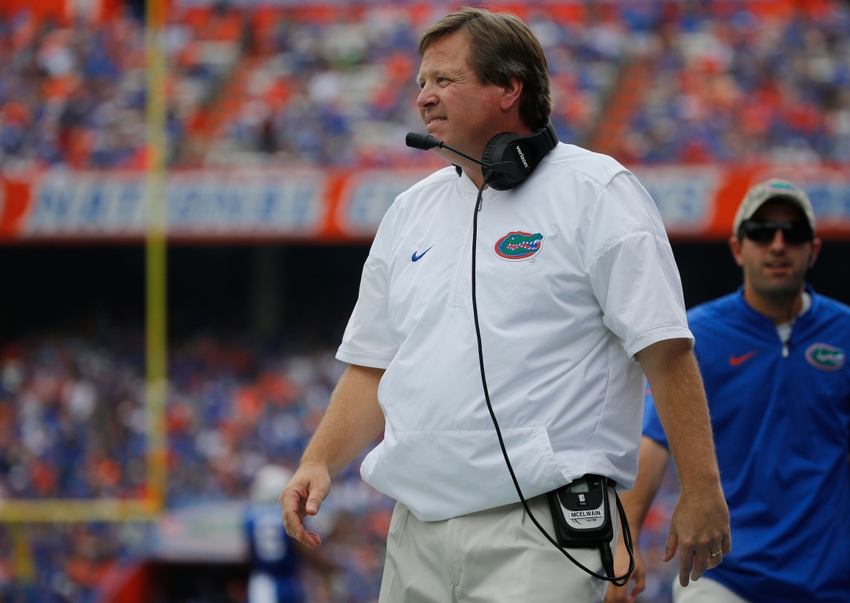 The Florida Gators football team has experienced an unfathomable number of injuries. Jim McElwain isn't making any excuses.
---
The Florida Gators football team has overcome longer list of injuries than anyone expected it to endure. Those issues have plagued Florida on both ends of the ball, with stars and starters going down on what seems like a weekly basis.
On Saturday, November 26, the depleted depth finally caught up with the Gators during a 31-13 loss to the Florida State Seminoles in Tallahassee.
Florida played the Florida State game with a long list of injured players. Those who either missed the game or were forced to leave early were Alex Anzalone, Bryan Cox Jr., Jarrad Davis, Luke Del Rio, Cameron Dillard, Marcus Maye, Jordan Sherit, and Nick Washington
Despite that insane list of injuries, coach McElwain isn't making any excuses for his team. Per Ryan Young of SEC Country:
"Never use that as an excuse. Got to get them ready to play," McElwain said. "… I'm disappointed, but you know what, that's why you go play the game. You go put yourself out there, give yourself an opportunity and we didn't take advantage of it."
That's accountability.
For all of the talk about what should have transpired, the Gators are 8-3 with the SEC East Title and an appearance in the SEC Championship Game on their resume. That success has been achieved on the strength of the Gators' resilience.
On Saturday, December 3, Florida will be tested in an entirely new way when it plays the No. 1 ranked Alabama Crimson Tide in the SEC Championship Game.
Florida would've been an underdog when healthy, which makes this depleted team one that will need to play a perfect game.
Alabama is 12-0 with an average margin of victory of 28.0 points per game. The closest games were a 48-43 road shootout victory over the Ole Miss Rebels and a 10-0 road win over the LSU Tigers.
On a neutral site, Alabama is expected to dominate, but Florida has proven to be resilient in 2016.
Despite the uphill battle that's been Florida's entire season, head coach Jim McElwain isn't making any excuses. Winning remains the goal.
More from Hail Florida Hail
This article originally appeared on