Florida Gators Football: Good, Bad, Ugly From The SECCG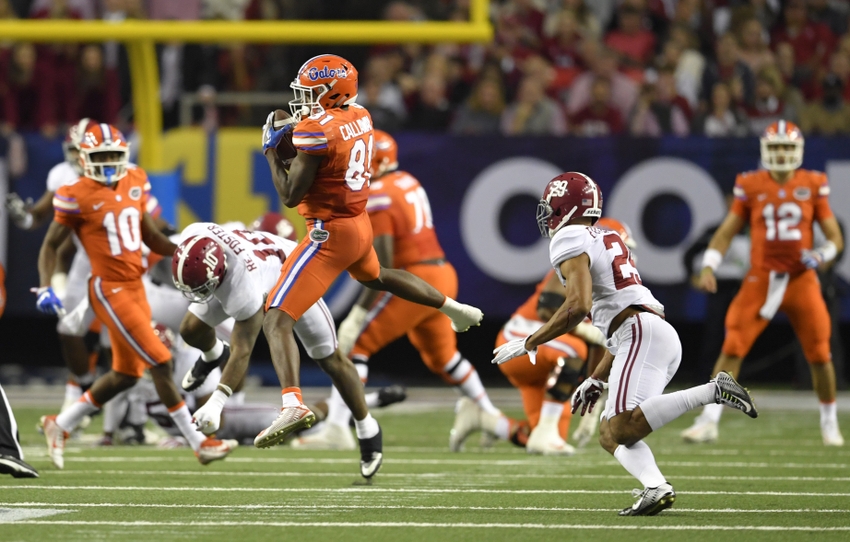 Florida got trounced in the 2016 SEC Championship Game by Alabama. Even in a game like this, there are some positives. Let's break it down.
---
The Good
Even while losing by almost 40 points, there was a lot of good. As far as the offense goes, they really looked sharp outside of one player. The offensive line held their own in the pass protection against what's basically an NFL defensive line in Alabama. I don't even think Johnathan Allen made any real noise during the game.
The wide receivers continued to look sharp. Antonio Callaway had four catches for 63 yards and a touchdown, and DeAndre Goolsby had seven catches for 91 yards and a score.
Even Tyrie Cleveland, Josh Hammond and others played well, even if the stats don't show it. They ran circles around the Alabama defense, even if they didn't get the ball.
Senior Brandon Powell was open on numerous occasions, like the below clip shows.
Powell had nine receptions for 59 yards.
The defense played with heart, as always. Even missing numerous starters, Marcell Harris and David Reese stepped up big time and played superbly. The defense will likely see a slight drop next year because of youth, but there's definitely a boatload of talent still on the roster to play at a high level.
The young kids showed a lot of heart today.
The Bad
Chauncey Gardner has been underperforming. He started his Gator career pretty well, but the last two weeks have been brutal for the former four-star. Yes, he did have a pick against FSU, but he's becoming increasingly aggressive. His aggressiveness is causing him to break down too early when tackling. He's missed a lot of those and jumps routes too early.
The talent is obviously there, but he needs more seasoning.
Jarrad Davis is banged up as Florida approaches its bowl game. Even if he can play—and he plans to—there's no sense risking another injury and losing millions of NFL dollars for one technically meaningless game.
With that said, I expect the same from Bryan Cox as well. Florida will be losing a lot of star defensive talent this offseason.
The Ugly
I mean, did you not expect the quarterback play to be here? Austin Appleby looked like a first-round pick on the first drive. After that, he looked like an atrocity. Missing pass after pass even with time in the pocket, it was almost like he didn't even scan the field.
Then, when he did scan the field, he just lacked every mechanic possible to make a proper throw. I sound like an idiot to keep on repeating myself, but the Gators don't get over the hump with this type of quarterback play.
Most likely, Quincy Wilson, Teez Tabor, Caleb Brantley, Alex Anzalone, and David Sharpe are all leaving for the draft, as well as undoubtedly losing Bryan Cox, Jarrad Davis, and Marcus Maye.  That in itself is pretty bad, but then you throw in losing starting quarterback.
The Gators will take on the Iowa Hawkeyes in the Outback Bowl.
This is where recruiting picks up. It is great to be a Florida Gator.
More from Hail Florida Hail
This article originally appeared on