Florida Gators Football: Florida State Game Will Impact Recruiting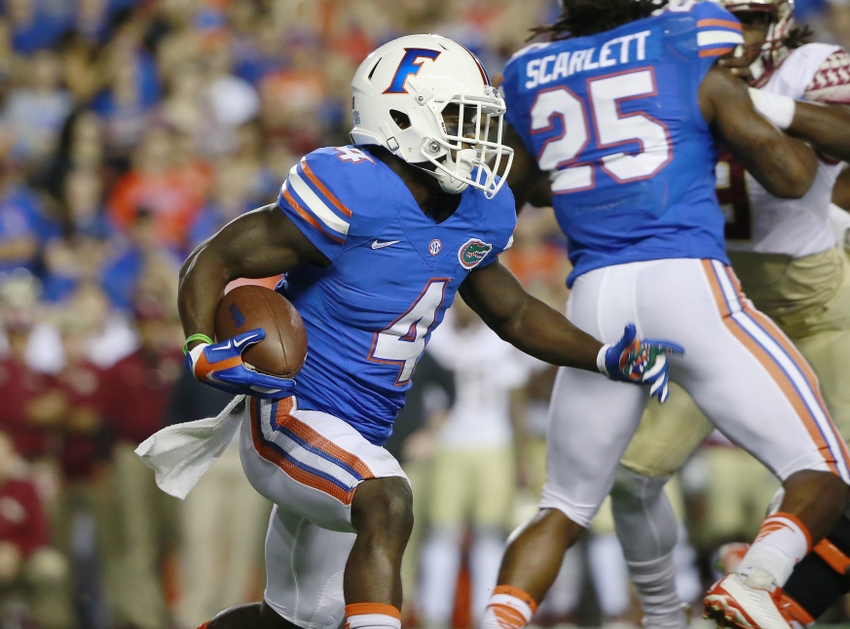 The Florida Gators football team will battle the Florida State Seminoles on Saturday, November 26. The result will have a direct impact on recruiting.
---
The Florida Gators and Florida State Seminoles are in constant competition. Whether it's on the field or the recruiting trails, the college football powerhouses influence one another with every result.
On Saturday, November 26, that will come to a head when the Gators travel to play the Seminoles in Tallahassee.
Florida enters this highly-anticipated contest at 8-2 following a 16-10 win over the LSU Tigers. Florida State is 8-2 and preparing to host a number of the top recruits in the country.
According to Edgar Thompson of The Orlando Sentinel, junior cornerback Quincy Wilson understands just how important this game will be for Florida's recruiting efforts.
"Either they're going to FSU or UF," Wilson said of many elite in-state recruits expected to attend the game. "If we come out with a win this year, that will be good for the guys we can have here in the future."
That's the harsh reality for these in-state rivals.
The game between Florida and Florida State was already going to be an emotional affair. A Florida State player has cut a piece of turf out of The Swamp in each of the past two games played, which is reason enough to seek vengeance.
The fact that Florida State has won three consecutive games over Florida means the Gators' seniors have never once defeated the Seminoles.
A season ago, the Gators managed just two points during a 27-2 home loss to the Seminoles in Gainesville. It was a devastating loss that comes with the additional knowledge that Florida hasn't defeated Florida State since 2012.
The upside is that the Gators' last win over the Seminoles was in Tallahassee.
On Saturday, November 26, Florida will have a chance to secure a win over Florida State in multiple ways. It'd reclaim the momentum in the rivalry, improve to 9-2, give itself a shot at reaching the College Football Playoff, and make a statement to recruits.
By winning this game, head coach Jim McElwain would set himself up for one of the most prosperous tenures in program history.
One game at a time, the Gators keep chomping.
More from Hail Florida Hail
This article originally appeared on