Florida Gators Crack College Football Playoff Rankings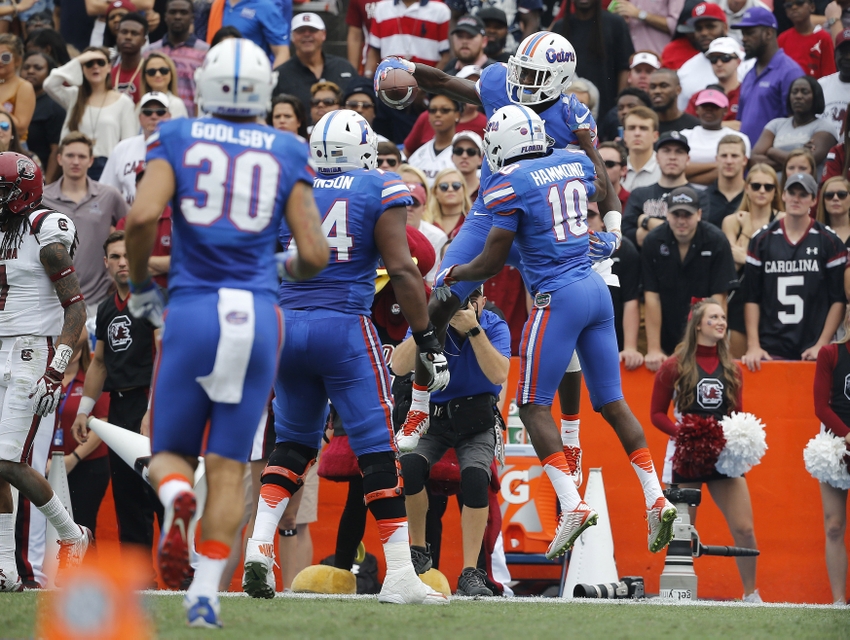 The pipe dream that is an appearance in the 2017 College Football Playoff just became slightly more realistic for the Florida Gators.
---
The Florida Gators are approaching the most important game of the 2016-17 college football season thus far. At 7-2 overall and 5-2 in conference play, the Gators are one win away from clinching an appearance in the SEC Championship Game.
Though the dream of competing for the fourth national championship in program history may seem unrealistic, it's become slightly more feasible.
Florida debuted at No. 11 in the College Football Playoff Rankings, but fell out following a 31-10 loss to the Arkansas Razorbacks. A 20-7 victory over the South Carolina Gamecocks has helped propel Florida back up the list.
During the most recent release of the College Football Playoff Rankings, Florida checked in at No. 23.
New CFB Playoff Rankings: #SEC
1. Alabama
15. Auburn
16. LSU
19. Tennessee
23. Florida
25. Texas A&M

— SEC Country (@SECcountry) November 16, 2016
That's a ranking that Jim McElwain's crew can work with.
Of the 22 teams ahead of the Gators, just nine have fewer than two losses. The Ohio State Buckeyes and Michigan State Wolverines will play one another, and the West Virginia Mountaineers, Boise State Broncos, and Western Michigan Broncos have been consistently overlooked.
More importantly, the Gators will play the No. 16 and No. 17 teams in the CFP rankings over the next two weeks: the LSU Tigers and Florida State Seminoles.
If the Gators were to defeat both LSU and Florida State—on the road, no less—it's hard to imagine they'd be kept out of the Top 10. More importantly, those two wins would give Florida three straight victories entering the SEC Championship Game.
It's there that the Gators would face the undefeated Alabama Crimson Tide.
Florida can win the SEC East if Tennessee loses, but that wouldn't help their ranking without a win over LSU. If the Gators run the table—and yes, that would include a massive upset of Alabama—then the Playoff dreams in Gainesville would gain validity.
At that point, it'd be difficult for the selection committee to deny Florida a spot in the College Football Playoff.
In order to achieve that dream, the Gators must take this one game at a time. That begins with this week's battle in Baton Rouge.
More from Hail Florida Hail
This article originally appeared on