Florida Gators Clinch SEC East, Deflate Entire Vols Crowd at Neyland Stadium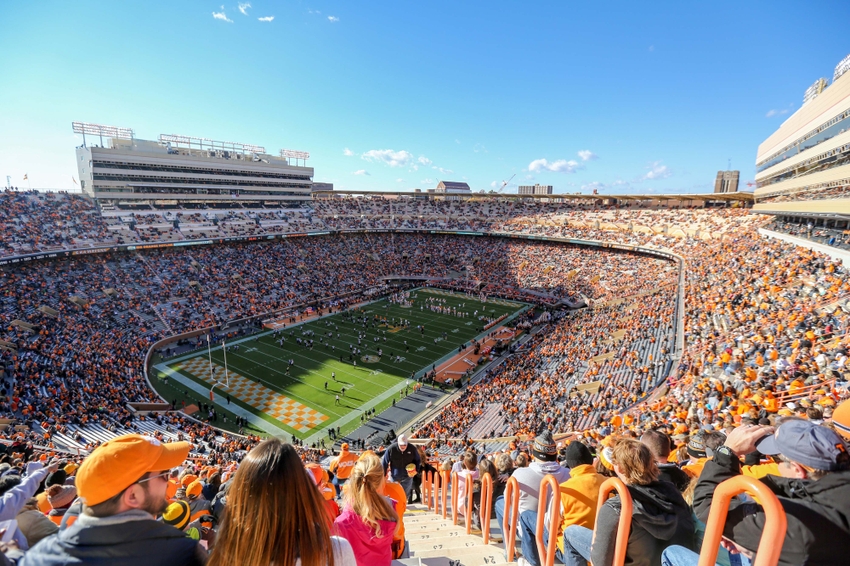 There will be no SEC Championship appearance for the Tennessee Volunteers this year. The Florida Gators won the East with a 16-10 victory over LSU.
Tennessee football fans felt like they lost a game on their own Saturday after the Florida Gators clinched the SEC East with a 16-10 victory over the LSU Tigers on the road.
Vols fans let their focus on the Florida game cut into their own team's game.
And when the news that the Gators won the game hit Neyland Stadium, Vols fans remained quiet in the midst of their own game.
Want proof? Check out how quiet they were after stopping the Missouri Tigers on a fourth down play early.
All you have to do to know how much #UFvsLSU deflated Neyland is hear how quiet #Vols fans were after their team got this 4th down stop. pic.twitter.com/k6OzsSqqdU

— AllforTennessee.com (@allfortennessee) November 19, 2016
Fans picked up as the half went on, but Florida's win really felt like a Tennessee loss.
LSU jumped out to a 7-0 lead and had four more trips inside the five-yard line only to come away with a field goal.
On two of the other ones they had a fumble and a botched snap on a field goal.
Then, on the final drive, they got to the one-yard line with three seconds left. Florida's defense stopped them on a fourth-down running play.
LSU's miscues in the red zone along with a turnover on a kickoff spotted Florida this win, which made it that much more frustrating for the Vols, who thought it would be their year after starting the season 5-0.
Despite beating Florida and Georgia, Tennessee lost three straight games after that. Their last loss was an unacceptable showing against South Carolina.
However, Florida gave the Vols new life by losing to Arkansas the next week.
Going into Saturday, the standings were clear. Florida clinches the East by beating LSU, but if they lost, the Vols could win it by beating Missouri and Vanderbilt.
Tennessee still has a great bowl to play for, but a championship is now out of the question.
And they can't blame the Florida Gators or LSU Tigers for that. They only have themselves to blame for losing to a far inferior South Carolina team.
More from All for Tennessee
This article originally appeared on