Florida Gators: 5 Reasons UF Needs To Win The Outback Bowl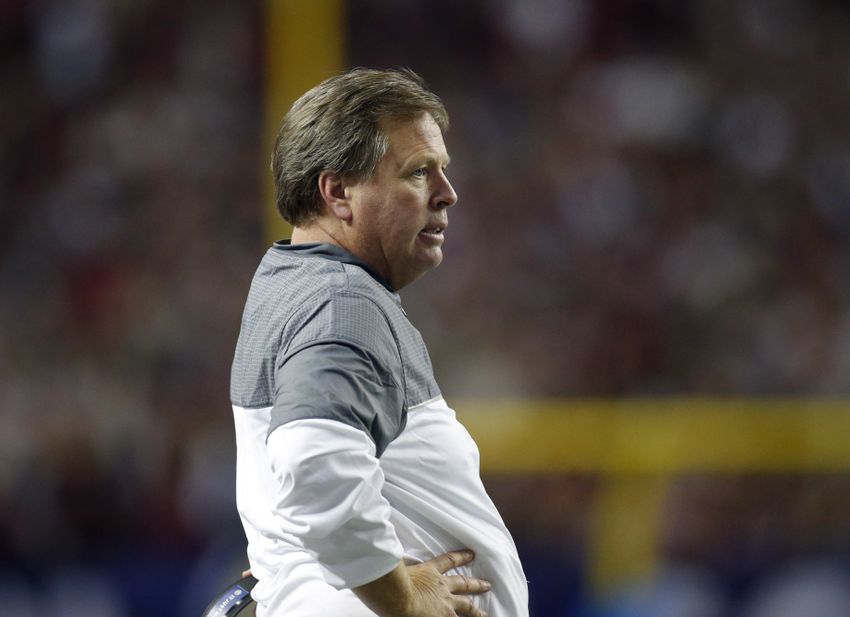 Every team wants to win a bowl game, but the Florida Gators need to defeat the Iowa Hawkeyes in the Outback Bowl. This is why.
The Florida Gators ended last season with a three-game losing streak. The Gators lost 27-2 to the Florida State Seminoles, 29-15 to the Alabama Crimson Tide in the SEC Championship Game, and 41-7 to the Michigan Wolverines in the Citrus Bowl.
They're headed down the same path this year with lopsided losses to Florida State and Alabama in their two most recent games.
With pressure mounting, Florida will take on the Iowa Hawkeyes in the Outback Bowl. It was able to afford to end the season a sour note in 2015 after a 10-1 start, but this time around, things are very different.
If the Gators lose the Outback Bowl, they'd finish the season at 8-5. That would be a big step back from a 10-4 record last season. That's not what fans, booster members, or recruits want to see.
I don't want to say that this is a must-win game for Florida, but it is for these five reasons.
1. Bragging Rights
This one is a rather trivial reason, but a reason nonetheless. Florida has already lost to relevant rivals Tennessee, Florida State, and Alabama in 2016.
Alabama is the No. 1 team in the country and the frontrunner in the College Football Playoff. Florida State has a New Year's Six Bowl game versus Michigan, and Tennessee has a favorable matchup against Nebraska. If Florida loses, fans and players will have to hide in shame knowing they have done nothing to brag about to their worthy foes.
Those team's fan bases will have plenty of ammo for next year.
2. Recruiting
Florida is already having their issues when it comes to recruiting. With only 13 commits—and that number becoming smaller in recent weeks—Florida needs this win to help their cause with recruiting.
A win against Iowa would show progress—very little progress, but any progress will do. It would give them a chance to finish strong in recruiting, as well as improve their chances to appeal to high-profile transfers.
If SEC rivals like Tennessee, Georgia, and LSU, as well as in-state rival Florida State, lose their bowl games, Florida will finally have something to use against those teams during recruiting season.
3. Show Progress
As stated in the last reason, Florida needs a win to show that the team has made progress under Coach Mac. So far, the only progress that has been made has been in theory only.
Results are the only thing that matters when it comes to progress, and Florida needs this win in order to show that. Coach Mac can say progress has been made if they finish 9-4—or 10-4 if they had played Presbyterian. But if he finishes 8-5 after going 10-4 the year before, how can he claim any progress has been made?
The answer is easy: he can't.
4. Build Momentum for Next Year
A win for Florida would build momentum for next season. A lot of coaches say this phrase, and they say it for good reason.
Florida has a big matchup to open the season next year against Michigan. Going into that game with three straight losses to would put the team at a disadvantage from a confidence perspective. They need to take whatever they can get to build them up for next year.
Whether it be with a win in the Outback Bowl, a strong finish to recruiting, or even some big-name transfer, Florida needs something. A win would be a good start.
5. Hope
All other reasons are just a subset to this single reason: it would build hope. Hope that they can show that they have made progress. Hope that they can convince young athletes to play at their program for the next three-to-four years. Hope that they can have bragging rights over rivals such as Florida State, LSU, and Tennessee.
Hope that they can legitimately compete for the SEC Championship, as well as a future CFP Championship.
This win would build hope for a loyal fan base that has stuck with this team through all kinds of weather.
This article originally appeared on