Florida Football: UF-Vandy Post Game Grades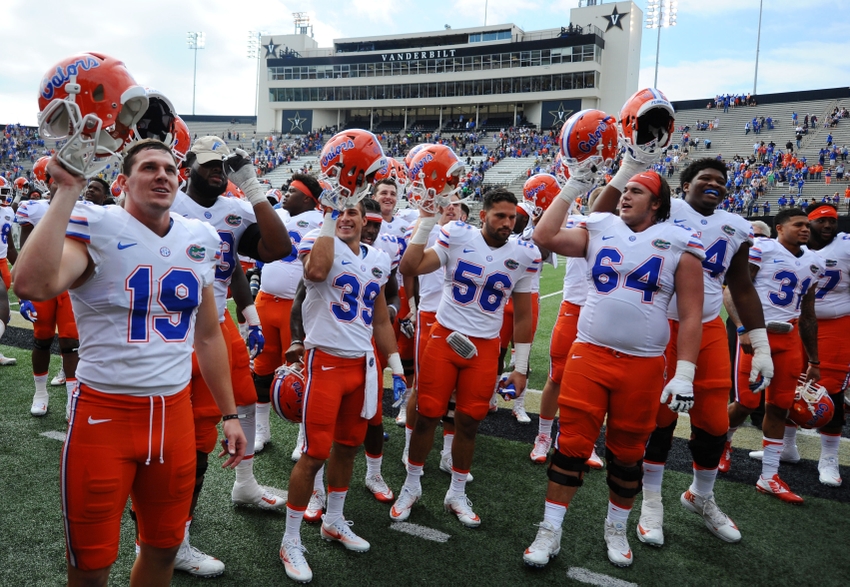 The No. 23 Florida Gators won an ugly one on Saturday as they beat the Vanderbilt Commodores 13-6. Here are the post game grades for the team on offense, defense, and special teams.
The Gator offense picked up right where they left off last week against Tennessee in the three-and-out department. They started this game with FOUR straight punts before finally scoring on a 4-yard TD run by running back Jordan Scarlett. Quarterback Austin Appleby was just okay in this one, finishing 19-of-28 for 144 yards and no interceptions. He also didn't have any touchdown passes, but would have if he saw wide receiver Antonio Callaway wide open over the middle late in the fourth quarter.
Maybe the only bright spot on offense was Jordan Scarlett who finished with 12 carries for 55 yards and a touchdown. Scarlett should've received more touches, but for some odd reason after his touchdown in the second quarter, he didn't touch the ball again until about 12 minutes left in the fourth quarter.
The Gators only managed 236 total yards of offense against a team that's ranked dead last in the SEC in pass defense.
The Florida defense was back to form today as they only gave up six points and allowed 265 yards to the Commodores. Most of their yards came on the ground as Gainesville native, running back Ralph Webb, ran for 110 yards on 24 carries. In the passing game, the Gator D only gave up 118 passing yards and recorded two takeaways. The first one came in the first quarter on an interception by Teez Tabor, who now leads the SEC in INT's with three.
Nick Washington was the recipient of the other Vanderbilt turnover as he recorded his first career interception late in the game which sealed the win for the Gators.
On the play, linebacker Jarrad Davis batted the ball in the air and it landed in Washington's hands. Davis finished the game with a career-high 15 tackles and he was one of the players I said to watch for before the game.
Overall, a strong rebound performance from the defense after blowing a 21-point lead against Tennessee last weekend.
Florida punter Johnny Townsend got a work out on Saturday after having to punt seven times totaling 363 yards including a career-long 62-yarder. He had five punts land inside the 20 which helped pin the Commodores deep in their own territory for most of their drives.
Their average starting field position was their own 16-yard line.
Go Johnny Go!
Freshman kicker Eddy Pineiro was 2-for-2 in both of his field goal attempts, hitting from 29 and 42 yards out. He also nailed his only extra point attempt after the Gators only touchdown on the day. According to Florida's PR notes, after Pineiro's 42-yard FG, he now has made five 40-yard plus field goals – which is the most a UF kicker has made in a season since Caleb Sturgis converted eight in 2012.
Pineiro scored more points by himself than the whole Commodores team did (7-6).
The special teams unit rebounded well after a brutal performance last week, and I expect them to  continue to be a vital part of this team's success.
The Gators return home next Saturday as they welcome LSU to the Swamp.
Kickoff is set for noon ET from Steve Spurrier-Florida Field.
More from Hail Florida Hail
This article originally appeared on