Five Schools that Could Hire Manny Diaz as Head Coach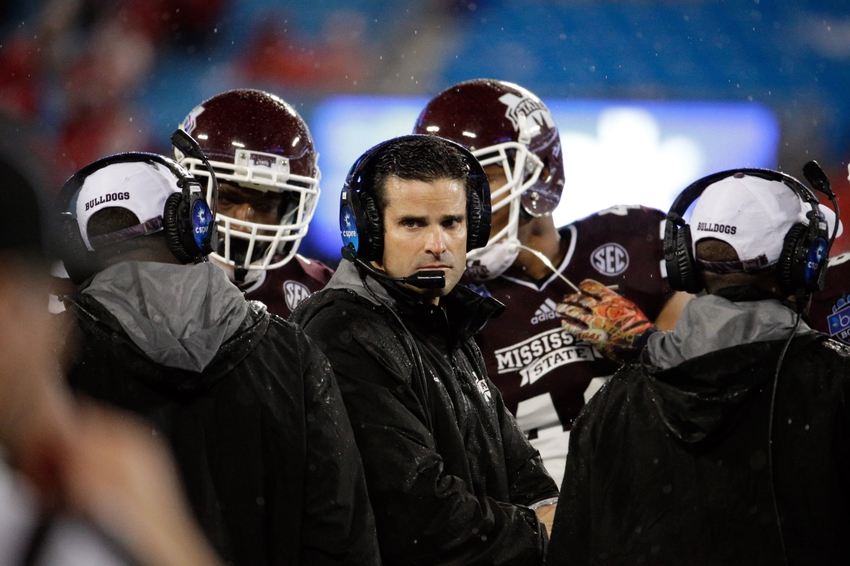 The end of College Football's regular season has the Coaching Carousel is full bloom. Miami Hurricanes Defensive Coordinator Manny Diaz could be a hot candidate.
Diaz turned the Hurricanes defense around significantly in his first season with the Hurricanes. He should be a hot commodity after being named a finalist for the Broyles award as one of the best assistants in College Football.
Per the Palm Beach Post's Matt Porter, the Hurricanes Defense improved Nationally in nine categories this season. The only one they dropped that was purely on the defense was interceptions.
Diaz installed a more attacking style defense. He joined Mark Richt's staff from Mississippi State. The Hurricanes are currently sixth in the nation in tackles for loss, 22nd in sacks and 14th in scoring defense.
The defense being ranked 14th in points allowed is remarkable after they gave up 37 at Virginia Tech. They were missing numerous defensive starters in that game. The 'Canes move up to fifth with the game against the Hokies taken out.
The coaching shuffle should continue for the next week or two. There are several openings where hiring Diaz would make sense.
Florida Atlantic
After the Owls Conference USA Rival Florida International tabbed Butch Davis as their new Head Coach, FAU could make their own UM splash by hiring Diaz. The Hurricanes beat FAU 38-10 in the second game of the season.
Florida Atlantic's defense was near the bottom nationally in several categories this season. They finished 122nd out of 128 teams in the nation, giving up 39.8 points per game. That was last in Conference USA. They were nearly as bad in Conference games, allowing 39.4 Points per game.
Diaz would have his work cut out for him recruiting against Davis. FIU has a few week head start from when they hired Davis, but Diaz has already been working the Miami area for the last year and likely knows the players better than Davis and his staff.
The other interesting connection between the Hurricanes and the Owls is the Howard Schnellenberger began the FAU program and is the one that pushed Miami into National prominence.
The Owls have most of their offense returning next season. Quarterback Jason Driskel, running backs Greg Howell and Devin Singletary and Wide Receiver Kalib Woods all had outstanding seasons.
Defensively, Linebacker Azeez Al-Shaair returns. He has 112 tackles, 11 tackles for loss, two sacks and an interception return for a touchdown this season.
Western Michigan
This one hinges on Western Michigan Head Coach P.J. Fleck leaving for another job. Fleck is 29-21 in four seasons with the Broncos. They are 12-0 this season and if they win the MAC Championship against Ohio this week, will earn a spot in a New Year's Six Bowl, likely the Cotton.
Fleck was 1-11 in 2013, his first season in Kalamazoo. The Broncos went 8-5 in 2014 and '15. They lost in the Famous Idaho Potato Bowl in 2014 and won the Bahamas Bowl over Middle Tennessee State last season, the first Bowl win in school history.
The Broncos have dominated opponents this season. They average 44.9 PPG, fourth nationally, and allow 19.2 PPG, 16h nationally.
Fleck has been rumored to be among the Candidates at Oregon (if Mark Helfrich gets fired), Purdue and Houston. Purdue would make the most sense with Fleck's midwest ties. He played at Northern Illinois and grew up not far from DeKalb in Spring Grove, Ill, a far west suburb of Chicago.
Houston would be a slight move up. With the Cougars still in American Athletic Conference, Fleck can would have little advantages at Houston that he has at WMU. The Biggest exception would be the recruiting base.
Purdue
The Boilermakers have not had a winning season since 2011 and not been to a Bowl game since 2012. Darrell Hazell was 9-33 in three plus seasons in West Lafayette. Hazell was hired after an 11-3 season at Kent State in 2012.
The advantage that Diaz might have over Fleck is that Purdue might not want to hire another MAC coach. Hazell was an offensive assistant for 25 years before getting the job at Kent State. He was 47 when he got the job with the Golden Flashes. Diaz is 42, Fleck is 36.
Purdue was 3-3 at the time of Hazell's firing, before losing six straight. They also started 2015 3-3 before losing their final six games.
The Boilermakers have been bad on both sides of the ball in 2016. They rank 97th nationally in points per game at 24.6 and are 118th in points allowed at 38.2.
Quarterback David Blough returns. He had 25 touchdown passes, but also 21 interceptions. Blough threw for 3352 yards, for an average of over 279 yards per game. Six Boilermaker receivers finished with at least 29 receptions.
There is hope defensively. Redshirt Freshman Markus Bailey led the Boilermakers with 97 tackles and four interceptions. Junior Defensive End Gelen Robinson led Purdue with 9.5 tackles for loss and had five sacks, plus a 78 yard interception return for a touchdown. He is the son of former Purdue basketball great Glenn Robinson.
The Boilermakers return five starters on defense and eight on offense.
Houston 
Houston offers Diaz his best opportunity, but the biggest shoes to fill. Tom Herman went 22-4 in his two seasons with the Cougars.  They beat Louisville both seasons, upset Oklahoma in the season opener this year and Florida State in the Peach Bowl last season. They also had a 2015 win over Vanderbilt.
Baring any defections, Houston returns 15 starters, eight on offense and seven on defense. That includes five star Freshman Defensive End Ed Oliver. Herman has an offensive background and was the Offensive Coordinator at four different schools before landing at Houston.
The Cougars average 38.0 PPG, 22nd nationally and allow 22.6, 30th in the country. Among the losses are Quarterback Greg Ward Jr, Inside Linebacker Steven Taylor and Wide Receiver Chance Allen.
Taylor led the team with 72 tackles and 8.5 sacks. Allen was second on the team with 58 receptions for 856 yards and led the team with six touchdowns.
Oliver dominated in his freshman season. He was fourth on the team with 60 tackles, led Houston with 18.5 tackles for loss and also had five sacks and six passes defensed.
Houston Defensive Coordinator Todd Orlando will coach the Cougars  in their bowl game. He and Offensive Coordinator Major Applewhite are considered to be among the Candidates to replace Herman.
Baylor
As a Big XII that has had success, this is the most unlikely landing spot for Diaz. It's also going to be the toughest job. The rape scandal that happened earlier this year could land the Bears on probation, although there has been no proof that NCAA Allegations have been violated.
There is no guarantee of which Baylor players will return, but they start one Senior on offense and three on defense. Freshman Zach Smith took over at Quarterback when Seth Russell was lost for the season with a broken leg.
Smith has thrown for 907 yards, eight touchdowns and four interceptions. Three Bears running backs, plus Russell rushed for 500 yards this season. Sophomore Terrance Williams leads Baylor with 855 yards and ten touchdowns. Junior K.D. Cannon leads the Bears with 68 receptions for 905 yards and ten touchdowns.
Defensively, K.J. Smith and undersized linebacker Taylor Young are the best of the players that could potentially return. Smith has 56 tackles, nine tackles for loss and leads the team with 5.5 sacks. Young would be Baylor's leading returning tackler with 61 and also has nine tackles for loss and 4.5 sacks.
Baylor can score. They are 26th nationally averaging 26.2 points per game. They are 86th in FBS, allowing 31.0 PPG.
Diaz likely need another year of Miami's defense being ranked among the best nationally before he gets a shot to be a Head Coach. The best fit on this list would be Florida Atlantic. He has spent his entire career in the South and would be able to jump in immediately to recruit. Diaz might want to wait until a better opportunity arises.
This article originally appeared on