Five best players the Clemson Tigers will face in 2017
Anthony Messenger/FanSided via Rubbing the Rock

Fansided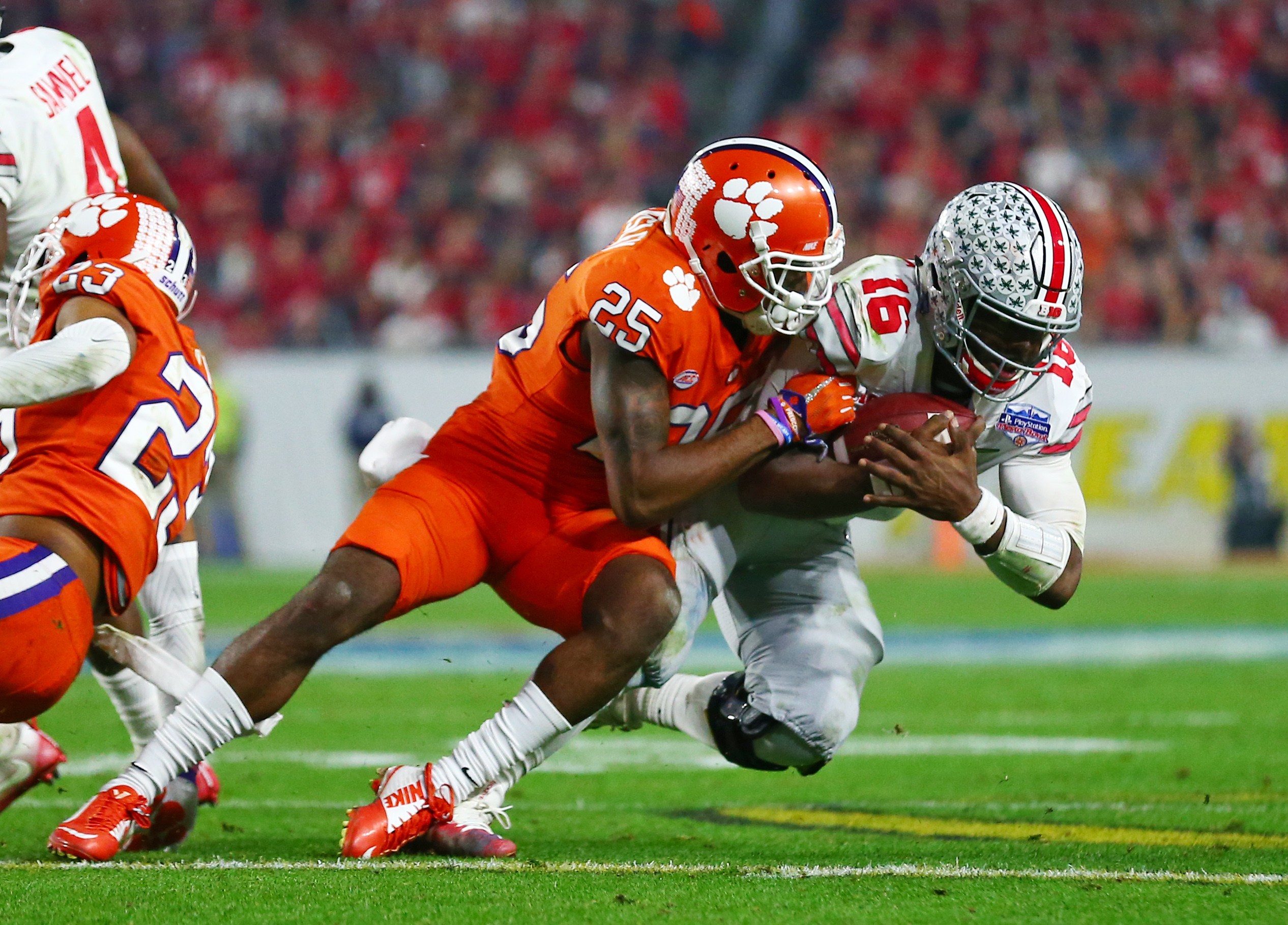 Clemson may have won the National Championship, however they are far from the only talented team in the ACC. We are going to take a look at the toughest players that Clemson will face both in-conference and out of conference.
Now that we have a clear picture of the Clemson Tigers 2017 schedule, we can analyze the best and worst that it has to offer.
Deshaun Watson was able to lead Clemson to two consecutive ACC Championships in 2015 and 2016. Unfortunately for the Tigers, Watson is taking his talents to the NFL. If Clemson wishes to continue their dominance over the ACC, new playmakers must step up.
The Tigers will face a tough test early on against Gus Malzahn and the Auburn Tigers, before getting into conference play. The ACC returns Heisman trophy winning quarterback Lamar Jackson, along with Florida State's Derwin James.
There are certain players who transcend the sport and single handily take over football games. I am not sure that the Clemson Tigers will face any individual like that in 2017, however, you never know, in college football there is always a star on the rise. Here are the toughest players Clemson will face next season.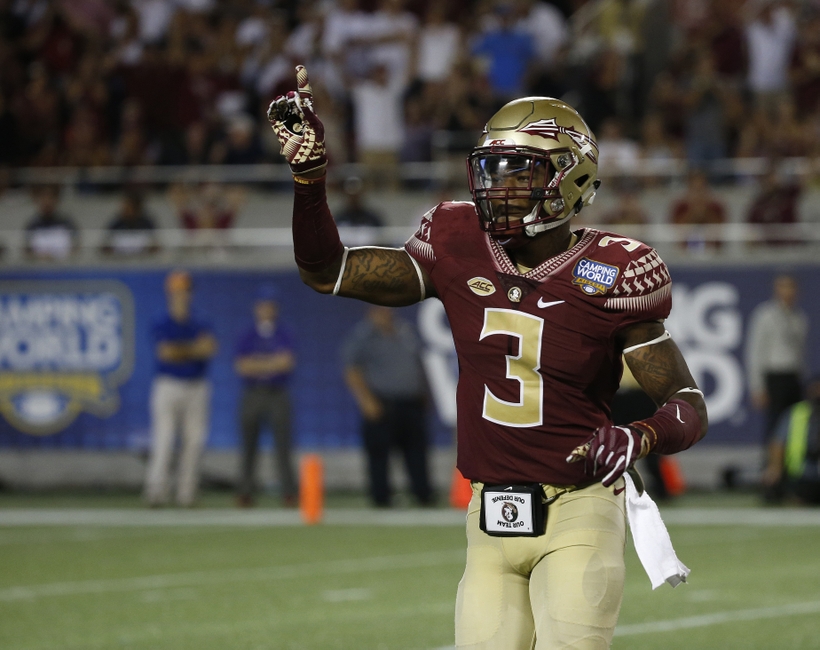 Derwin James, Florida State:
Derwin James is high on this list because he is coming off of an injury. James, a rising junior, is one of the most versatile defensive players in the entire country. During his freshman season James 91 tackles, 9.5 tackles for loss, 4.5 sacks, and 2 forced fumbles. In certain instances, the Florida State safety is used as an edge rusher.
Clemson will have their hands full with Derwin James should he be completely healthy in 2017. Clemson will be breaking in a new starter at quarterback next season. As such, a learning curve can be expected. Unfortunately for Clemson, Florida State brings back a defense chock-full of talent, lead by Derwin James.
James has the range to be a ball-hawk on the back end and the physicality to come down into the box in run support. Look for Florida State to move him all over the field in order to maximize his talents.
While James is the first Seminole on this list he is not the last, there is a certain member of the Florida State secondary that also made the list.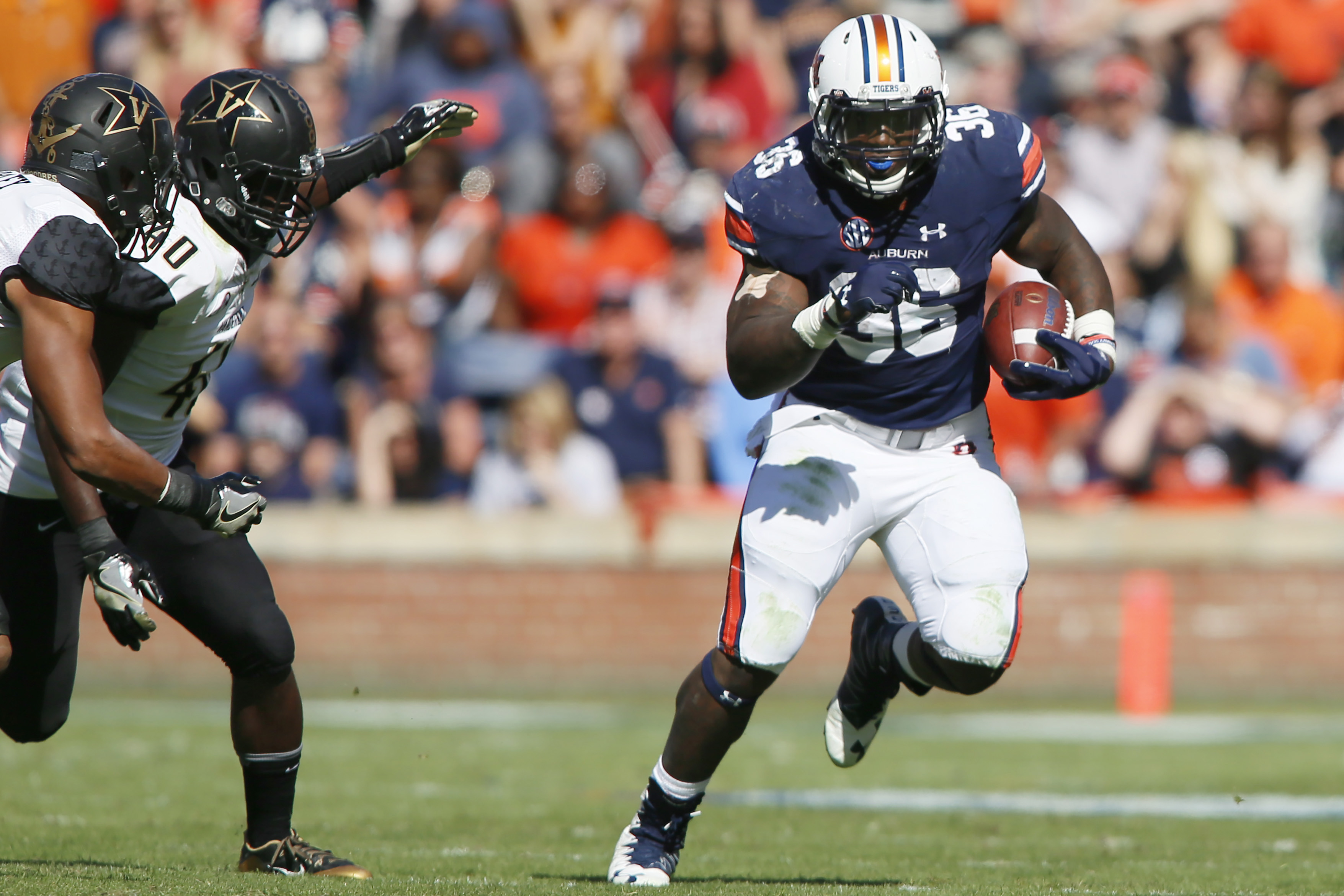 Kamryn Pettway, Auburn:
The Auburn Tigers started off slow in 2016, however, they turned things around quickly mainly due to the play of star running back, Kamryn Pettway. Pettway lead the Tigers in rushing with 1,224 yards and 7 touchdowns on the season.
Clemson is going to have their work cut out for them with Kamryn Pettway in week 2 of the 2017 season. Pettway is different from all of the other running backs the Clemson Tigers will face because of his blend of size and speed. At 6'0, 240 pounds Kamryn Pettway is built more like a linebacker than a running back, however, he moves like a back half his size.
Pettway is like a freight train in the open field, defensive backs rarely tackle him one on one. Clemson must get a good push from their defensive line to stop Pettway before he can build momentum. The Tigers have had trouble in the past with bigger running backs, for instance Alabama's Bo Scarbrough or Pittsburgh's James Conner.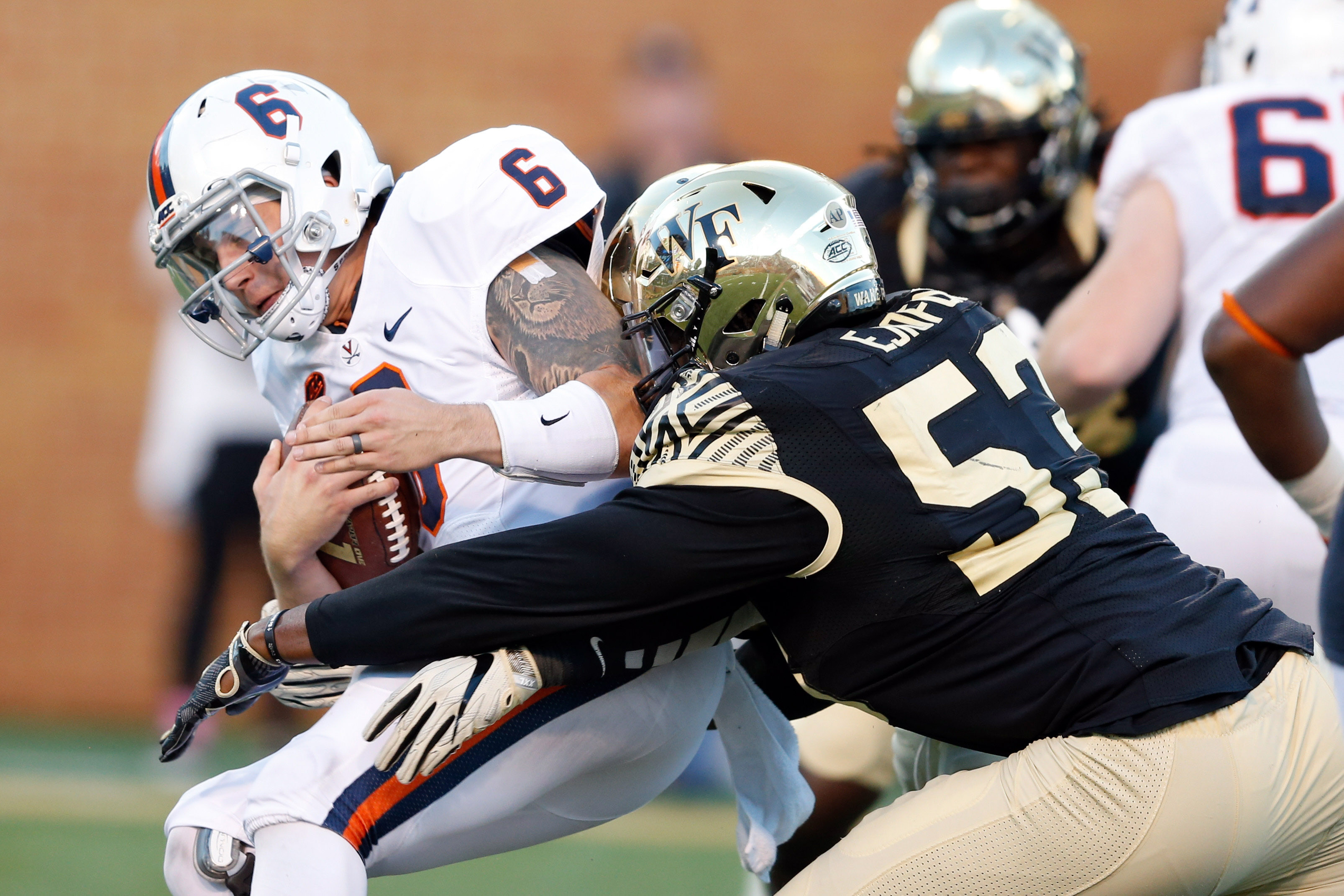 Duke Ejiofor, Wake Forest:
Duke Ejiofor could have left for the NFL following his 2016 season at Wake Forest, where he logged 50 tackles, 17 tackles for loss, 10.5 sacks, and 2 forced fumbles.
Ejiofor terrorized the rest of the ACC last season with his length and explosiveness off of the ball. Clemson's offensive line has been stellar over the past two seasons, however, with a new quarterback running the offense may not run as smoothly.
Clemson's co-offensive coordinators Jeff Scott and Tony Elliot love to throw the football, which will give Wake Forest's Duke Ejiofor ample opportunity to get after the quarterback. The match-up between Mitch Hyatt and Ejiofor will surely draw a good amount of NFL scouts to the game. The NFL places a premium on edge-rushers and Duke Ejiofor fits the bill perfectly.
Losing Wayne Gallman will hurt Clemson as he provided substantial help in pass protection. The Clemson Tigers may need to double Duke Ejiofor next year, as such C.J. Fuller and Tavien Feaster will be tasked with neutralizing Ejiofor.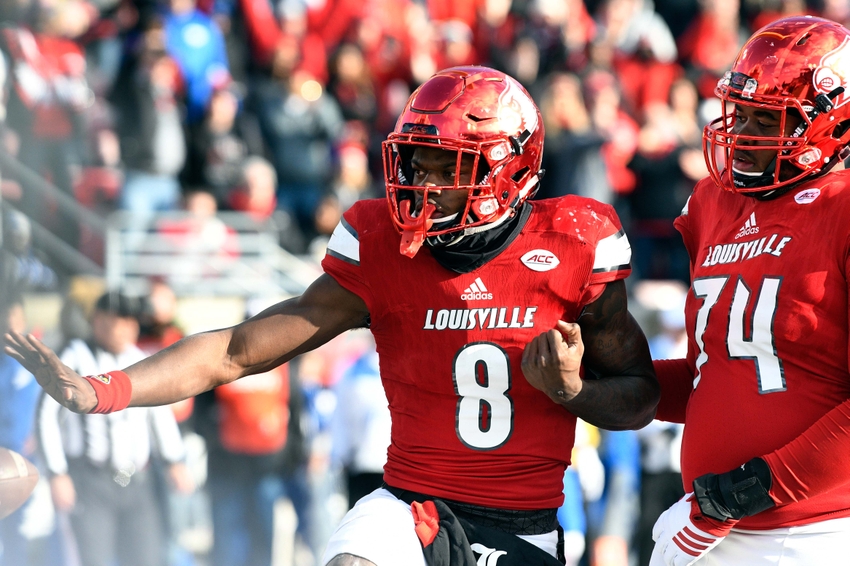 Lamar Jackson, Louisville:
Lamar Jackson may be the 2016 Heisman Trophy winner, but, that does not make him the most dangerous player to Clemson next season. Jackson nearly led the Cardinals to a hard fought win over Clemson in last years match-up.
The Tigers will have their hands full with Jackson again this season. Lamar Jackson is downright dangerous with the ball in his hands. Jackson has the arm strength to push the ball 60 yards down the field as well as the pure speed to take it to the house from anywhere on the field.
Coming into his third season in Bobby Petrino's offense, Lamar Jackson's understanding of the system will be second to none. If you look at the jump he made from his freshman season to his sophomore season, it is clear how much he improved as a passer. Should Jackson make that same improvement from 2016 to 2017 the Cardinals offense will once again soar.
Losing Ben Bouleware will hurt Clemson against the likes of Lamar Jackson, because Bouleware was a film addict. Bouleware understood Louisville's offense and was albe to get the rest of Clemson's defense lined up. Rising junior linebacker Kendall Joseph must make that progression in the 2017 season to lead this Clemson Tigers defense.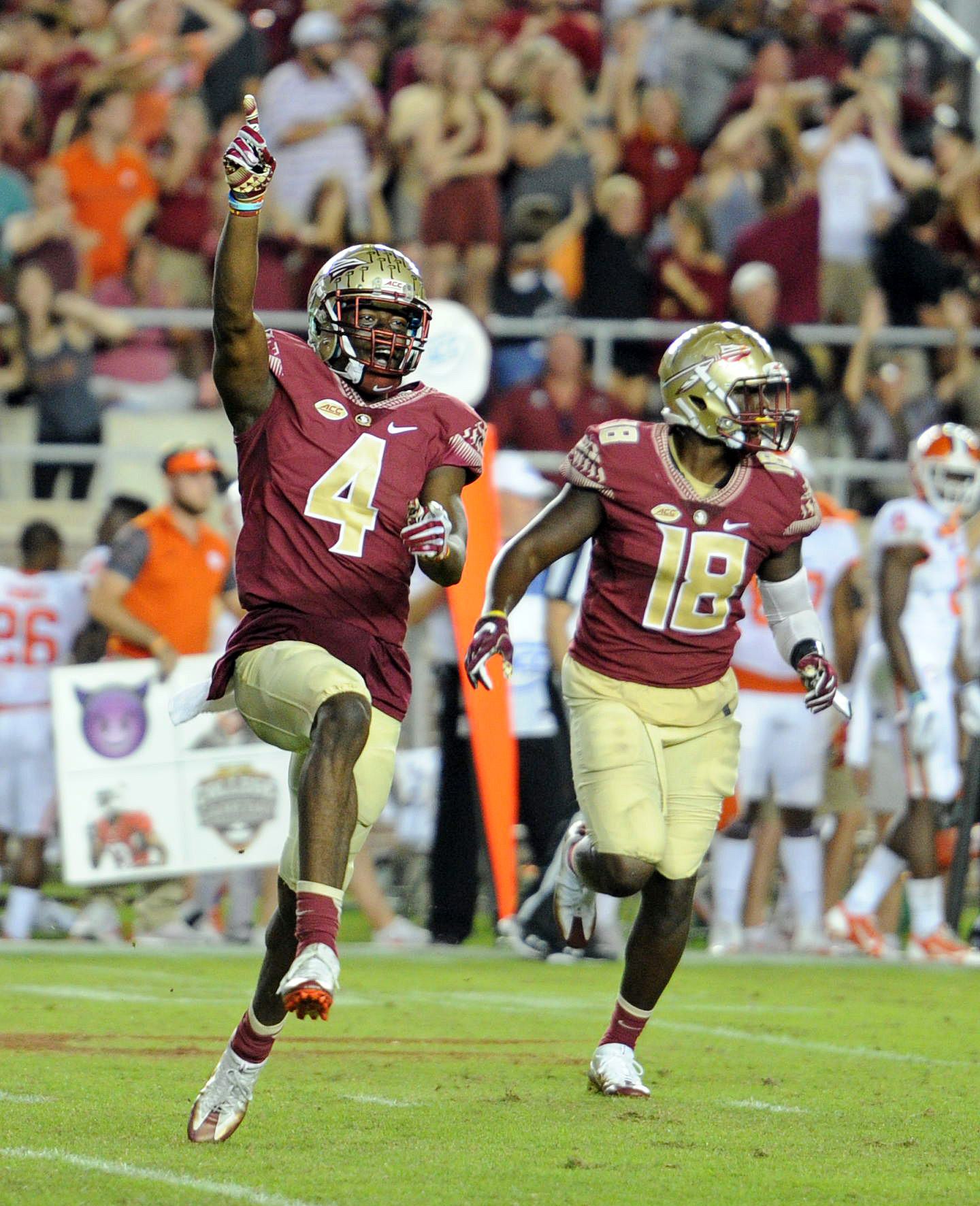 Tavarus McFadden, Florida State:
As I stated earlier in the slideshow, Florida State was going to have two members of it's secondary on this list. Tavarus McFadden is an absolute lockdown corner. The rising junior corner back led the ACC in interceptions with 8 on the season.
In his first year as a starter, McFadden displayed a strong resolve. In his first career start against Ole Miss, the Seminoles went into the half down 28-13 and McFadden had given up one of those touchdowns. Rather than go in the tank, McFadden was able to bounce back and secure an interception during the game.
Against Clemson, McFadden was Florida State's best player outside of Dalvin Cook. McFadden was able to bait Deshaun Watson into throwing an interception. I expect McFadden to give the Clemson Tigers fits next season because of his length and ball skills. McFadden is one of the rangiest corner's in the country at 6'2, 200 pounds. McFadden uses his long arms to jam receivers at the line of scrimmage and from there he has the speed to keep up with receivers down the field.
There is nearly no place to throw against McFadden as he has a larger catch radius than most wide-outs.
This article originally appeared on