Finding this season's John Harris, a late-blooming upperclassman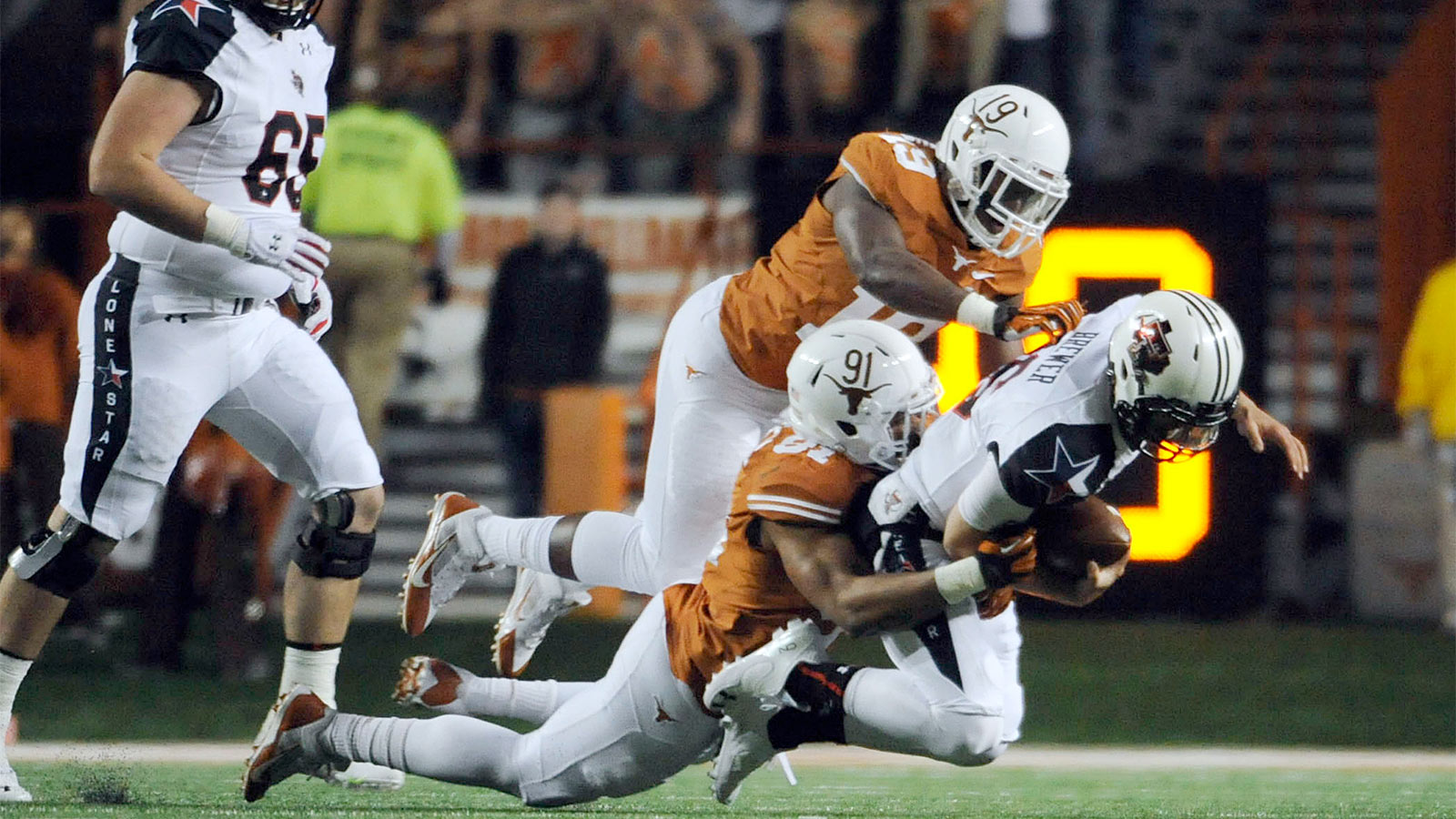 Last season Texas got an unexpected and badly needed breakout season from senior wide receiver John Harris. Entering the pivotal 2015 season, Texas is going to need more from an upperclassman or two, a surprise breakout player who can supply an impact.
That's especially so with the uncertain status of fifth-year cornerback Sheroid Evans, who continues to work his way back from a knee injury.
Chip Brown and William Wilkerson of Scout's Horns Digest each selected a player they believe can step out of the background and take a spot on the big stage.
Here's their selections:
Chip Brown — DE Bryce Cottrell: Get ready for the coming out party of redshirt junior DE Bryce Cottrell.
With Ced Reed moving on and Cottrell and Shiro Davis basically deemed co-starters at DE in the spring, Cottrell seemed to be sensing the opportunity. Coaches said Cottrell was one of the most productive defensive players in the spring.
The biggest knock on Cottrell was that he wasn't playing with a confidence equivalent to his performance. The coaches basically had to tell him that the only person who didn't realize how much he had improved and how well he was doing – was Cottrell.
Cottrell always had a good first step, good burst, good ball get-off and an excellent lean as a speed rusher. But now he has added the weight – at 6-2, 247 pounds – to be more than a speed guy.
He's improving his speed-to-power rush as well as his ability to stop the run.
In the past, coaches have said Shiro Davis has been the better run stopper and Cottrell the better pass rusher. The goal is for both players to become more complete in 2015. I think Cottrell will take that next step this fall and could flirt with a double-digit sack season. Bold, I know. But Cottrell has the talent to deliver.
William Wilkerson — CB Bryson Echols: Echols is a prideful dude who isn't going to roll over and just hand playing time to the talented freshmen trio of Holton Hill, Kris Boyd and Davante Davis.
He doesn't have great size – 5-foot-10, 181 pounds – but he's tough as nails and is a better-than-average 1-on-1 defender. Vance Bedford was impressed with his effort this spring.
I think he's going to enter fall camp with a gigantic chip on his shoulder and make it hard as hell for those freshman to jump him in the pecking order. They might, but it won't be because of a lack of effort.
Echols has played in 26 career games with only one start. I think that last number will grow a few games at the very least.