Fiesta Bowl: 3 Most disruptive defensive players against Ohio State
Anthony Messenger/FanSided via Rubbing the Rock

Fansided
Clemson was dominant against Ohio State. Deshaun Watson and Clemson's offense were able to overcome some early turnover because of their defense. It was clear that Brent Venables and his staff formulated a great game-plan that Clemson executed to perfection. Here are the most disruptive defensive players from the Fiesta Bowl.
3. Carlos Watkins:
Watkins may be the elder statesmen on this Clemson defensive line, however, he plays with the motor of a hungry freshman out to prove himself. I have been thoroughly impressed with Carlos Watkins and his performance this entire season. The redshirt senior defensive tackle has 44 total tackles, 12.5 tackles for loss, 10.5 sacks, and one blocked field goal.
Watkins was a nuisance against Ohio State racking up three tackles, two sacks, and two tackles for loss. J.T. Barrett and the Buckeyes offense were never able to establish the run because of Carlos Watkins an that Clemson defensive line.
When Ohio State decided to throw the football, Watkins chased J.T. Barrett around all night. Carlos Watkins in particular posed problems for Barrett in the pocket. It is much easier to avoid pressure coming off of the edge, however, pressure from the A or B gap is difficult to avoid because of the angle of the defenders pass rush.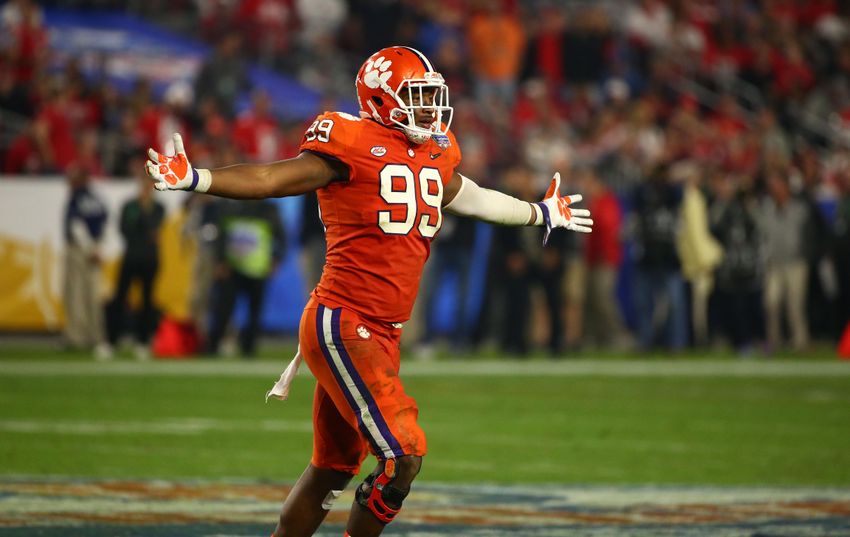 2. Clelin Ferrell
It seems like the bigger the game, the better that Clelin Ferrell plays. The redshirt freshman defensive end still manages to go overlooked because of guys like Christian Wilkins and Dexter Lawrence. Despite Ferrell's lack of publicity, he is without a doubt one of the best defensive players on this Clemson team. On the season, Ferrell has 43 total tackles, 11.5 tackles for loss, and six sacks.
Ohio State's offensive line was clearly not ready for Clelin Ferrell. Ferrell was very disruptive against the power zone read that Ohio State likes to run. The Buckeyes were never able to set the edge towards Clelin Ferrell, which forced them to run into the teeth of that Clemson defense.
Ferrell and Carlos Watkins were having a party in Ohio State's backfield. When J.T. Barrett dropped back to pass he was almost immediately pressured by Ferrell or Watkins. Clelin Ferrell was lined up against Ohio State's better offensive tackle-in terms of pass protection- and he still managed to sack J.T. Barrett three times on the night.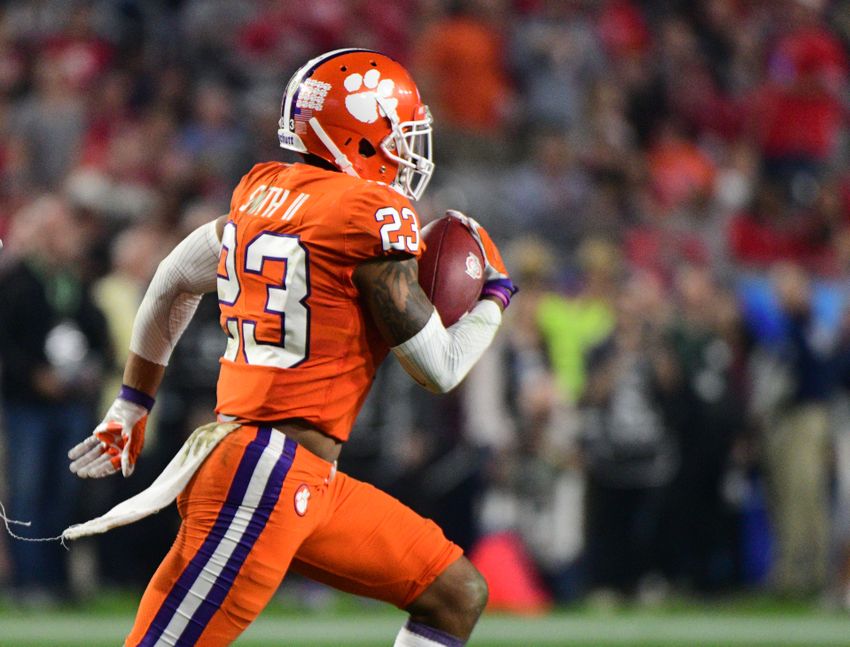 1. Van Smith
The sophomore safety is quietly having a very strong year. Van Smith has racked up 93 total tackles, 5.5 tackles for loss, three forced fumbles, and two interceptions. Smith reminds me of Earl Thomas, pro-bowl safety for the Seattle Seahawks. Both Van Smith and Earl Thomas are undersized, but, they have elite range and pack a punch when they hit you.
Against Ohio State Van Smith was all over the field. The Buckeyes offense uses multiple receiver sets to spread opposing defenses out in order to run the football. This forces opposing defensive backs to help in run support and tackle in space. Van Smith had no trouble filling the alley against Ohio State. Smith recorded six total tackles, 0.5 tackles for loss, and one interception which he returned 82 yards into Ohio State territory.
Brent Venables constructed a beautiful game-plan for Ohio State. Clemson's defense normally brings a lot of pressure on third down, but, against Ohio State the Tigers did not blitz as much and played more zone coverage. Smith and the rest of Clemson's secondary were very sound in pass coverage.
This article originally appeared on