FCS Top 25: No. 1 NDSU wins, No. 2 Richmond falls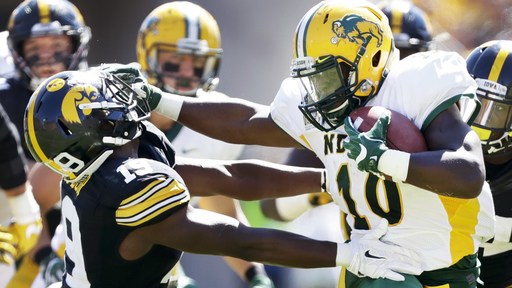 (STATS) – The top two teams in the FCS opened the action Saturday with surprising results.
The one that was expected to lose, top-ranked North Dakota State, upset FBS No. 13 Iowa 23-21, and the one expected to win, No. 2 Richmond, was handled 42-14 by Stony Brook in a CAA Football opener.
Add in No. 4 Jacksonville State's 27-26 win over No. 17 Coastal Carolina and another Top 25 matchup between No. 10 Northern Iowa and No. 8 Eastern Washington, and the FCS continued to have huge games to start the young season.
North Dakota State's sixth straight win over an FBS opponent was delivered on Cam Pedersen's 37-yard field goal as time expired at Kinnick Stadium in Iowa City.
"You can't tell anybody in our locker room we're not good enough to beat anybody. That's the heart of a champion," said NDSU coach Chris Klieman, a native of Waterloo, Iowa, and a graduate of Northern Iowa.
Richmond was no match on the road at Stony Brook as Stacey Bedell rushed for 100 yards and four touchdowns. The Seawolves helped overcome Spiders quarterback Kyle Lauletta's 411 passing yards with three interceptions.
"Our coaches stressed all week that this was going to a boxing match," Stony Brook defensive back Tyrice Beverette said. "They were going to throw punches and we needed to throw punches back. That's what we did. We showed them (Richmond) that we can respond to adversity. We came together as a team and capitalized on their mistakes to come away with a victory."
—=
STATS FCS TOP 25=
Saturday, Sept. 17
All Times ET
No. 1 North Dakota State (3-0) 23, Iowa (2-1) 21
NDSU matched James Madison's 21-16 win over No. 13 Virginia Tech in 2010 for the second-highest FBS team to lose to an FCS team. Appalachian State stunned No. 5 Michigan 34-32 to open the 2007 season.
The Missouri Valley Conference power imposed its will by possessing the ball for 36 minutes, 40 seconds and outgaining the Hawkeyes 363-231. Running back King Frazier carried the ball 16 times for 99 yards and a touchdown.
—=
Stony Brook (2-1, 1-0 CAA) 42, No. 2 Richmond (2-1, 0-1) 14
Stony Brook beat a ranked team for the second time this season. Sherman Alston Jr. went 96 yards for a touchdown on the opening kickoff of the second half to increase the Seawolves' lead to 28-14.
Bedell scored on runs of 2, 49, 1 and 8.
—=
No. 4 Jacksonville State (2-1) 27, No. 17 Coastal Carolina (2-1) 26
In a thriller with five lead changes, Jacksonville State quarterback Eli Jenkins scored on a 14-yard run and Cade Stinnett added the extra point with 6:44 left, lifting the Gamecocks from a 26-20 deficit. Jenkins finished with 359 total yards (248 passing, 111 rushing) and also passed for two touchdowns.
JSU outrushed Coastal 286-42, led by Roc Thomas 144 yards on 25 carries. Chanticleers All-American De'Angelo Henderson was held to 48 yards on 20 carries, although he scored a touchdown for his Division I-record 29th straight game.
—=
Tulsa (2-1) 58, No. 18 North Carolina A&T (2-1) 21
The visiting Aggies didn't threaten to make it two straight wins over the FBS as they fell behind 48-0 by halftime. Quarterback Lamar Raynard passed for a touchdown and rushed for another in the loss.
—=
No. 23 Colgate (1-1) 55, Yale (0-1) 13
Jake Melville passed for 315 yards and a career-high five touchdowns, including two to sophomore tight end Nick Martinsen. The Raiders outgained Ivy League-opening Yale 558-188 and had four interceptions.
—=
Eastern Illinois (1-1) at No. 5 Illinois State (2-0), 3 p.m.
No. 11 James Madison (2-0) at North Carolina (1-1), 3:30 p.m.
Towson (1-1, 0-0 CAA) at No. 21 Villanova (1-1, 0-0), 3:30 p.m.
Robert Morris (0-2) at No. 20 Youngstown State (1-1), 4 p.m.
No. 15 The Citadel (2-0) at Gardner-Webb (1-1), 6 p.m.
Norfolk State (1-1) at No. 13 William & Mary (1-1), 6 p.m.
Holy Cross (1-1) at No. 25 Albany (2-0), 7 p.m.
No. 22 New Hampshire (1-1) at Dartmouth (0-0), 7 p.m.
No. 6 Chattanooga (2-0, 0-0 Southern) at Furman (0-2, 0-1), 7 p.m.
Stephen F. Austin (1-1, 0-0 Southland) at No. 14 McNeese (1-1, 0-0), 7 p.m.
New Mexico Highlands (0-2) at No. 24 Northern Arizona (0-2), 7 p.m.
Cal Poly (1-1) at No. 9 South Dakota State (1-1), 7 p.m.
No. 10 Northern Iowa (1-1) at No. 8 Eastern Washington (1-1), 7:05 p.m.
No. 3 Sam Houston State (1-0, 0-0 Southland) at Lamar (0-2, 0-0), 8 p.m.
No. 19 Portland State (1-1) at Washington (2-0), 8 p.m.
—=
IDLE=
No. 7 Montana (2-0)
No. 12 Charleston Southern (1-2)
No. 16 Western Illinois (2-0)