FCS Playoffs Quarterfinal: South Dakota State-North Dakota State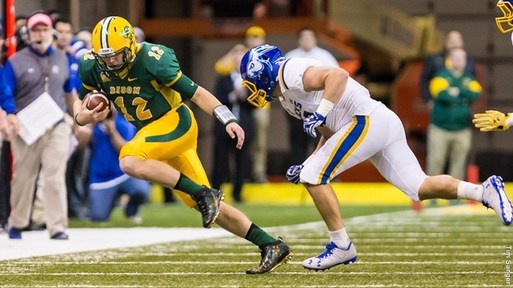 FCS Playoffs Quarterfinal
The Matchup – No. 8 seed South Dakota State (9-3) at No. 1 seed North Dakota State (11-1)
Kickoff – Noon ET Saturday at Fargodome (18,700) in Fargo, North Dakota
Coverage – ESPN
Series – North Dakota State leads 59-41-5
Coaches – South Dakota State: John Stiegelmeier (137-93, 20 seasons); North Dakota State: Chris Klieman (39-4, three seasons; 42-11 overall)
Players to Watch – South Dakota State: QB Taryn Christion (266 of 417, 3,559 yards, 30 TDs, 8 INTs; 351 rushing yards, 6 TDs), TE Dallas Goedert (86 receptions, 1,238 yards, 11 TDs), WR Jake Wieneke (73 receptions, 1,241 yards, 16 TDs), MLB Christian Rozeboom (120 TT, 3 sacks, 2 INTs, 2 FF), DT Kelly Soulek (42 TT, 10 TFL, 7.5 sacks, 7 QB hurries); North Dakota State: QB Easton Stick (138 of 229, 1,927 yards, 18 TDs, 8 INTs; 88 carries, 581 yards, 5 TDs), RB Lance Dunn (143 carries, 849 yards, 5 TDs), DE Greg Menard (52 TT, 14 TFL, 9.5 sacks), LB MJ Stumpf (75 TT, 12 TFL, 2 INTs, 3 PBU); SS Robbie Grimsley (71 TT, 4 INTs)
The Skinny – The Missouri Valley Football Conference co-champs meet again – for the second time this season and the 106th time overall in the 14th most-played series in the FCS. South Dakota State, which has never had a 10-win season, entered the FCS playoffs with the MVFC's automatic bid as the result of handing NDSU its only loss. NDSU won the only two prior meetings in the FCS playoffs (28-3 in 2012 and 27-24 in 2014) as part of its NCAA-record five straight national titles. South Dakota State pulled out the 19-17 win over the Bison on Oct. 15 when quarterback Taryn Christion hit wide receiver Jake Wieneke for a 2-yard touchdown with one second remaining. In that game, Christion rushed for a season-high 141 yards to go along with 303 passing yards. The MVFC's offensive player of the year is part of a lethal trio with Wieneke and Goedert – all three were finalists for the STATS FCS Walter Payton Award. Some of the Jackrabbits' strongest defensive games have come against their best opponents, including the 10-7 second-round playoff win over Villanova. Rozeboom and LB Jesse Bobbit will be key against the NDSU run game. The Jackrabbits have made winning adjustments at halftime, outscoring opponents 122-56 in the third quarter. North Dakota State is 17-0 at the Fargodome in FCS playoff games and has won a Division I-high 82 games (seven more than Alabama) since the start of its first national title season in 2011. The Bison are particularly strong at defending the run (104.3 ypg), but they will have to get pressure on Christion to keep Goedert and Wieneke from having big games. The defense, set back by injury, is seeking a healthy return by senior linebacker Pierre Gee-Tucker. Stick is steady and efficient leading the offense, and that has helped the Bison to a plus-nine turnover margin. The run game was back to full strength in a 45-7 second-round win over San Diego as King Frazier and Bruce Anderson produced with Stick and Dunn, the team's leading rusher this season. The starting offensive linemen average 6-foot-5½, 312 pounds.
Up Next – The winner will play either No. 5 seed Sam Houston State (12-0) or No. 4 seed James Madison (11-1) in the FCS semifinals on Dec. 16 or Dec. 17.
Prediction – It will be hard for either team to overcome turnovers because the defenses will be fierce. Christion is strong enough as a passer, so the Bison can't let him dictate the game again with his legs. North Dakota State 24-20.