FCS playoffs projection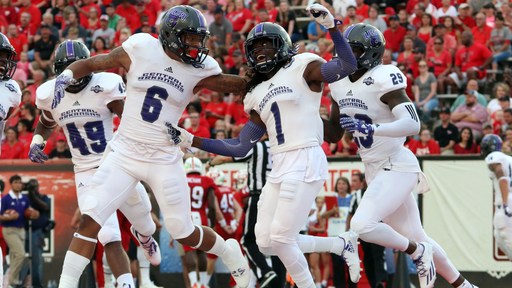 (STATS) – We're bold, so let's be stubborn.
At least for now, we add mildly.
We still maintain strength of schedules among FCS teams – listed on the NCAA statistics site, no less – is too glaring for the NCAA Division I FCS selection committee to continue on with Jacksonville State and Sam Houston State ranked above Eastern Washington and North Dakota State, which was the order in the committee's initial Top 10 rankings last week.
The strength of schedules: Jacksonville State, 101st-strongest (tie); Sam Houston, 89th; EWU, 12th (tie); and NDSU, 3rd.
(For good measure, unbeaten The Citadel's schedule is tied for the 12th-strongest.)
So we're being stubborn with the STATS playoffs projection, keeping our ordering for the coveted top two seeds (home-field advantage), but adding in the committee's favoring of James Madison over The Citadel for the No. 5 seed and inclusion of Central Arkansas in the rankings.
Subject to change? Oh, yeah.
—=
PROJECTED BIDS BY CONFERENCE=
*- automatic qualifier
Big Sky (4): Cal Poly (6-3), *Eastern Washington (8-1), Montana (6-3), North Dakota (8-2)
Big South (2): Charleston Southern (5-3), *Liberty (6-3)
CAA (4): *James Madison (8-1), New Hampshire (6-3), Richmond (7-2), Villanova (7-2)
MEAC (1): North Carolina A&T (8-1)/North Carolina Central (7-2) loser
Missouri Valley (4): North Dakota State (8-1), *South Dakota State (6-3), Western Illinois (6-3), Youngstown State (6-3)
NEC (1): *Saint Francis (6-3)
OVC (1): *Jacksonville State (8-1)
Patriot (1): *Lehigh (8-2)
Pioneer (1): *San Diego (7-1)
Southern (3): Chattanooga (8-1), Samford (6-3), *The Citadel (9-0)
Southland (2): *Sam Houston State (9-0), Central Arkansas (8-1)
Moved In: North Carolina A&T (8-1)/North Carolina Central (7-2) loser
Dropped Out: Stony Brook (5-4)
On the Bubble: Illinois State (5-5), Stony Brook (5-4), UT Martin (6-4), Wofford (6-3)
—=
STATS PROJECTED PAIRINGS=
Top 8 seeds have first-round byes
San Diego-North Dakota winner at No. 1 seed North Dakota State
Lehigh-New Hampshire winner at No. 8 seed Central Arkansas
Samford-Charleston Southern winner at No. 5 seed James Madison
Western Illinois-Cal Poly winner at No. 4 seed Sam Houston State
Liberty-Montana winner at No. 7 seed Chattanooga
Saint Francis-South Dakota State winner at No. 2 seed Eastern Washington
Villanova-Youngstown State winner at No. 3 seed Jacksonville State
North Carolina A&T/North Carolina Central-Richmond winner at No. 6 seed The Citadel