Ezekiel Elliott and Joey Bosa Named Rookies of the Month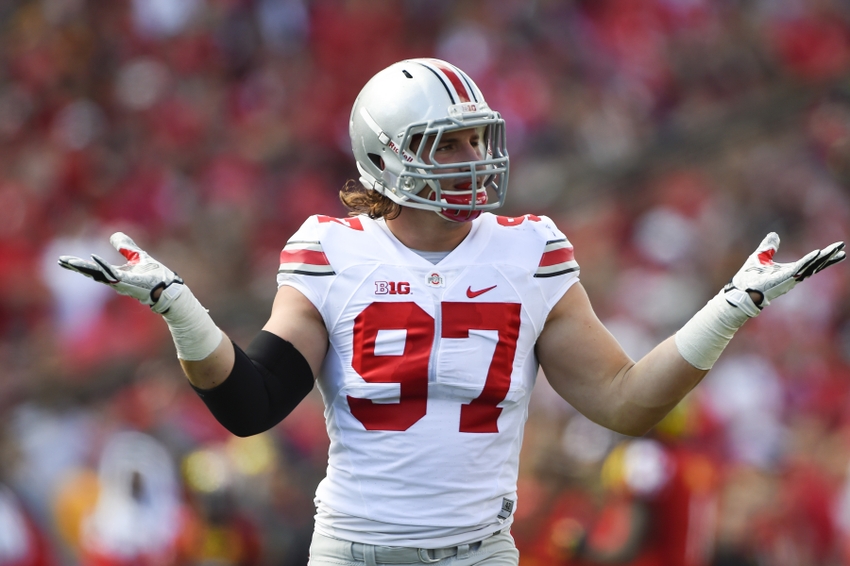 Ezekiel Elliott and Joey Bosa are each making quite an impression in their rookie seasons.
We are in the heart of the NFL season. At the mid-point in the season, we have a decent idea of who's legit & who's not. I can tell you one thing for sure. Ohio State rookies are legit. Players like Michael Thomas, Eli Apple and Darron Lee are turning heads… But not quite as much as rookie stars Ezekiel Elliott and Joey Bosa.
Ezekiel Elliott has been named the offensive rookie of the month and Joey Bosa has been named the defensive rookie of the month. Are Buckeye fans surprised? Not one bit.
Zeke has lead the Dallas Cowboys to a 6-1 season this year. This is a big change from the 4-12 record that the 2015 Cowboys had. Not only has Elliott led the Cowboys to winning games, but the star RB totaled 650 yards and three touchdowns.
The Cowboys were 4-0 this month. Elliott is leading the NFL with 799 rushing yards through 7 games this season and the schedule softens up for Dallas. This Sunday Elliott returns to Ohio to take on the Cleveland Browns and their sorry Rush D so look for Zeke to continue to put up these monster stats.
More from Scarlet and Game
Joey Bosa had a really weird start to his NFL career. The San Diego Chargers were being ridiculous and wouldn't pay him enough, and then an injury held him back. People were quick to call him a bust – but they're silent now.
Bosa played the first 4 games of his career in the month of October, and proved that he is no bust. Bosa was a force. Joey has been living in the opponent's backfield in October and has notched 4 sacks. This comes as no surprise for Buckeye fans.
This is the first time that the rookies of the month came from the same college team in almost 20 years. FSU rookies did it in 1997.
It comes as no surprise to Buckeye fans that Ezekiel Elliott and Joey Bosa are absolutely tearing it up. This is yet another testimonial to Urban Meyer's development of players.
The scary thing about this is that there is a good chance that this happens again this season… Stay tuned.
This article originally appeared on