Eyes of Texas are fixed on Charlie Strong's Longhorns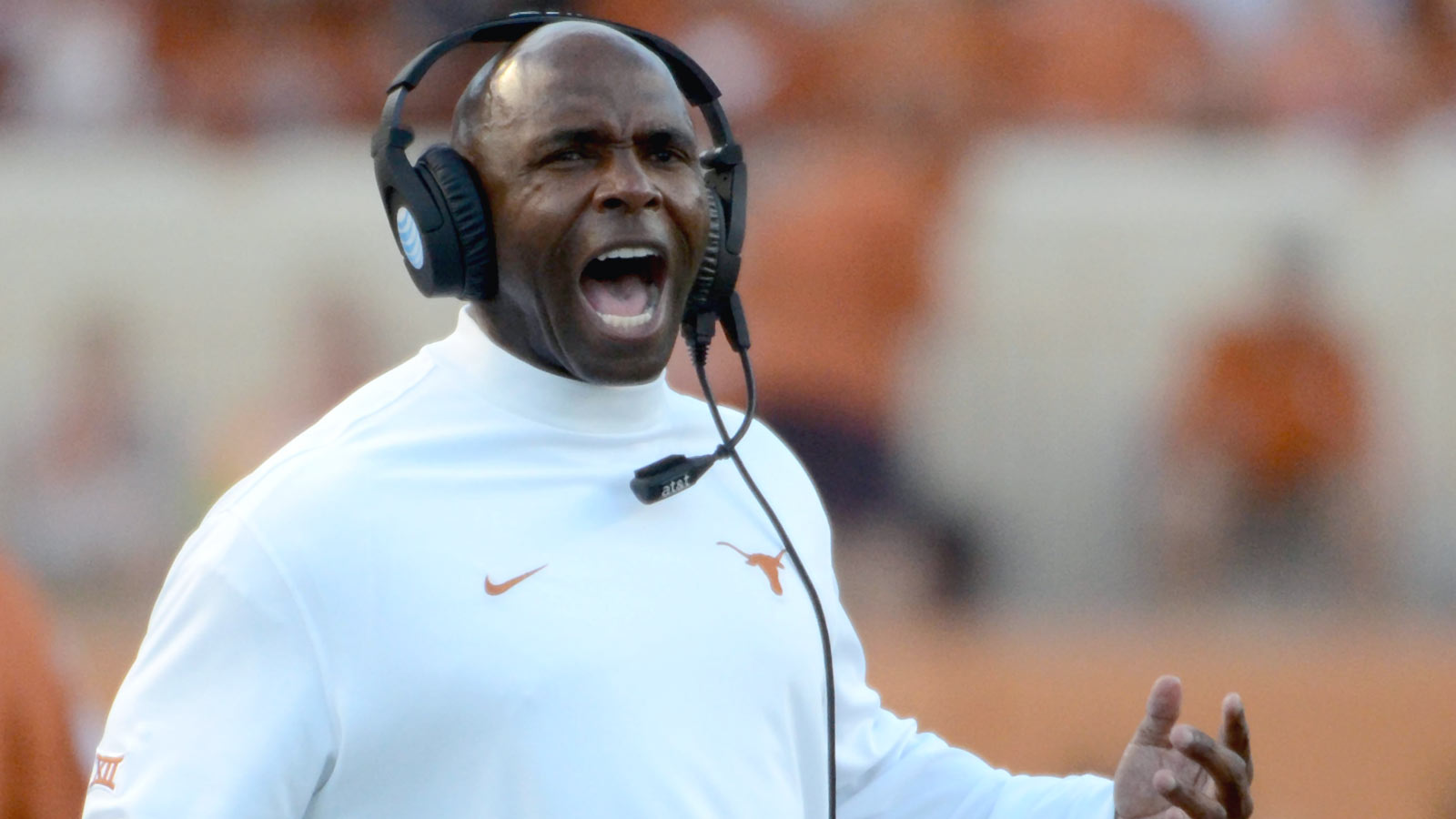 AUSTIN, Texas — Inclement weather caused Texas to halt its April 16 spring after the first half, but victory-starved Longhorns fans still got a plenty good glimpse of the 2016 squad's offensive makeover.
They watched early enrollee quarterback Shane Buechele complete 22 passes for 299 yards — more than Texas' quarterbacks threw for in 11 of their 12 games last season.
They watched running backs D'Onta Foreman and Chris Warren III average a combined 10.9 yards per carry.
And they watched all this play out in breakneck fashion. The two sides combined to run 110 plays in a half; last year Texas ranked 110th in plays per game (67.8).
Charlie Strong's 'Horns may be coming off a 5-7 season, but the doom and that's hovered over Austin the past several seasons is quietly morphing into cautious optimism thanks to a precocious freshman quarterback and an ascendant young offensive coordinator.
"We needed to give our fans something. We needed to give them hope," said Strong, who went 11-14 in his first two seasons. "The new offense, the change, it gave them a shot of juice."
We needed to give our fans something. We needed to give them hope.
Charlie Strong
Since replacing longtime Texas icon Mack Brown in 2014, Strong has endured a wildly turbulent initiation.
On the field, a dearth of veteran talent coupled with an interminable void at quarterback led to embarrassing losses and maddening inconsistency. Texas last season beat College Football Playoff participant Oklahoma and Top 15 foe Baylor (albeit with a receiver playing quarterback) but also lost 38-3 to Notre Dame, 50-7 to TCU and, most gallingly, 24-0 at 3-9 Iowa State.
Meanwhile, off the field, there was the mutiny against Strong's former AD Steve Patterson, a lawsuit involving his former co-offensive coordinator, Joe Wickline, a player tweeting from the halftime locker room and various other soap opera headlines.
Strong had barely begun his second season before the calls for his head began.
"The eyes of Texas are always on you," said the former Louisville coach and longtime SEC defensive coordinator. "I didn't hear people on TV calling for my job. But I figured they would be."
Much of the criticism directed at Strong was unfair. He inherited a roster so lacking in high-end talent that this week may be the second time in three years the program does not have a single senior drafted. Conversely, his former team, Louisville, saw 10 former Strong recruits get the call last year.
Meanwhile, Texas' well-documented misses over the years evaluating quarterback prospects only compounded matters, especially when former starter David Ash's career ended one game into Strong's first season due to recurring concussion symptoms. Tyrone Swoopes struggled as a replacement.
The one area where Strong unquestionably erred, however, was in his initial offensive staff and philosophy. After teaming together to coach star Teddy Bridgewater at Louisville, Strong brought with him offensive coordinator Shawn Watson, whose pro-style offense quickly proved a poor fit for Texas' quarterbacks and offensive personnel. Strong pledged to switch to a hurry-up spread to in 2015 yet stuck by Watson until Notre Dame humiliated the 'Horns in the season opener, at which point Strong abruptly handed over play-calling duties to receivers coach Jay Norvell.
A week after Texas' 5-7 regular season ended, Strong and a convoy that included school president Greg Fenves and AD Mike Perrin flew to Tulsa to reel in a new coordinator. Sterlin Gilbert, a 37-year-old Texas native and Art Briles disciple, was still a high school coach as recently as 2011. Dino Babers, himself a former Briles assistant, hired Gilbert upon becoming the head coach at Eastern Illinois and brought him to Bowling Green two years later.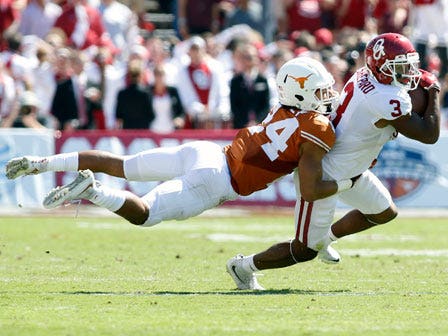 "The only reason I went to Eastern Illinois is there's a small group of people who know how to run this offense, and Dino Babers wanted to run this offense," said Gilbert, a GA for Briles at Houston in 2005. Gilbert spent last season at Tulsa under former Baylor OC Phillip Montgomery. The Golden Hurricane jumped from 99th to 37th nationally in yards per play (6.1) in their first year in the offense.
Though Briles' Bears have led the Big 12 in total offense three of the past five season, Texas will be the first program in the conference to adopt their unique no-huddle system.
"We had to go in that direction, No. 1, in order to recruit, because it's the system that most of the players [in Texas] come out of, that's the system they want to go into," said Strong. " … Also, you still want to be physical. You still want to run the football. I have two really good running backs. We have to be able to go up- tempo but also turn around and hand the football off. That takes a lot of pressure off the quarterback.
"I looked at Sterlin and felt this would be the perfect fit for what we need to do to get this program heading in the right direction."
If the spring game was any indication, the 'Horns are already operating at a fairly fast tempo. And there's certainly no shortage of skill talent on Texas' offense. It starts with those two aforementioned running backs — Foreman, a 6-foot, 238-pound junior who averaged 7.2 yards per carry last season, and 6-2, 255-pound Warren, who broke out late in his freshman season with a 276-yard Thanksgiving night against Texas Tech.
Texas also has several budding young receivers, most notably track star John Burt, who caught a 65-yard touchdown in the spring game, as well as early enrollee Collin Johnson, a 6-6 target who's already locked down a starting spot.
But most of all there's Buechele, son of former Major League third baseman Steve Buechele, the savior-in-waiting charged with ending the program's now seven-year quarterback drought post-Colt McCoy. 'Horns fans have been fooled before by the likes of Garrett Gilbert and Jerrod Heard, but the 6-1 Buechele looks sharp and comfortable running Gilbert's hurry-up offense.
Neither Strong nor Gilbert has officially anointed Buechele the likely starter over Swoopes, but Strong certainly talks as if it's a formality.
"[The fans] were looking for something different. What's going to be different?" said Strong. "And then Shane goes out and plays well in the spring game, they walk away feeling good knowing now that, 'Hey, we have a quarterback.'"
Far less certain is whether Texas has an offensive line that can protect him. The 'Horns last season started two freshmen tackles, Connor Williams and Patrick Vahe, and now early enrollee Zach Shackelford will attempt to do the same at center.
It's Year Three now. It's no more excuses.
Charlie Strong
It's much the same story on defense, where Texas is brimming with young budding stars like linebacker Malik Jefferson and cornerback Holton Hill but is largely starting over on the defensive line.
"Right now our issues are up front," said Strong. "We've just got to solve that problem."
Texas fans could not ask for a better measuring stick as to how far the 'Horns have a progressed in a year's time than the season opener Sept. 4 against Notre Dame – the same team that embarrassed Texas a year earlier in South Bend.
"It's Year Three now," said Strong. "It's no more excuses."
Especially with that offense and that quarterback.