EXCLUSIVE: Arizona Football 5-Star Recruit Joseph 'Jodie' Lewis earned his stars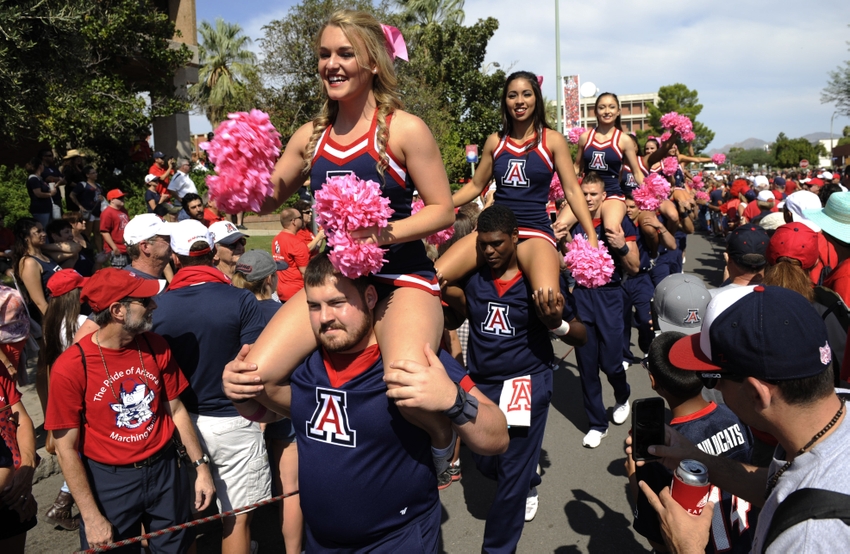 Arizona Football Head Coach Rodriguez has offers out to at least six of Augustus Hawkins High School targets, one of them is a 5-star wide receiver, Joseph Lewis.
If Arizona Football garners a commitment from Class of 2017 5-star wide receiver out of Los Angeles, California, there will be Wildcats fans and coaches dancing all over the country. His name is Joseph Lewis, and you will hear his name for quite some time no matter what school he commits to.
Joseph, or Jodie as his closest friends call him, has been offered by thirty plus schools including Arizona, USC, UCLA, Alabama, Notre Dame, Tennessee, ASU, Cal, Georgia, Miami and more. He has visited Nebraska in September, Oregon in October, and Oklahoma in November. The Hawkins senior has a big decision to make, and he looks to his friend, Robert 'Robbie' Lewis (no relation), who plays for Boise State for advice.
"We don't recruit guys to be backups, so if we are recruiting you it's because you can help our program" Coach Rodriguez
We asked Arizona Football head coach Rich Rodriguez what he tells a five-star recruit when they say they are looking for an opportunity to play right away. "Well, we tell everybody in recruiting, and most coaches are probably like this, we don't ever guarantee that they'll start as soon as they get on campus," he said, "But, we don't recruit guys to be backups, so if we are recruiting you it's because you can help our program and if you are ready mentally and physically to play as a freshman, we will play you."
The result? "Inevitably about half of them are, and some of them are forced to play sooner than others because of injuries and what have you, but that recruiting pitch is kinda the way we have always done it," said Rich Rod.

According to Adam Gorney at Rivals.com, Lewis is now 6-foot-3, and his coaches have said he has added 37 pounds in the last year and a half. He is an exceptionally skilled athlete who can catch balls not necessarily thrown accurately.  He was invited to The Opening along with teammate Jalen Hall and his performance garnered him the five stars next to his name.
There are three schools at Augustus Hawkins High School, Gaming, Health, and Business. Lewis is enrolled in the Business school. We all know Arizona has a business school in Eller, ranked in the top five for some disciplines, so maybe that would be a plus for Arizona.
Joseph feels he is more of a motivational leader, "Our team is like a family." He describes himself as "A big, fast, physical guy." Jodie wants to play in the NFL, so that is another thing he's looking for, a school that can showcase his abilities for the NFL Draft. He may not need much help, and he's a natural at his craft. Some of the coaches have played in the NFL, and they treat these young athletes as pros. (Source: Sports Stars of Tomorrow)
Jodie's stats are truly impressive on offense and defense as a safety, in addition to averaging 44.9 yards per punt, five sacks, and 23.5 yards average on kickoff and punt returns.:
Total Offensive Yards – Joseph Lewis (care of Max Preps)
Year
Grade
Team
GP
Rush
Pass
Rec
Total
Y/G
Varsity Totals
27
85
2,605
2,690
99.6
15-16
Junior
Varsity
10
38
852
890
89.0
14-15
Sophomore
Varsity
9
47
978
1025
5.2
13-14
Freshman
Varsity
8
775
775
13-14
Freshman
JV
3
195
195
Defensive Tackles
Year
Grade
Team
GP
Solo
Asst
Tot Tckls
T/G
TFL
Varsity Totals
27
82
31
113
4.2
16.0
15-16
Junior
Varsity
10
36
12
48
4.8
6.0
14-15
Sophomore
Varsity
9
34
18
52
5.8
10.0
13-14
Freshman
Varsity
8
12
1
13
1.6
Jodie and his teammate Arizona commit Greg Johnson will be visiting Arizona soon on 'official' visit to take in the sights and sounds of a football game in Tucson.
Johnson tried out for football because of Johnson who suggested he try out. Since there are six Arizona recruits at Hawkins so far, maybe all of them can come to Arizona together. The core of the Hawkins football team, the Hawks, is an extremely tight group, it's hard to picture them apart. Each. The school Lewis will choose will feel like family.
Here is our Exclusive interview with Jodie Lewis:
Want your voice heard? Join the Zona Zealots team!
Even though Lewis has offers from every school you could imagine, Arizona coaches are not slacking on recruitment at Hawkins. Just last Thursday night, two nights before the Cats played the Trojans, Donte Williams was in Los Angeles for the Hawkins vs. Dorsey game. Who else was in attendance? Jim Harbaugh, Michigan head coach, and Clay Helton, USC's head coach and main competition for Hawkins targets. Hawkins won the game, let's hope Coach Williams did too!
BearDown Jodie!
This article originally appeared on