Everything you need to know about the Arizona vs. Hawaii game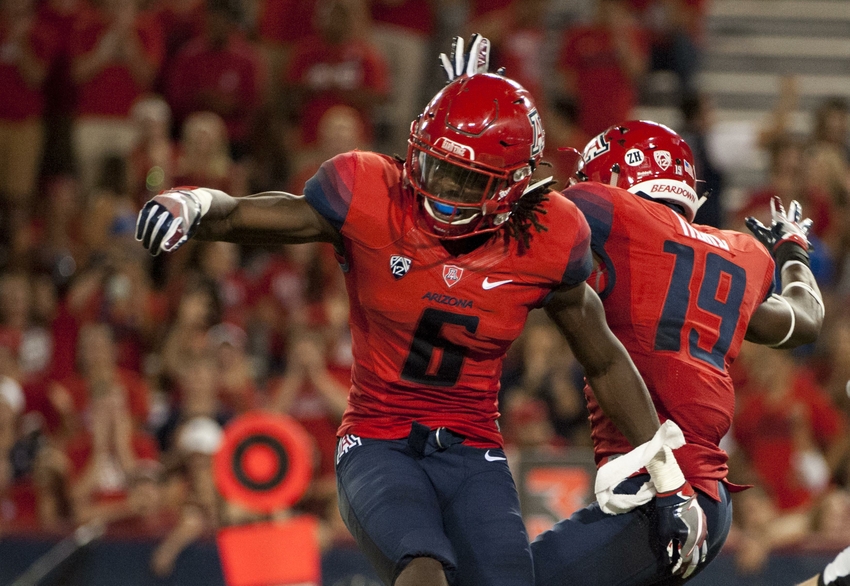 Game three for Arizona Football is against the Hawaii Rainbow Warriors. Coach Rodriguez hopes to fix a few things and come out swinging.
Here's the Arizona Football game information for their next out of conference game, the last one before Pac-12 favorites and powerhouse University of Washington Huskies come to Tucson.
Team Records:  Arizona Wildcats (1-1)  vs. Hawai'i Rainbow Warriors (1-2)
Location: Arizona Stadium, Tucson, AZ (57,400)
Tickets: You can purchase tickets HERE
When: Saturday, September 17, 2016
Game Time: 7:45 p.m. PST/MST
Television: Pac-12 Networks
Radio:  Arizona IMG Sports Network (Try TuneIn Radio), Brian Jeffries and Lamont Lovett
Betting line: Arizona -26
Series Lead: Hawai'i and Arizona have met four times previously with the Wildcats leading the series 4-0
Last Meeting:  Arizona 27– Hawaii 6 on September 3, 1998
Hawaii Football Notes:
The Rainbow Warriors are coming off of their first win. Warriors head coach Nick Rolovich is a rookie of sorts. The 2016 season is his first season with Hawaii. His team beat the University of Tennessee-Martin by a score of 41-36.
Hawaii's record is 1-2, but don't let that fool you as their last two opponents were the Cal Bears and the Michigan Wolverines. The Warriors are getting substantial road experience, and playing in front of bigger crowds when they travel. When they are at home, they play in front of about 19,994 fans, and that's less than half of the capacity of Arizona Stadium.
The Warriors are Road Warriors. Their first game against Cal was in Australia. Game two was in Ann Arbor, Michigan, and game three in Hawaii. This week the team is traveling to Arizona which will take about six hours in the air. The team must be pretty tired from all that traveling so far.
According to David Racey or SportsChatPlace.com, 'The Hawaii offense is averaging 25 points per game with 168 rushing yards and 196 passing yards per game. Ikaika Woolsey is completing 50.8% of his passes for 527 yards, five touchdowns, and five interceptions. That's an average of 25 points against Cal and Michigan! So it looks like it will come down to defense in this game.
If you watch the highlights from their Michigan game, it looks like passing the ball into the end zone should be the easiest way to score on this team.
Arizona Football Notes:
The Wildcats should be 2-0 going into this weekend, but because they haven't been able to score a touchdown in the first half of the last two games, they are 1-1.
The Cats have scored a combined 44 points and only allowed nine in the second half. That's good news! Some magic seems to be happening in the locker room at halftime; the Wildcats appear to come out a different team.
This transformation is not a new phenomenon, last season it seemed the Cats were a second half if not a fourth quarter team. Isn't that where the nickname 'Cardiac Cats' originated? 
"Touchdown, first down, get down." Coach Rod's and his coaches use this mantra when it comes to the quarterback's options. This means, look for the touchdown, if you touchdown, look for the first down, if that's not an option, GET DOWN!
Anu suffered from the 'get' down piece, in his first start, Brandon was able to get rid of the ball, still needs to work on this per his coach. He got the hang of the offense in the second half of his first game.
Also, there's good news, and there's bad news regarding the defense. The bad news is that Cody Ippolito, who put up some impressive stats in his limited play (five tackles and two fumble recoveries), cannot play in the first half of the game against Hawaii. The good news is, since Arizona football is a second half team, they will get Ippolito back when Arizona seems to play better. And he's going to be hungry!
Coach Rod would love his team to come into the game and play well right from the start and then maintain the intensity all 60 minutes. Since Arizona is looking like a second half team thus far, we asked Coach if he could give us some insight into what goes on in the locker room at halftime to turn the team around.
"I would like to say it's a magical speech or maybe some special power aid that they're drinking," quipped Rodriguez, "The truth is that I'm a more disappointed that we haven't started out quicker in our recent games."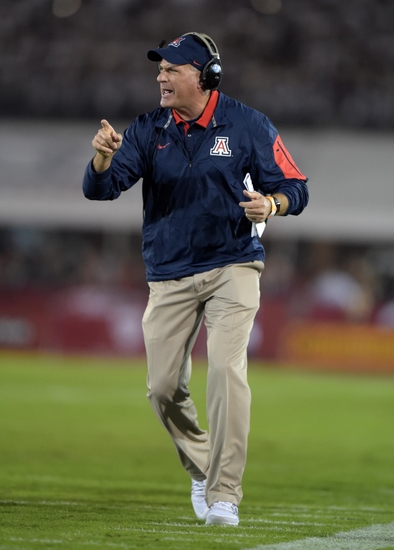 Coach Rod continued, "And at halftime, we don't bang the walls or nothing. Certainly, there are scheme adjustments, there's a lot of coaching going on as far as what's happening," he explained "More than anything else, it's just guys settling down and executing better. That's something we gotta fix in a hurry because it's two games in a row that we've played awful in the first half."
I told him I was looking forward to that, and he agreed, "Me too," he replied.
We will find out on Thursday if Anu Solomon, Anthony Mariscal, and Tellas Jones are healthy again or who else was injured in the last game. Coach gave no hints on the Pac-12 Teleconference call today.
Difficult to make out who the media is speaking to, but, but yeah that's our dual-threat QB Brandon Dawkins. Note, he did not turn over the ball in his first game as starting quarterback. He threw no interceptions nor did he fumble the ball. That's something to celebrate!
Prediction:  Arizona 42 Hawaii 21
Arizona has kept their opponents to 21 points and under thus far in the season. If the Rainbow Warriors are scoring about 25 points per game, then if Arizona's defense continues to play like they did in the second half of their last game, Arizona should win. We'll hear about Solomon's health on Thursday.
We are predicting that Dawkins will start again, and maybe the other two quarterbacks will get some snaps in the game. We are hearing that Zach Werlinger and Khalil Tate were sharing snaps with the two's in practice on Tuesday. BearDown Arizona! Let's make it 2-1 going into the Washington game!
This article originally appeared on