Everything you need to know about Arizona Football vs. Oregon State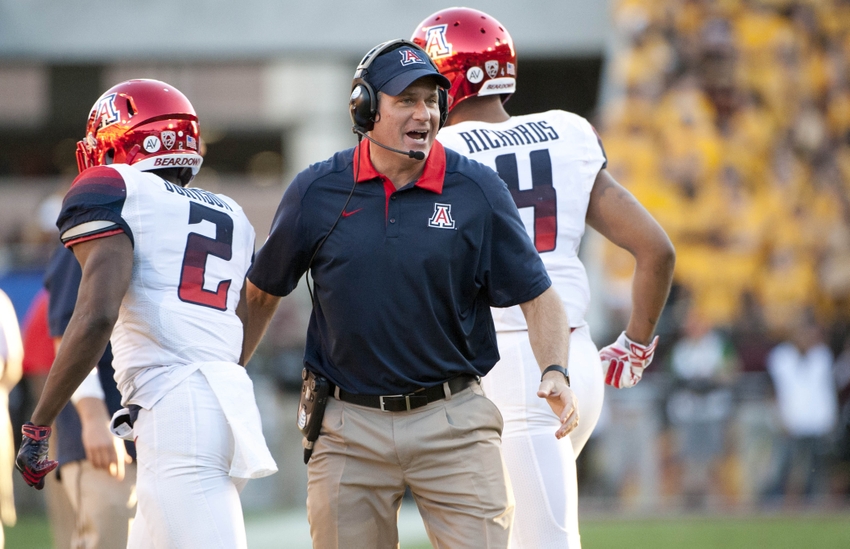 Arizona Football takes on the Oregon State Beavers up in Corvallis this Saturday, here's all you need to know about the upcoming game.
Game Information:  Arizona Football (2-8) vs. Oregon State Football (2-8)
Location: Reser Stadium, Corvallis, Oregon
When: November 19, 2016
Game Time:  7:30 pm PST/8:30 PM MST
Television: PACN- Pac-12 Network
Radio:  Arizona IMG Sports Network (Try TuneIn Radio), Brian Jeffries and Lamont Lovett
Betting line: OSU -6
Series Lead: Arizona 22, OSU 14, one tie – Arizona beat OSU last year at home
Last Meeting:  Tucson, October 10, 2015, Arizona won 44-7
Uniforms: Arizona will wear White jerseys, Red Pants, and White helmets.
Arizona has been dousing the field with water hoses this week to simulate what conditions may look like in Corvallis this weekend:
Here is the Pac-12 preview with of Yogi Roth going over critical specifics:
Arizona Notes:
Arizona is coming off a big 49-24 loss to Colorado at home. Rich Rod's squad is looking to bounce back this week going up against another team who has had similar struggles defensively this season. Getting off to a quick start could be crucial towards Arizona's confidence in this similar matchup.
With that in mind comes the quarterback discussion that could see either Brandon Dawkins or Anu Solomon take snaps in this contest. We asked Rich Rod where the continuity level sits between the offensive line and multiple quarterbacks this season and he said, "We don't worry too much about that, the way we roll quarterbacks in and out of practice, we're not too concerned with the chemistry or anything like that because they're expected to do their job no matter who the quarterback is".
That trust will need to be intact more than ever as things could get ugly on the defensive side of the ball.
Arizona's defense will have to stop Oregon State's aggressive run game and the season leading rusher Ryan Nall. Nall has a lingering foot/ankle injury yet could still be available. Wildcats rushing defense ranks ninth in the Pac-12 and is a weakness that Colorado attacked heavily racking up 175 yards and four touchdowns.
Oregon State Notes: 
Oregon State is also ranked last in their region of the Pac-12 and is coming off a close 38-24 loss to UCLA. The theme of their season is in close games yet making countless mistakes that have eventually cost them the game. Coming home for their last two games of the season could give the Beavers the boost they need as they wrap up a disappointing yet electric season.
Ryan Nall's breakout season has been exactly what OSU fans have hoped for; a standout star. As we dive deeper into the game film, we see that the Achilles heal could be the Beaver's passing game. If Nall isn't healthy enough to play, that could be a key component in OSU struggling to gain yards and having scoring drives.
The two quarterbacks that could go for Oregon State are Redshirt Sophomore Marcus McMaryion or Freshman Conor Blount. McMaryion has been the go to after Darell Garretson suffered a season-ending ankle injury against Utah on October 15th. Look for either one of these arms to be used sparingly as they both have a tendency to find targets wearing the opposite jersey.
Prediction: Arizona 24 Oregon State 21
Last week was the breakout game for Arizona wide receiver turned running back Samajie Grant, who ran for 113 yards and two touchdowns. Grant is my X-factor in this game as he goes up against an Oregon State defense who gives up an average of 228 yards a game on the ground. Look for Arizona to capture their first Pac-12 win of the season before heading back to Tucson for the Duel in Desert against archrival Arizona State on November 25th.
This article originally appeared on