Even with Georgia loss, Jacob Eason shows how special he is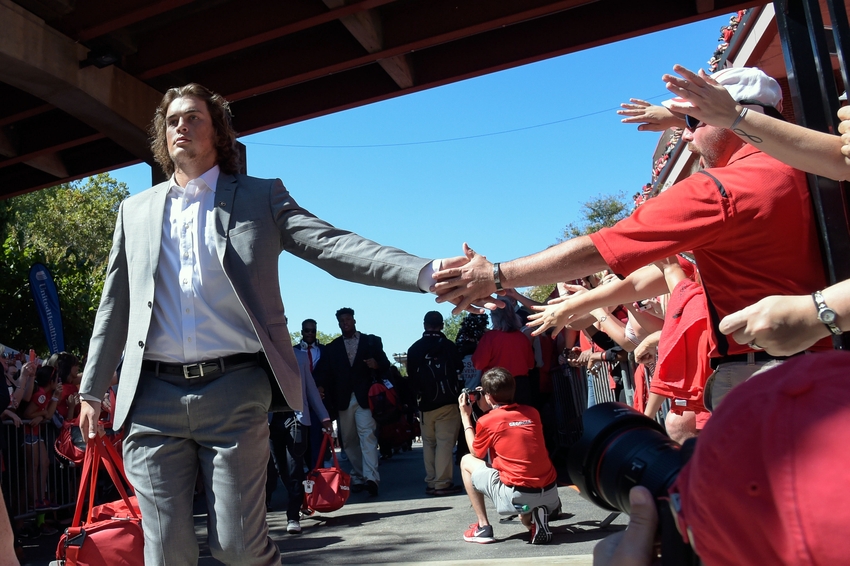 Even in a heartbreaking loss to Tennessee, Jacob Eason proved to the nation why he is going to be unbelievable.
That game was awful if you are a Georgia fan. I'm not going to sugar coat it. I really think the Bulldogs are cursed. The Vols 34-31 victory was saddening, but there is still hope for tomorrow.
Jacob Eason played an outstanding game, and Georgia would not have been close to the position they were in if it were not for him. Eason went 17-of-28 through the air for 211 yards with two touchdowns and one interception. He completed 60% of his passes and was dynamic.
He kept Georgia in the game with multiple clutch throws, particularly on third down to move the chains. Speaking of clutch, that was no more evident when Eason threw a 50-yard touchdown pass to Isaac Nauta near the end of the third quarter, when Georgia needed to put points on the board, and the 47-yard touchdown pass to Riley Ridley with ten seconds left in the game to put the Dawgs ahead.
We all know what happened after that so I don't need to rehash that. (Dang it, Josh Dobbs). Georgia can take a lot of positives away from this game. After all, most people thought the Vols would win easily.
Eason has ice in his veins and is truly special. Just think how dangerous he will be once he fully learns the offense and gets some better receivers and talent around him.
He has already done amazing things so far this season. He has thrown for 780 yards and five touchdowns. His first big statement that he was the real deal was against Missouri in Week 3 when the freshman threw the ball 55 times, had a great game and threw the game-winning touchdown late in the fourth quarter.
He struggled a bit against Ole Miss the following week (mainly due to offensive line woes). However, he bounced back in a huge way against Tennessee.
Eason is going to win a lot of games in Athens. The loss to Tennessee was disappointing, but there is so much hope for the prodigy quarterback and his team in the games to come.
Get the FanSided App
More from Dawn of the Dawg
This article originally appeared on