Eric Beisel Has Plenty to Say About Arkansas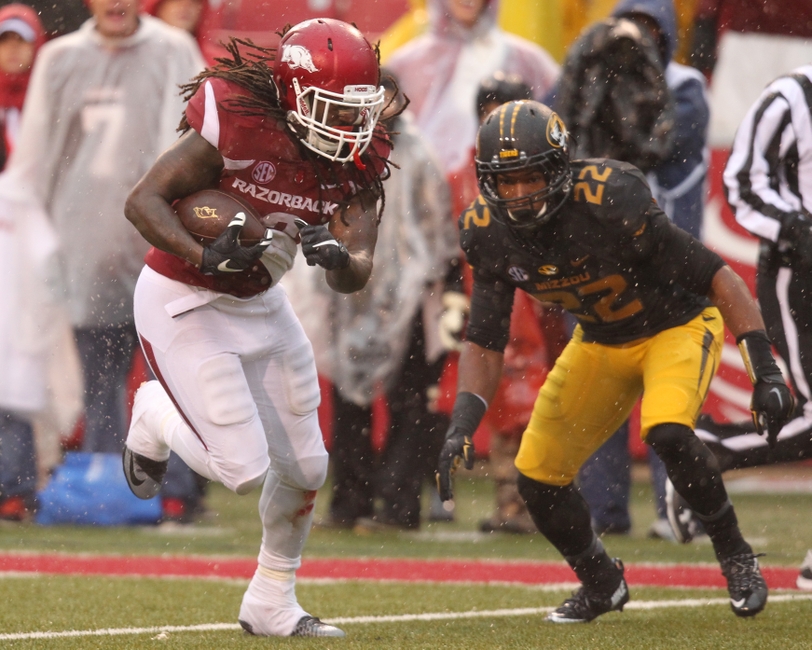 Missouri's middle linebacker, Eric Beisel, should probably be looked at for concussion protocol after giving the dumbest interview of the year.
Before even talking about what this young man said, I would like to remind you of one thing, MIZZOU is 3-8 and 1-6 in conference. That puts them **drumroll please** dead last in the SEC East. Thus, it wouldn't be a false statement to say MIZZOU is the absolute worst of the worst teams. Congrats.
Now, let's have a listen to what Mr. Beisel had to say about the upcoming "rivalry" game with the Arkansas Razorbacks.
You know, I remember the last time someone made the terrible mistake of calling Arkansas "Ar-Kansas". Back in 2007 when LSU was ranked number 1 in the country, Les Miles said in his pregame, "We're preparing for Ar-Kansas." Wouldn't you know it, after him saying that Arkansas came out and beat his number 1 LSU team. Never call Arkansas "Ar-Kansas" and expect good things to happen.
He thinks this is an actual rivalry? Look, Eric, I don't know if you know what the term rivalry actually means but MIZZOU is hardly a rival to Arkansas. To be quite frank, you guys never will be a rival to the Razorbacks. The most disrespectful thing the SEC ever did to Arkansas was to put them against MIZZOU for rivalry week.
"I think it'll be good for the fans. It'll be good for us. We're going to take some aggression out on Ar-Kansas this Black Friday. It's going to be a blackout game. They're not going to see what's coming. If they do decide to show up, like I said, it'll be a huge mistake."
Does he know that the Razorbacks don't have a choice to play this game? Have there been some teams that have decided not to play a game before and I am just not aware of it? Someone really needs to explain to this guy how this whole college football thing works.
Let's just say the Hogs did have a choice if they would play this game or not. I can assure you the Razorbacks would choose to play MIZZOU every day of the week and twice on Sunday. Who doesn't want an easy conference cupcake win to finish out the season? Don't worry, they'll be there.
"I expect Ar-Kansas to prepare this week. Whether they decide to get on a plane and show up at our stadium on Friday, that's their call. I tell you what, if they do decide to come, it's going to be a hectic. Our fans are going to bring it. We're going to bring it. It'll be a big mistake showing up in Columbia, Missouri."
Again, Arkansas doesn't have a choice to play your trash team but let's talk about your fans. I've been to Columbia and that was the most Non-SEC environment I've ever been to. Now, Missouri fans are really nice but let's be honest here, the MIZZOU fans version of bringing it is having a bake sale at the local Kiwanis club to raise money for safe space therapy sessions.
I can guarantee you that Bret Bielema is packing his players into the team meeting room and showing them this ignorant rant to give them all the motivation they need. Arkansas takes on the Triggered Tigers Friday, November 25th. Safe spaces will be available for those who can't cope with the monster beatdown Arkansas will be delivering. Woo Pig!
More from Razorbackers
This article originally appeared on