Ed Orgeron Will Not Be The Head Coach Of The LSU Tigers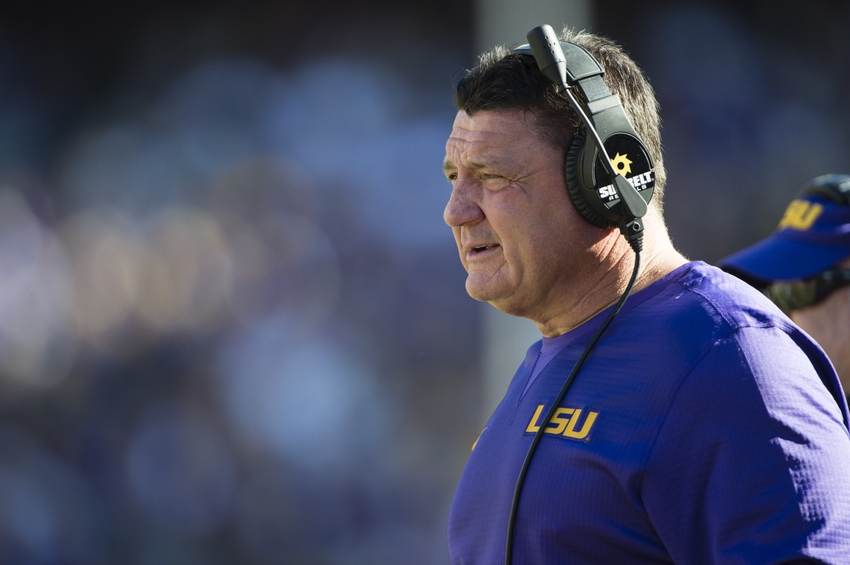 As the LSU Tigers lost to Florida and struggled in just about every facet of the game Saturday against the Gators, one thing became crystal clear: Ed Orgeron will not be named the permanent head coach of this team
When Les Miles was fired, the media and public immediately began speculating on who the next head coach would be. People around the program spent days harping on names like Jimbo Fisher, Lane Kiffin, Tom Herman, etc. Ed Orgeron was the team's interim head coach, but no one gave him a second thought.
Coach O was just considered to be a placeholder until LSU could bring in their real next head football coach. He had head coaching experience, was from the area, and had been very successful as interim at USC, but he wasn't the big name everyone wanted going forward.
But as he started winning games, fans and media started to warm up to the idea of Ed Orgeron as the next head coach at LSU. He was loved by his players, and in games against Missouri, Southern Miss, and Ole Miss, the Tigers had looked like one of the most dominant teams in all of college football.
At that point, most of us had bought in, but we knew the team had to win out if he was to be even be considered by the school. LSU was number 13 in the country and was suddenly back in the playoff and conference championship picture, but it was very clear that Orgeron still had to prove himself.
Then came the loss to Alabama. While we were all disappointed, we blew it off because the team played well against the best team in the nation. Sure, it meant that Coach O was not going to win out, but we told ourselves that if he could beat the remaining teams on the schedule the job would surely be his.
LSU slaughtered Arkansas on the road a week ago, and suddenly Ed Orgeron as the next head coach of the Louisiana State Tigers felt very real. He still needed to win out, but no one expected him to have any trouble getting it done.
As Florida came to town Saturday, Tiger Nation was feeling pretty good about LSU's odds to beat the Gators. The very Arkansas team that the Tigers had beaten the week before had blown out this Florida team, and the dominant defense versus the putrid Gator offense looked like the only advantage they needed.
But when they took the field in Tiger Stadium, LSU was unprepared, sloppy, and unable to execute in key spots. That, along with the second loss, officially put an end to Ed Orgeron's hopes of having his interim tag removed. This is a Florida team that is extremely beatable, and his team was not able to come out with a victory. I was rooting for Coach O as much as anybody, but there's just no chance he can overcome this and win the job.
More from Death Valley Voice
This article originally appeared on