Eastern Washington shuts out Richmond to reach FCS semis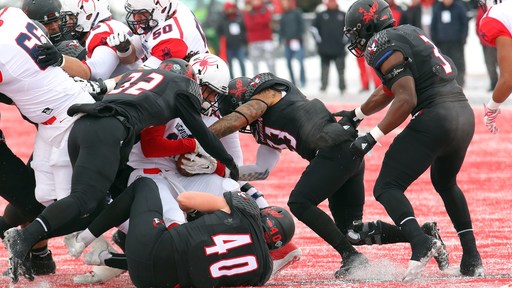 (STATS) – Just like the offense, the red carpet is rolled out at Eastern Washington for the defense this season.
Oh, the high-powered offense is still rolling, but the Eagles don't necessarily have to overcome their defense by winning shootouts.
They posted their first shutout since 2009 in eliminating Richmond 38-0 in the FCS playoff quarterfinals Saturday on the red turf at Roos Field.
Eastern Washington (12-1), a Big Sky Conference co-champion, will host Youngstown State (11-3) from the Missouri Valley Football Conference in an FCS semifinal next weekend. It's a matchup of past FCS national champs as YSU won four titles in the 1990s and EWU captured its only one in 2010.
Richmond (10-4) didn't challenge against the Eagles after the CAA Football squad made its second straight cross-country trip following a second-round win at North Dakota last Saturday. Roos Field was slick from snow in Cheney this week, but the Samson Ebukam-led defense had more to do with the Spiders' offensive woes. The visitors committed five turnovers, quarterback Kevin Johnson was sacked six times and they finished with just 205 yards of offense. Their turnovers led to 17 Eagles' points.
Ebukam, a senior defensive end, had eight tackles, two sacks, a forced fumble, a fumble recovery and an interception.
The Eagles, whose defense has improved under coordinator Jeff Schmedding, shut out Central Arkansas in the second half a week ago, so their streak rose to six quarters after they posted their first shutout since a 16-0 win over Northern Colorado on Sept. 19, 2009.
They combined the big defensive effort with Gage Gubrud's three first-half touchdown passes to dominate the first-ever meeting between the two programs.
Gubrud finished 21 of 32 for 287 yards, raising his season total to an FCS-leading 4,807 yards. Senior wide receiver Cooper Kupp caught six passes for 128 yards and a touchdown, while Nsimba Webster and Shaq Hill also had TD catches.
Eastern Washington announced on Friday it is finalizing a five-year contract for ninth-year head coach Beau Baldwin. He improved to 85-31 with the Eagles with Saturday's win.