CFB AM: Eastern Michigan's attempt to bust block wall goes horribly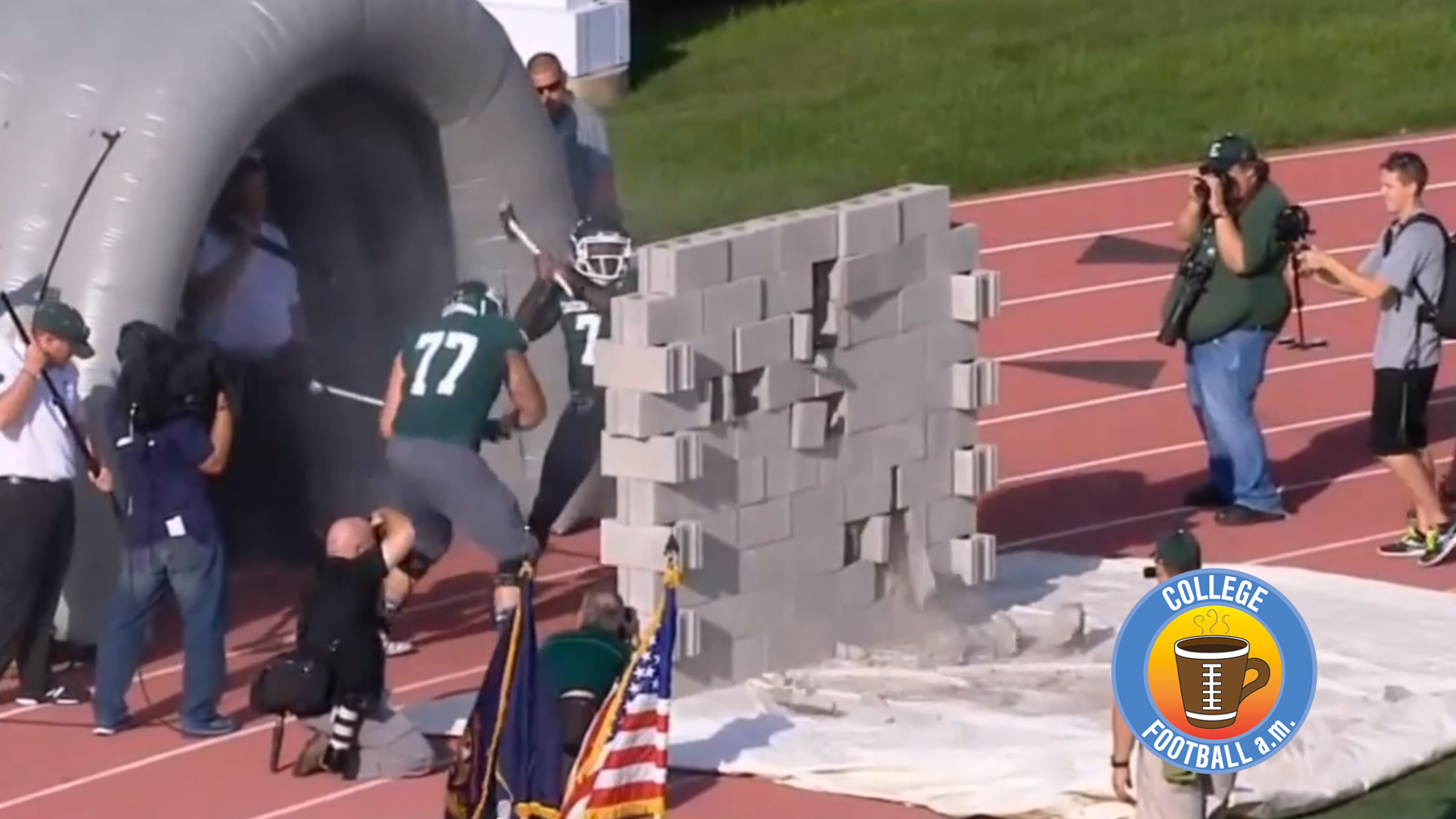 Of all the moments from the opening Saturday of the college football season, what was your favorite?
Was a Top 10 team involved?
Did Todd Gurley have something to do with it?
Maybe a wild fan wore something simultaneously hideous and fantastic?
Whatever that moment was, I bet this will rival it.
For some reason, Eastern Michigan decided it would be a good idea for its players to LITERALLY take sledgehammers and bust through a block wall before entering the field because, you know, what could possibly go wrong?
I don't know if this was supposed to be a metaphor for the kind of toughness the Eagles want on their team or the resilience of the program or their ability to conquer all challengers. The only thing that matters is the wall stunt did not work out so well. Here, watch the video:
(Still laughing … give me a few more seconds.)
OK. Look, this isn't to pick on the Eagles. This is to pick on forced metaphors that are totally unnecessary. Want to be a tough and resilient team? Run out of the tunnel like normal people and go whip somebody's ass.
Luckily, Eastern Michigan beat Morgan State 31-28 and nobody met the wrong end of a sledgehammer.
THREE THINGS YOU NEED TO KNOW
1. By far the brightest star of Week 1 and the one guy whose performance you must go look up now on YouTube if you missed it live was Georgia running back Todd Gurley. He ran for 198 yards and three touchdowns and added a 100-yard kickoff return for a fourth TD, as No. 12 Georgia wrecked No. 16 Clemson, 45-21. Gurley's 293 all-purpose yards were a school record. By the time the game ended, social media was abuzz with talk of Gurley as a Heisman favorite, as silly as that sounds after one week.
"I think [Gurley's] the best player in America," Georgia coach Mark Richt told reporters in Athens.
Here's the 100-yard kickoff return if you didn't see it:
As for Clemson, neither offensive coordinator Chad Morris or defensive coordinator Brent Venables, two widely respected coaches, had a good night. The Tigers entered with senior Cole Stoudt as the starting QB, and hyped freshman Deshaun Watson backing him up, but Stoudt did nothing against Georgia to secure his job – 15-of-28 for 130 yards, zero touchdowns and one interception. Watson got four passes and hit two, with one of them being a beautiful 20-yard TD to Charone Peake.
The guess here is that Watson will get many more snaps next week against South Carolina State, as Morris and Dabo Swinney try to gain more clarity at the position. Ideally, they'd have a clear No. 1 after Week 2, because then they would have two weeks to prepare that guy to face No. 1 Florida State in Tallahassee.
What's Venables' take on his defense's performance? This quote from Aaron Brenner's story sums it up: "There ain't nothing worse than letting someone run the ball on you. That's my opinion as a defensive coordinator. Those last eight minutes or whatever were pretty disgusting."
2. Speaking of No. 1 Florida State, the Seminoles almost lost to Oklahoma State in Arlington. They squeaked out 37-31 win, mostly because of just enough defense and a lot of Rashad Greene, who had 11 catches for 203 yards and a touchdown. Jameis Winston wasn't his best, completing only 25 of 40 passes and throwing two picks, but he did rack up 370 yards and a TD through the air and added this sweet TD run:
Overall, Winston looked uncomfortable, writes Brendan Sonnone. We didn't get to see any of FSU's heralded freshman receivers, namely Ermon Lane and Travis Rudolph.
Give Oklahoma State credit – nobody expected the Cowboys to even remain close in this game, let alone have a chance to win it. We were treated to the debut of JC transfer RB/WR Tyreek Hill, who had eight carries for 44 yards and six catches for 62 yards. Hill lived up to all the hype, writes John Helsley. He's one of those guys you can't miss when he touches the ball.
3. No. 13 LSU scored 21 straight points in the fourth quarter to beat No. 14 Wisconsin 28-24, and this game ended up being one of Saturday's best but not for the reasons we expected. We didn't get to see any of LSU freshman QB Brandon Harris, as Les Miles stuck with sophomore Anthony Jennings (9-of-21, 239 yards, two TDs, zero picks) for the entire game. Incredibly hyped freshman running back Leonard Fournette got eight carries and ran for only 18 yards, although he did also return five kicks for 117 yards. Freshman WR Malachi Dupre didn't play because of a hamstring issue.
What we did get were some big plays from LSU sophomore WR Travin Dural (three catches, 151 yards, one TD); everything we came to witness from Wisconsin RB and Heisman candidate Melvin Gordon (16 carries, 140 yards, one TD); the reopening of the Badgers' QB race, which happens when the starter (Tanner McEvoy) goes 8-of-24 for 50 yards and two interceptions with zero TDs, meaning get loose Joel Stave; and a 5-foot-11, 231-pound freshman Brazilian kicker celebrating the first field goal of his career, a 51-yarder:
Is there any scenario in life that can't be improved by adding a Brazilian to the mix? I haven't found one.
THREE THINGS YOU SHOULD KNOW
1. In a bit of a surprise, Alabama coach Nick Saban played only one quarterback against West Virginia, and that guy was Blake Sims. Bama won 33-23 behind beastly efforts from running backs T.J. Yeldon and Derrick Henry, and while Sims did fine (24-of-33, 250 yards, zero TDs, one pick), he definitely didn't end Jacob Coker's hopes of taking over the starting job before long.
The reality of this Tide team may be that the RBs are so good, and the defense is so stout, that new offensive coordinator Lane Kiffin will make it work with whichever QB happens to be back there – this whole race could be overblown. Saban was thrilled with the game Kiffin called for Sims against WVU and went on the offensive a bit afterwards. "You know, the guy is a really good coach now, all right," Saban told reporters. "Y'all need to fess up to that. And most places that don't like him is because he left and they were mad because he left. They weren't mad about anything he did while he was there. Just do a little research on that."
The only curious question I have coming out of the WVU game: Where was superfreak tight end O.J. Howard in the game plan? The sophomore, who's nearly unguardable due to his combination of size and speed, didn't record a single catch.
On the other side of Alabama, No. 6 Auburn beat Arkansas easily after a close first half, and Jeremy Johnson was outstanding filling in for Nick Marshall at QB in the first two quarters. "You're a stud," Gus Malzahn told him after the game, which apparently is the first time he's complimented the QB. As good as Johnson was, what stood out even more was the number of insane weapons around him. It kinda felt like watching Texas A&M last Thursday against South Carolina – seeing not just the peak of the offensive talent but the depth was jarring.
RB Cameron Artis-Payne, taking up the bulk of the carries Heisman finalist Tre Mason left behind, ran for 177 yards and a TD on 26 carries. Corey Grant averaged 8.7 yards per carry over 10 attempts with a TD. New WR D'haquille Williams, a JC transfer playing in his first Auburn game, caught nine passes for 154 yards and a TD. Melvin Ray is a big-play threat at WR, and he pulled down two balls for 77 yards and a TD. Sammie Coates is a physical freak and could be the league's best wideout this year. With these guys, Bama, A&M and the younguns developing at LSU, it's staggering how talented the SEC West is – and we haven't even mentioned Ole Miss or Mississippi State. Yikes.
Now just wait until Malzahn develops this kid ballboy into a 1,000-yard receiver:
What, you don't think he can? That's five-star ballboy speed. Can't teach that.
2. Good for Steve Sarkisian and his USC Trojans for the day they had Saturday. No. 15 USC beat down Fresno State 52-13 behind a totally revamped up-tempo offense – 701 yards and 105 plays! – and Cody Kessler suddenly looks like a star at QB. This, of course, was coming off an entire week devoted to the crazy Josh Shaw story that consumed the program. "The best part was that it felt like we've been playing with Sark for six years," Kessler said after the game. "It didn't feel like a new era."
3. No. 17 Notre Dame is another program that needed a positive Week 1 and got it with the return of QB Everett Golson. After a recent academic scandal sidelined five players, including three starters, the Fighting Irish beat Rice 48-17, with Golson completing 14-of-22 passes for 295 yards and two TDs (no picks) and also rushing for 41 yards and three TDs. Throws like this must have been a gorgeous sight for Notre Dame fans (h/t SB Nation for GIF):
In other notable QB news, J.T. Barrett made his debut for Ohio State, as the No. 5 Buckeyes beat Navy 34-17 after protecting only a three-point lead early in the fourth quarter. Per Bill Rabinowitz, the report on Barrett's first game is he did some good things and also has a lot of room to get better.
THREE THINGS YOU MAY WANT TO KNOW
1. Nebraska's Jordan Westerkamp made a behind-the-back catch that will make some Catch of the Year lists just given how odd it is:
2. An Alabama fan showed up to the Georgia Dome wearing no shirt, houndstooth overalls and a fake banjo slung over his shoulder. You can't make this stuff up.
3. Did you know Brett Favre's nephew is the quarterback for Tennessee-Martin? I bring it up only because they played Kentucky on Saturday, and Wildcats safety A.J. Stamps pulled down a fabulous one-handed interception off Favre.
LASTLY
* Superb Navy quarterback Keenan Renolds had a personal encounter with Ohio State linebacker Darron Lee, and it did not go well for one of them.
* Poor referee.
* I don't think I've ever seen this: Before the UCF-Penn State game in Dublin, the skydiver who was supposed to land at midfield with the game ball … totally missed the stadium. Like, he overshot the whole thing. How does that happen?
* This is how I began my first Saturday of the college football season at 5:30 a.m. in Los Angeles getting ready for the Penn State-UCF kick. Hope yours was just as fun and you enjoyed the heck out of Week 1. We still have a few games left.
Have a great rest of your Labor Day weekend, all.
Teddy Mitrosilis is an editor and writer for FOXSports.com. Follow him on Twitter @TMitrosilis and email him at tmitrosilis@gmail.com.