Duke's Shaun Wilson returns kickoff 96 yards for TD vs Notre Dame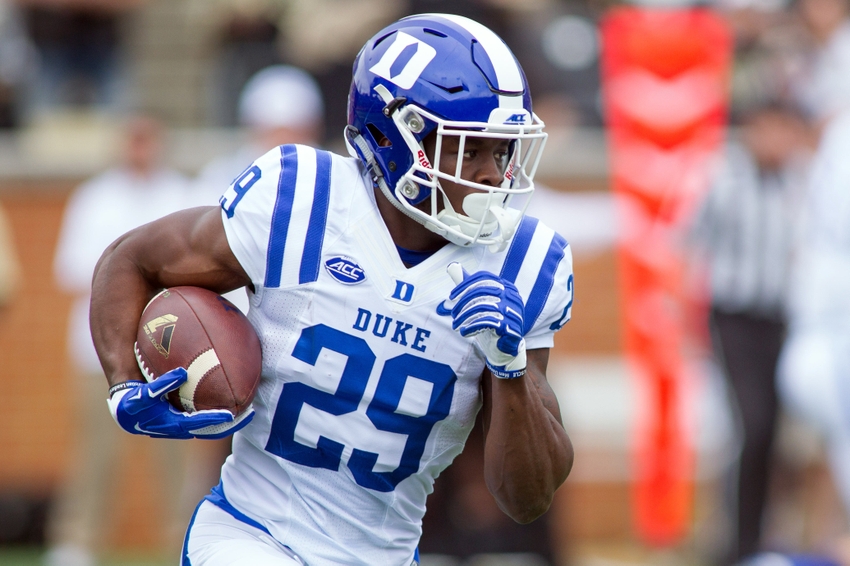 The Duke Blue Devils put the Notre Dame Fighting Irish on upset alert thanks to plays like this one from Shaun Wilson on Saturday.
It has been a rough start to the season for the Notre Dame Fighting Irish. Not only have they suffered a handful of big injuries, but they've also gone done twice to Texas and Michigan State.
Things didn't get a whole lot better for the Irish on Saturday. They came into Saturday's game expecting a big win over the Duke Blue Devils to help restore some confidence. Instead, Duke showed up and made the game a lot closer than Notre Dame would have liked.
Early in the first quarter, the Fighting Irish had gone up 14-0 and kicked off to Duke's Shaun Wilson. The 5'9" backup running back showed off his speed on the return, juking a couple of kickoff coverage players before turning on the jets for a 96-yard return touchdown.
You can check out the kickoff return in the Twitter video below.
That kickoff return helped the Blue Devils close the gap to 14-7. By the end of the first quarter, Duke had helped tie things up at 14-14.
Even if the Fighting Irish win this game easily, this has to be another tough performance to handle. At the beginning of the season, Notre Dame thought that it could compete for a national title. Now, they're just trying to finish out the season without another tough loss.
Meanwhile, the Blue Devils are riding high and hoping to pull off an upset that could wind up being the biggest win of the year for them.
This article originally appeared on